Tiger Woods' score: Round 2 results, highlights from Zozo Championship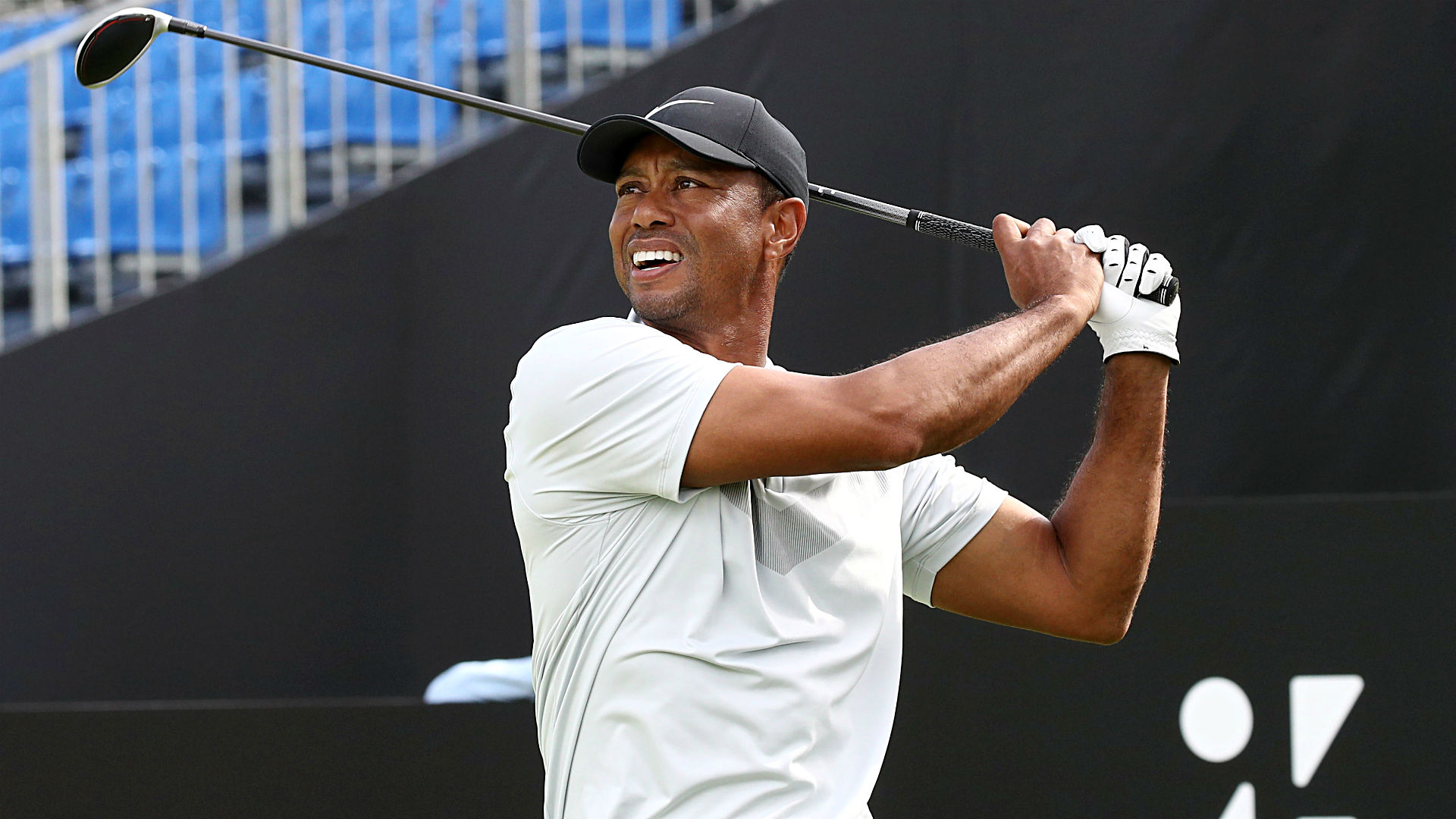 Tiger Woods is back on the course this weekend after his knee surgery, and he's playing extremely well.
He holds the 36-hole lead at the PGA Tour's Zozo Championship in Chiba, Japan, by two strokes over reigning U.S. Open champion Gary Woodland following a second consecutive 6-under 64 on Saturday.
Heavy rain delayed Round 2 to Saturday morning in Japan (Friday night in the U.S), but clearly, the soggy conditions did not hinder Woods. He finished his round with five birdies and no bogeys on the back nine.
MORE: Tiger feeling fit ahead of Presidents Cup
Woods is now halfway to his 82nd career PGA Tour victory and a tie with Sam Snead for the all-time wins record. He will play with Woodland and Keegan Bradley in the final threesome Saturday beginning at 7:30 p.m. ET (8:30 a.m. Sunday in Chiba). The tournament is set to conclude early Monday, U.S. time.
Sporting News picked up Woods as he walked to No. 10 on the par-70 Accordia Golf Narashino Country Club course. Highlights and scoring updates are below.
Tiger Woods' score: Live updates, highlights from Round 2
| | | |
| --- | --- | --- |
| Hole (Par) | Round 2 score (Overall)    | Place |
| 10 (4) | 2 under (8 under) | 2 |
| 11 (4) | 3 under (9 under) | 2 |
| 12 (4) | 3 under (9 under) | 2 |
| 13 (3) | 4 under (10 under) | T-1 |
| 14 (5) | 4 under (10 under) | T-1 |
| 15 (4) | 4 under (10 under) | T-1 |
| 16 (3) | 4 under (10 under) | T-1 |
| 17 (4) | 5 under (11 under) | 1 |
| 18 (5) | 6 under (12 under) | 1 |
Hole 18, Par 5, 562 yards
Shot 1: Tiger doesn't look pleased with his drive even though it lands safely on the fairway.
Shot 2: Woods, from the middle of the fairway, gets every bit of his second; it rolls to about 15 feet behind the flag. He has a chance at an eagle and a three-stroke lead.
Shot 3: Woods hits it through the break. He has a couple of feet for birdie.
Shot 4: He confidently sinks the birdie putt and finishes with a second consecutive 64. He heads to the clubhouse 12 under and with a two-shot advantage over Woodland.
Hole 17, Par 4, 491 yards
Shot 1: A center-cut drive puts Woods in prime scoring position.
Shot 2: Vintage ironwork from Tiger; he sticks his approach to about two feet.
Shot 3: Birdie and the outright lead. 
Hole 16, Par 3, 182 yards
Shot 1: Tiger gives himself a long birdie putt as his tee shot lands left of the hole.
Shot 2: Woods leaves the putt a few feet short. He starts walking before the ball stops rolling.
Shot 3: Tiger sinks the par putt without issue. Still 10 under with two to play. 
Hole 15, Par 4, 425 yards
Shot 1: Tiger likes his drive, and he should; it's well in the fairway.
Shot 2: The approach hits the green, but stops short and right, a good bit below the hole.
Shot 3: Woods leaves his birdie putt underneath the hole and right. Still in good shape for a par, though. 
Shot 4: Par, and still a share of the lead.
Hole 14, Par 5, 608 yards
Shot 1: Woods has to wait awhile as play ahead slows to a crawl. The layoff doesn't affect him too much and he finds the first cut.
Shot 2: Big swing on his second, and it's pure. He'll have a short uphill pitch to the green.
Shot 3: Tiger blasts his pitch just past the back of the green. That could be costly.
Shot 4: Woods chips to inches away from the cup. Looks like a par save ahead.
Shot 5: A tap-in par keeps him tied for the lead.
Hole 13, Par 3, 147 yards
Shot 1: Tiger punches an iron almost pin high, left.
Shot 2: Woods knows it's going in about halfway to the hole. He has a share of the lead after a third birdie in four holes on the back side.
Hole 12, Par 4, 490 yards
Shot 1: Tiger finds the right rough with his tee shot on this hilly hole. Trouble lurks. 
Shot 2: Woods' approach misses the green right.
Shot 3: His chip gets close enough for an easy up-and-down.
Shot 4: Tiger taps in to save par. He remains one behind Woodland.
Hole 11, Par 4, 486 yards
Shot 1: Woods drives in the fairway, a few yards before the right fringe and safely away from a bunker.
Shot 2:Tiger's approach lands safely on the green below the hole. He'll have another go at a birdie.
Shot 3: Woods sinks the birdie putt, the ball circling the left edge before falling. That's back-to-back birds.
Hole 10, Par 4, 140 yards
Shot 1: Rain turned this par-4 into essentially a par-3. Tiger sticks his iron shot to about eight feet, above the hole. 
Shot 2: Woods takes his time with the eagle try. The putt burns the right edge and leaves Woods visibly frustrated.
Shot 3: Woods taps in for a birdie. He's 8 under for the tournament and in solo second, two behind Woodland.