Alabama vs. Auburn: Matchups, keys to victory in Iron Bowl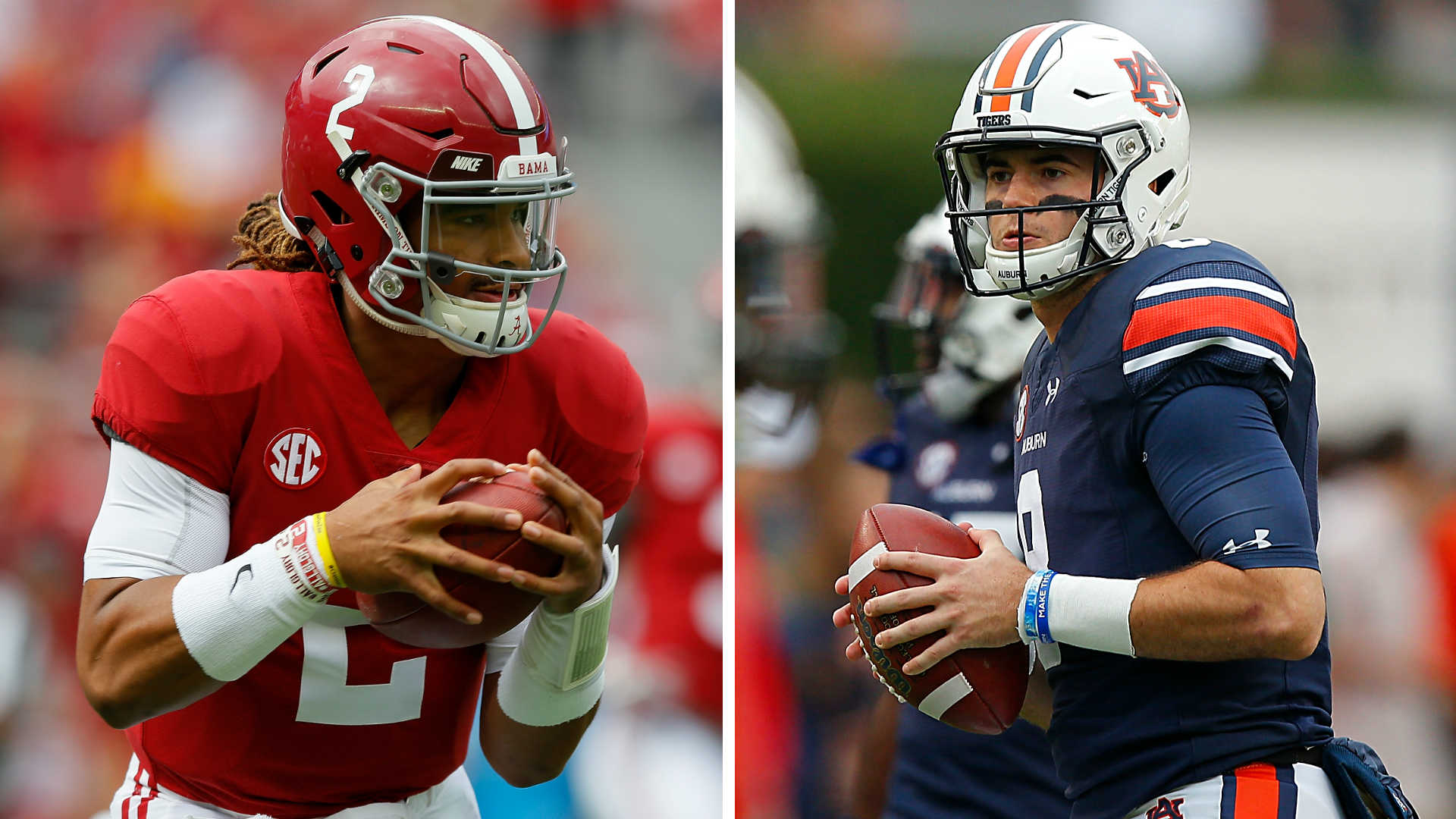 The 82nd Iron Bowl between Alabama and Auburn features stakes as high as they've ever been.
With a win over top-ranked Alabama, No. 6 Auburn could usurp the Tide as SEC West champions, get a rematch with Georgia in the conference championship game and put the Tigers in prime position to potentially earn a spot in the College Football Playoff.
MORE: Bama battling history, on top of Auburn
Alabama has its usually stout defense (though it has several injuries at linebacker) and quarterback Jalen Hurts. Auburn will rely on a handful of offensive playmakers in Kerryon Johnson and Jarrett Stidham, and defensive standouts like Jeff Holland.
Here are the keys to victory and matchups to watch in the Iron Bowl:
Calvin Ridley vs. Carlton Davis
Auburn cornerback Carlton Davis has quietly been one of best cornerbacks in the country this season. He has great fluidity, vertical control and physicality and in-air finishing ability. He has been a dominating presence in Auburn's defensive resurgence late in the season.
But he'll be tested substantially against receiver Calvin Ridley, who's arguably the country's best receiver. Ridley possesses outstanding vertical pass-catching upside, but what has made him especially dangerous is his vision and acceleration after the catch.
Ridley — often relied on as a quick-slant, dig or deep-out receiver — showcases elite balance and body control to complete receptions away from his frame while maintaining perfect positioning to add more yards after catch.
via GIPHY
Davis' assignment on Ridley will be to stay physical in short-area coverage, work to prevent quick slant or mid-field opportunities — and to keep him from winning vertically.
MORE: Kirk Herbstreit: Jalen Hurts, Auburn D key to Iron Bowl
Da'Shawn Hand, Da'Ron Payne vs. Auburn O-line
Alabama will give this Auburn unit the toughest test of the season. Da'Shawn Hand and Da'Ron Payne, two experienced disrupters on the defensive line, often work in tandem to wreak havoc on multiple offensive lineman, forcing quarterbacks to rush decisions and free pass-rushers at linebacker and safety. Just like in the play below:
via GIPHY
But Auburn's offensive line is one of the most talented and battle-tested in the SEC. With Austin Golson at left tackle, Darius James at right tackle, and Braden Smith at right guard, the Tigers can matchup with Hand, Payne and the rest of the Alabama defensive line with equal NFL upside.
It'll be up to Jarrett Stidham, however, to trust in his O-line, stand in the pocket and make the most of the Auburn's offensive weapons.
MORE: Iron Bowl: The CFP's biggest game of the year
Jarrett Stidham vs. Minkah Fitzpatrick
Stidham's most important mission on Saturday will be to protect the football. Against Alabama, that primarily means keeping it away from Minkah Fitzpatrick.
The hard-hitting and highly athletic defensive back boasts tremendous range, lockdown coverage ability and versatility in the secondary. He constantly strikes fear in opposing quarterbacks. Stidham can't afford to shy away from Fitzpatrick entirely, as Alabama is blessed with future NFL talent in Hootie Jones and Tony Brown.
Instead, he'll need to be confident — and accurate — when targeting Fitzpatrick. While Stidham has struggled a bit with progressing through his reads and standing tall under pressure, he has shown great poise and finishing ability as a touch and perimeter passer. While Fitzpatrick is a gifted cover man, his lack of elite length opens up the door for jump-ball opportunities on the edge and in the end zone. He's been beaten before this season (including his first matchup against Florida State earlier in the year).
Stidham, hailing from a Baylor offense that constantly set up one-on-one vertical routes, has ample experience in these "bucket throws" along the sidelines and into the end zone, as in the play below. His velocity control and placement on the perimeter will be key in setting up big plays and keeping Alabama from loading the box on early downs.
via GIPHY
Auburn started out as a seven-point underdog in most Las Vegas sportsbooks, though that line has dropped to make the Tigers just a field goal underdog in their home matchup.
Auburn will need to find creative ways to get Alabama's defense off balance. On defense, the Tigers will need to prevent big plays from Jalen Hurts, Ridley and the host of Alabama running backs.
The Tigers have won just three times in the last decade, and haven't lost four consecutive years to Alabama since 1981. In one of the greatest rivalries in college football, the only thing we're assured of is a high-energy crowd, two prepared coaches in Nick Saban and Gus Malzahn and the potential for another all-time classic.