History says Baker Mayfield's antics won't cost him Heisman Trophy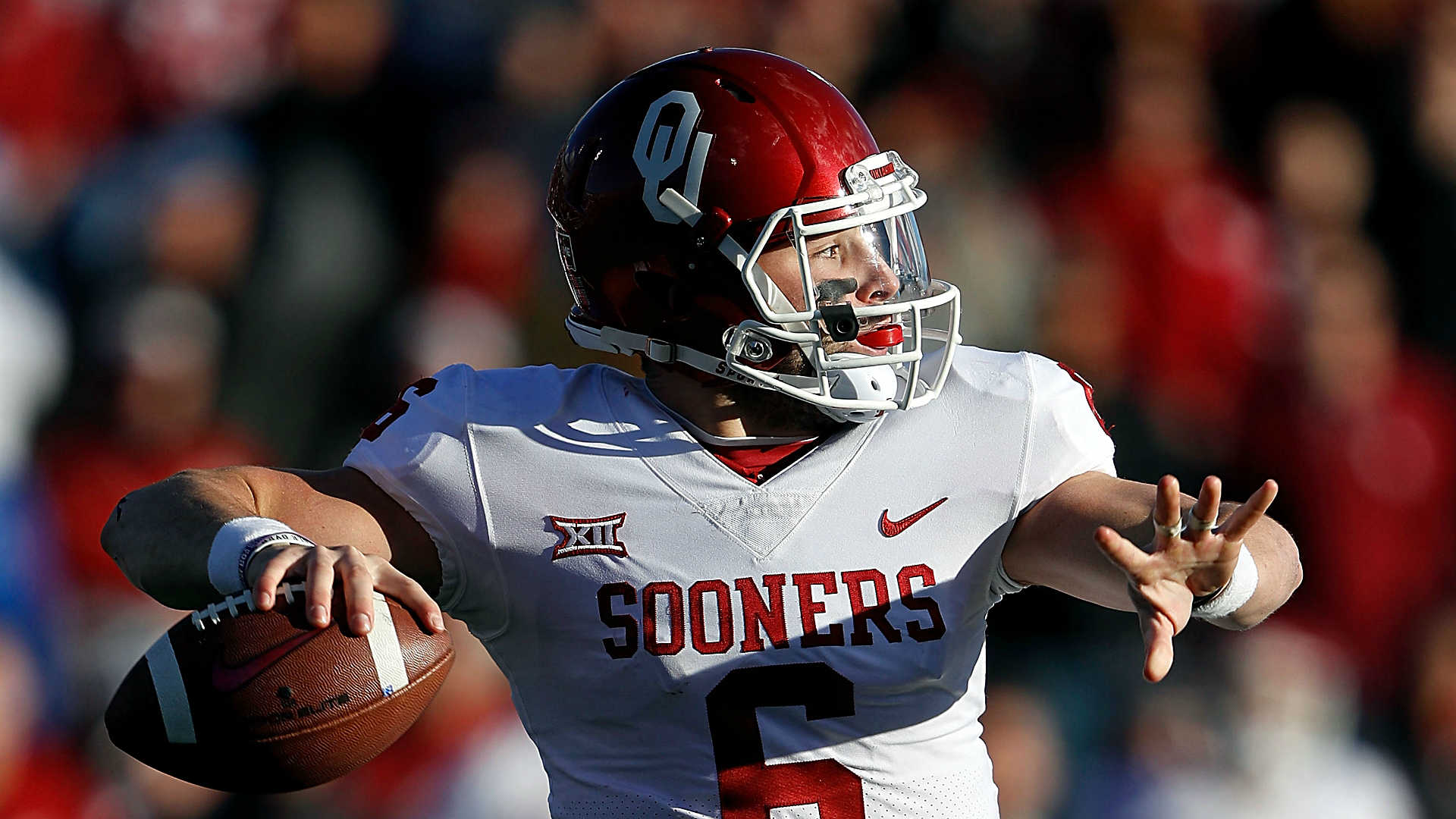 NORMAN, Okla. — So where does Baker Mayfield sit with the 929 people who vote on the Heisman Trophy?
Saturday's display at Kansas — not the 257 yards, not the three touchdowns on 20-of-30 passing, but the cursing and lewd gesturing at the Jayhawks' sideline in a 41-3 victory — wasn't a visual many of them will forget any time soon.
But will they hold it against the Oklahoma quarterback when it comes time to cast their vote for the 83rd Heisman?
MORE: Mayfield's antics are harmless, but he should practice discretion
Last week, straw polls around the nation showed Mayfield is likely to run away with this year's award. Heisman ballots will be emailed less than a week from now, on Nov. 27. Votes are due on Dec. 4 — two days after Mayfield's Sooners play in the Big 12 championship game in Arlington, Texas, almost assuredly against TCU. The trophy will be handed over that following weekend on Saturday, Dec. 9, in Times Square.
If the No. 4 Sooners beat the Mountaineers and Horned Frogs before then, they are a solid bet to return to the College Football Playoff for the second time in three years. Heisman voters may have a knee-jerk reaction, but surely the selection committee won't hold Mayfield's actions against Oklahoma's postseason worth.
Would they?
"For me, it's not about the individual goals," Mayfield said Monday night. "It's about moving forward and having our team ready to win ballgames. So it's good to see that, although my actions have directly affected this program and I've represented it the wrong way … it's good to see that people are forgiving, or giving us the opportunity to move forward and I haven't completely tarnished the OU name. …
"It's good to know people have an open mind and are giving us a chance to prove that."
MORE: Mayfield a can't-miss star that all of college football missed
Still, here's a headline: A small faction of voters already held Mayfield's antics against him long before he showed a national television audience a different side of himself in Lawrence.
That faction adheres to the "integrity" clause in the Heisman's mission statement, and, right or wrong, thinks it's important enough to omit him entirely from their ballot. Whether it was a drunken February arrest in Fayetteville, Ark., or his brash flag-planting at Ohio Stadium or goofy trash-talking at Baylor or zinging pregame throws off TCU helmets, it seems "Mayfield Fatigue" is a real thing for some voters.
And that's OK. Each Heisman voter is entitled to his or her own definition of "most outstanding." Some may include integrity, morality and character, and some may not. It certainly didn't cost Troy Smith or Cam Newton or Jameis Winston or a handful of others. Their Heisman wins were products of some of the most lopsided votes in the history of the award. Smith, who got financial help from a booster early in his career, received the highest percentage of votes ever (91.6 percent).
"If I could go back," Mayfield said, "I'd completely do it differently. But I can't do that. I can only move forward now and show people that's not who I want to be."
Should voters hold it against Mayfield for directing F-bombs and crotch grabs at his opponent on national television?
Or, in light of coach Lincoln Riley's decision to suspend Mayfield for the start of this Saturday's season-finale against West Virginia and strip his star quarterback of his captaincy (Mayfield won't start but will play after Riley has deemed his absence on Senior Day has lasted long enough), should voters who once figured Mayfield was a Heisman lock reconsider their ballot?
"Difficult for me to say," Riley said. "I know the kid good enough to know that he's a really good person. Again, I think if we're judging the Heisman on kids that haven't made mistakes, we're going to have a hard time finding very many candidates.
"Baker is a good person. He's never done anything to hurt anybody. He's owned up to his mistakes like a young man should. I think in that way he's been a great example as he had things happen that he wishes he could take back. That's part of life. That's part of growing."
MORE: Lincoln Riley chokes up talking about Mayfield
Both Riley, during his regular weekly news briefing, and Mayfield, who missed the usual late morning media session and instead spoke after practice, choked up when discussing their relationship. Riley needed nearly more than 30 seconds to compose himself, while Mayfield stopped several times.
If anything, this incident seems to have strengthened that bond.
"No matter how long I go coaching, whatever the rest of my career ends up being like, I don't know that I'll ever have a player that's as special to me as he is," Riley said. "We've been through a lot together. He's a tremendous teammate. He's the best football player in America. He's got a great heart that a lot of people don't get a chance to see like I do. And I'm proud as hell to be his coach."
"He's a guy that's very special to me," Mayfield said of Riley. "He's like a father figure to me. … He knows me as good as anybody in the world. It's a special relationship. But he nailed it on the head today. We've been through a lot together, ups and downs.
"I actually understand it," Mayfield said. "I knew that something needed to be done. Of all things, I feel worse now because of the spot that I put them in. It's not something that your coach wants to do, but there's necessary things and punishments and consequences for actions like I did on Saturday."