College football Week 12 game scores, highlights and results Saturday's games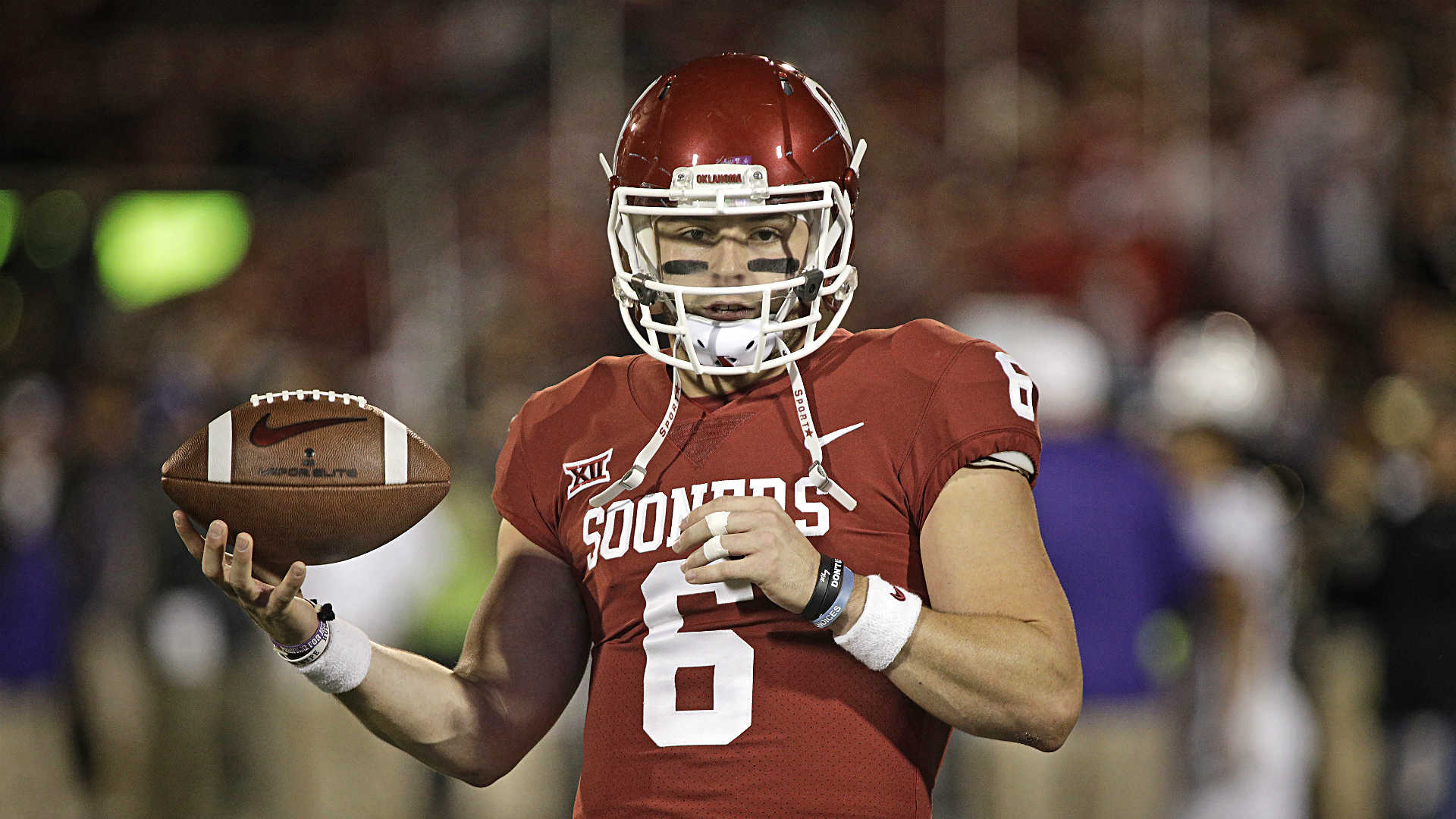 We're reaching the end of the college football season, which means stakes are high and College Football Playoff berths hang in the balance. 
Should the top four teams win out — Alabama, Clemson, Miami, Oklahoma — their spots will likely be secured in the CFP. 
Tons of teams are on upset alert this Saturday, with only one top 25 matchup taking place — No. 25 Michigan vs. No. 5 Wisconsin.
MORE: What to know about Week 12 in college football
Follow along below with all of the top highlight reel plays from, what should be, a fun college football Saturday.
(All times Eastern.)
College football scores, highlights
11:55 p.m.: Great throw from Josh Rosen, but in the end it wasn't enough in a 28-23 loss to USC.
11:17 p.m.: Just like they drew it up, no doubt.
10:42 p.m.: Give the kicker some love!
10:26 p.m.: Bryce Love is a walking touchdown — this one comes from 57 yards out.
9:18 p.m.: If UConn thought it was still in this game ... well, it's not anymore.
8:32 p.m.: Michael Pittman scores one of the coolest punt return touchdowns we've ever seen. USC up 7-0:
8:23 p.m.: This field goal wasn't anywhere close. 
8:15 p.m.: Pittsburgh pulled off this trick play during its loss to Virginia Tech. 
7:48 p.m.: Louisville quarterback Lamar Jackson had this impressive run in the second quarter of the Cardinals 56-10 victory over Syracuse. 
7:36 p.m.: Oregon quarterback Justin Herbert shows off the wheels.
7:33 p.m.: Stanley Morgan Jr. hauls in a pass one-handed and keeps his feet in-bounds. 
7:23 p.m.: Boston College is currently playing UConn at Fenway Park. 
7:11 p.m.: Kansas State upsets No. 13 Oklahoma State 45-40 on the road. 
7:03 p.m.: Penn State wide receiver Juwan Johnson makes a nice one-handed catch.
6:51 p.m.: Louisville running back Malik Williams has 180 yards on just nine carries so far. Louisville leads Syracuse 49-3 with 4:43 left in the third quarter.
6:45 p.m.: Oklahoma is currently leading Kansas 38-3. Kansas fans are not happy. 
6:35 p.m.: Navy almost pulls off the running back pass on fourth down but the throw falls incomplete.
6:23 p.m.: Nick Chubb with another long run for Georgia. He now has 151 yards and two touchdowns.
6:10 p.m.: J.T. Barrett with another touchdown for Ohio State. 
6:01 p.m.: Georgia again scores on the ground as Sony Michel runs it in. 
5:57 p.m.: Penn State adds another score against Nebraska. 
5:41 p.m.: Saquon Barkley sets the Penn State program record for career rushing touchdowns on this score. 
5:39 p.m.: Navy takes a 17-10 lead over No. 8 Notre Dame.
5:28 p.m.: David Montgomery breaks multiple tackles on this long run for Iowa State. 
5:13 p.m.: Sony Michel breaks off another big touchdown run for Georgia. 
5:04 p.m.: Brian Lewerke runs it in for Michigan State.
5:01 p.m.: Jake Fromm gives Georgia a 14-6 lead over Kentucky. 
4:54 p.m.: I'm sorry, what? 
4:31 p.m.: J.T. Barrett with a career milestone today.
4:24 p.m.: That's No. 40 for Nick Chubb.
4:17 p.m.: Mike Weber's got wheels.
4:12 p.m.: Saquon Barkley with a long touchdown run to give Penn State an early lead over Nebraska.
4:05 p.m.: How did he not go down? 
3:53 p.m.: Georgia quarterback Jake Fromm throws an early pick against Kentucky. 
3:45 p.m.: Virginia Tech seals a win over Pittsburgh with a goal-line stand as time expires. 
3:29 p.m.: The clinching score for Miami.
3:27 p.m.: Someone's excited for Thanksgiving dinner.
3:17 p.m.: After a valiant effort by the Cavaliers, it looks like Miami has it all locked up.
3:15 p.m.: —eyes emoji—
3:13 p.m.: Here's a crazy scene from the Wisconsin press box.
3:03 p.m.: The Bulldogs came back to tie it in the fourth.
2:54 p.m.: Baylor gets on the board with a good play fake.
2:48 p.m.: Holy smokes.
2:46 p.m.: This is exactly how one draws it up.
2:41 p.m.: Well, this is not what you want if you're Texas Tech.
2:34 p.m.: Ow.
2:31 p.m.: That's a touchdown through a tight window for Wisconsin.
2:23 p.m.: We are tied in Miami following a pick six.
2:19 p.m.: Does Michigan have a turnover chain, or…
2:18 p.m.: Here comes Miami (again).
2:16 p.m.: Yep. Just like Arkansas drew it up.
2:13 p.m.: Malik Rosier has no interest in losing to the Hoos.
2:06 p.m.: After a big stop and a blocked punt, Virginia goes back up by two scores. 
2:04 p.m.: ECU is bringing it to the Bearcats!
1:42 p.m.: Mercer for the upset over Alaba— 
Oh wait.
1:36 p.m.: Originally called an incomplete pass, Virginia regains the lead with 30 seconds until halftime. 21-14 Cavaliers. Whoa.
1:30 p.m.: Ouch.
1:25 p.m.: Mississippi State comes back from down two scores to tie it up. 
1:17 p.m.: Brandon Peters should visit a doctor with the way he coughed up this football.
After Donovan Peoples-Jones' non-TD catch ruling was upheld, Michigan QB Brandon Peters fumbled right into the hands of @BadgerFootball: pic.twitter.com/H8TUaatvZj
1:14 p.m.: Somebody get that man an oxygen tank.
1:13 p.m.: Miami definitely doesn't want to be upset.
1:08 p.m.: *Gulp* Well, then, Virginia…
1:05 p.m.: Florida State is rolling with this big-time field goal block return for the TD.
12:57 p.m.: Arkansas and Bert Bielema putting Mississippi State on upset watch.
12:55 p.m.: Calvin Ridley does it all. 
12:50 p.m.: Miami doesn't want to be upset today, as they answer with a score. 14-7 Virginia in the first.
12:46 p.m.: Wisconsin brings it back for a 50-yard punt return.
12:42 p.m.: Virginia goes up by two scores on Miami, and Kurt Benkert has a message for Hurricane fans.
12:32 p.m: Someone keep an eye — all eyes — on Garret Dooley.
12:25 p.m.: Northwestern running back Justin Jackson making it a record-breaking Saturday.
12:24 p.m.: Florida State jumps out to an early lead.
12:12 p.m.: And we have our first nice toss and catch of the day, courtesy of East Carolina.
12:10 p.m.: I believe this is an example of "smash-mouth football."