Michigan vs. Wisconsin: Matchups, keys to victory in playoff-deciding game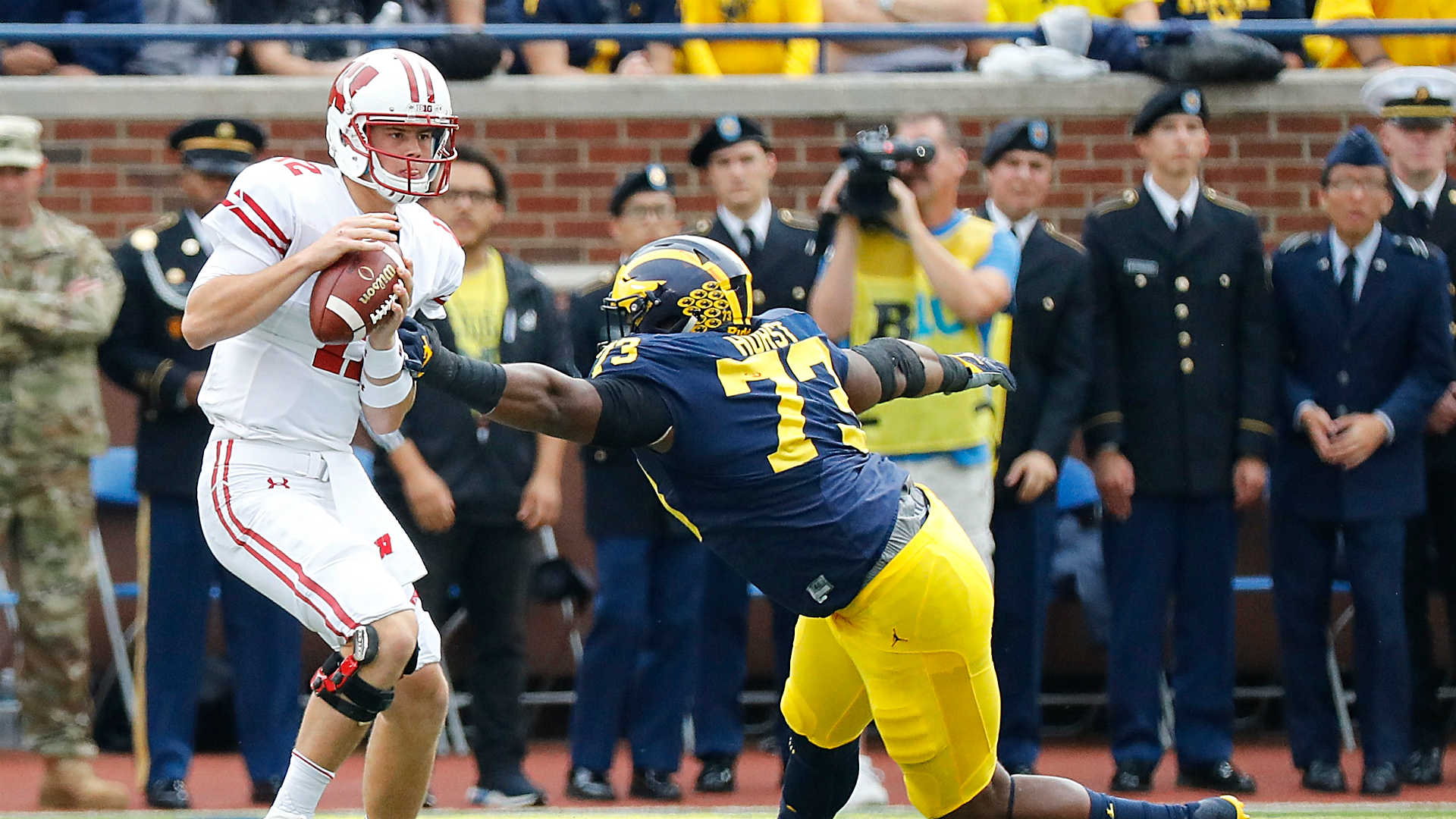 The Big Ten entered the season with expectations of surpassing the SEC in the number of elite teams and overall depth of the conference. While that hasn't quite held up in large part to Oklahoma's win over Ohio State and the Big Ten East cannibalizing itself, Wisconsin is still in prime position to represent the Big Ten in the College Football Playoff.
For Wisconsin, playing Michigan represents one of its final tests on the road to the Big Ten title game and a shot at the playoff. For Michigan, it's a chance to play spoiler, with only a handful of scenarios possible for it to still have a chance at the conference championship.
MORE: Jim Harbaugh can make or break big-game reputation vs. Badgers
Here are the big matchups and keys to victory for Michigan vs. Wisconsin:
Brandon Peters vs. LB T.J. Edwards, CB Nick Nelson
Michigan quarterback Brandon Peters has started the last three games for the Wolverines, playing efficiently, passing fewer than 20 times a game and posting a 4:0 touchdown-to-interception ratio. But he has relied on the Michigan run game to balance the offense, something coach Jim Harbaugh often relies on to keep his quarterbacks composed.

But Peters likely won't have that luxury against Wisconsin. The Badgers are the country's best run defense team, allowing just 81.5 rushing yards per game and under three yards a carry (2.82).

Peters will likely be forced to more in this one, stretching his comfort level. And linebacker T.J. Edwards and cornerback Nick Nelson are the two defenders he'll need to watch in second-and-long and third-down situations.

Edwards has four interceptions on the year, matching up with interior receivers and running backs with his great anticipation and timing. He forces quarterbacks to work outside on longer step drops — on the perimeter, Nelson has been one of the country's best cornerbacks, getting tested more often than his outstanding ball skills should. He has 18 pass breakups on the year so far.

Harbaugh will likely find plays that rely on matchups rather than decisions by Peters, and this kind of play is one that Michigan has and likely will continue to use with success.

On a three-step drop, Peters gets his running back on a wheel route, working behind a bunch receiver, with a drag route following underneath him. It gives Peters a matchup he wants for his running back, and an alternate option with his dragging receiver. Harbaugh will have plenty of plays like this to keep second and long and third down easy for Peters.


(via GIPHY)

WEEK 12 PICKS: Straight up | Against the spread
Wisconsin OTs vs. Chase Winovich, Maurice Hurst
Wisconsin's offensive line has been arguably the most consistent factory for future NFL starters over the last 10 years, and its current unit looks like it'll be no different. With left tackle Michael Deiter considering making the jump to the NFL after the season and right tackle David Edwards playing well, Wisconsin can thank its offensive line for consistently winning on the edge for their running game success.
Wisconsin, the 18th-ranked rushing offense in the country, averaging 245 yards per game. But they'll face Maurice Hurst, Chase Winovich and the Michigan defensive front seven that has been top-10 in the country in rush defense, allowing just 3.27 yards per carry.
Hurst is a future NFL first-rounder with outstanding gap-filling value and efficient movement skill on the inside to disrupt flow in the run game. But Winovich has been an unheralded star for this defense, constantly winning his one-on-one opportunities, getting in space and forcing running backs (and quarterbacks in the passing game) to adjust off balance. While the below play is a designed pass, Winovich's (No. 15) ability to generate pressure and win to the backfield should disrupt the Wisconsin rushing attack.
(via GIPHY
)
MORE: College football Week 12 priimer
Troy Fumagalli vs. Michigan LBs
This game will be won or lost for Wisconsin on third down. The Badgers are the best team in the country on third down, converting 52 percent of their opportunities, an astounding number that has crippled even the best Big Ten West defenses the'y've faced this year.
But they'll take on linebackers Mike McCray, Khaleke Hudson, and the Michigan defenses that is the best defensive unit on third down in the country, allowing less than 24 percent of third down opportunities to be converted.
While the entire offense for Wisconsin will need to find success on third down, their star tight end Troy Fumagalli has been one of their leading weapons on third down this season. His outstanding hands and late-breaking separation has made him one of the most feared tight ends in the country.
Used on the perimeter as well as in the mid-field, Fumagalli is able to finish circus catches away from his frame with ease, even when off balance. While he hasn't been as dominant as in previous years (especially in the touchdown department, where he has no scores since Week 3), he's still a weapon the Badgers will rely on.
(via GIPHY
)
Wisconsin's undefeated record has been challenged, and for good reason. Their only impressive win was against Iowa, who has been highly inconsistent all season and was only ranked in the top 25 once.
But Wisconsin is the Big Ten's best hope at representing the conference in the College Football Playoff. With one of the best rushing offenses and run defenses in the country, it should be able to control the game, control the clock, and control its fate beyond the Big Ten title game. But Harbaugh is ready for his Wolverines to play the ultimate spoiler at Camp Randall Stadium.