Ohio State, Michigan head into The Game still separated at most important position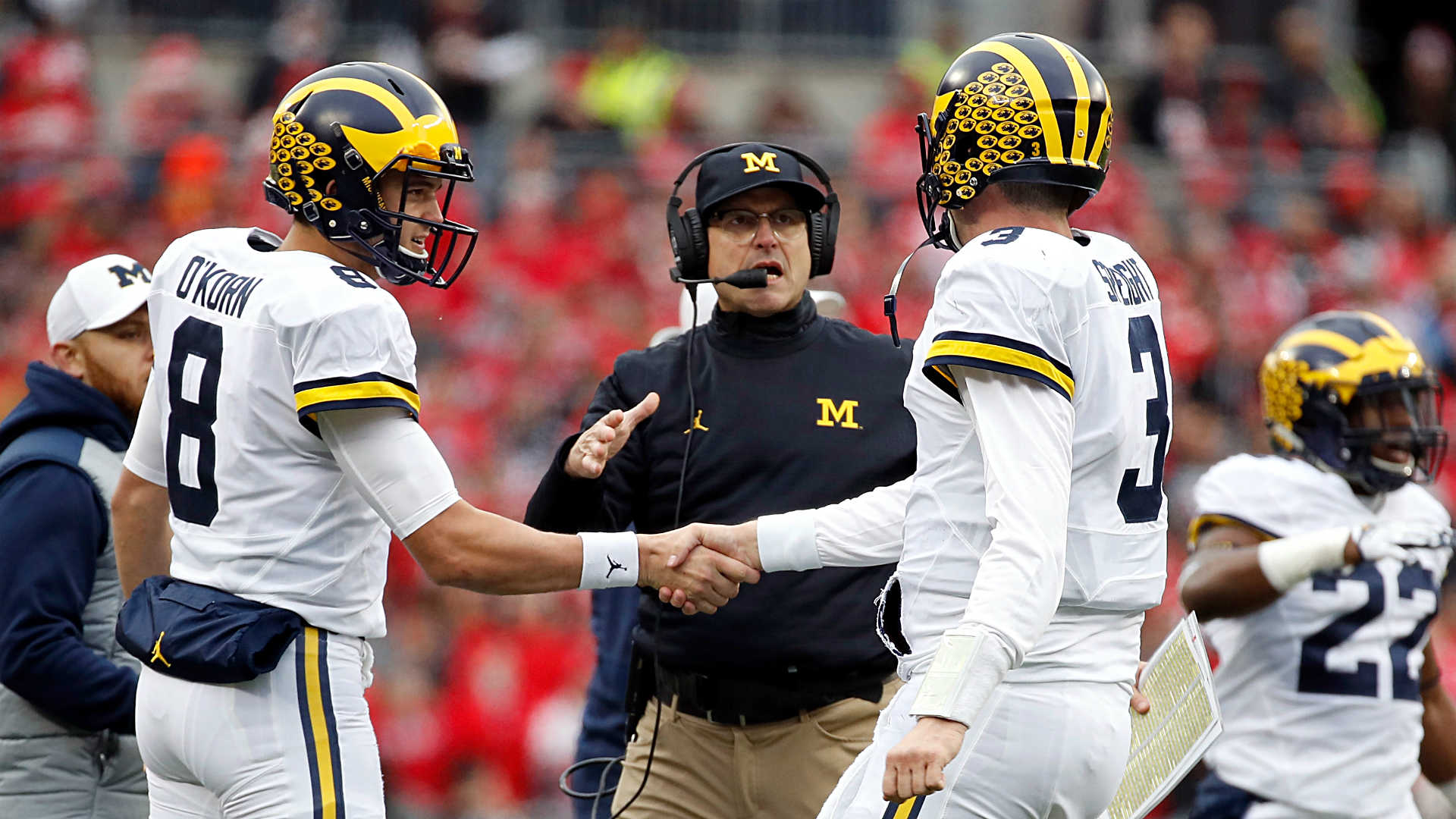 Michigan coach Jim Harbaugh hasn't announced the starting quarterback for Saturday's game against No. 8 Ohio State at Michigan Stadium.
So it's another year, another round of uncertainty for the Wolverines with Brandon Peters in concussion protocol. The Toledo Blade reported Wilton Speight is practicing in a non-contact capacity, while recovering from three cracked vertebrae. That leaves John O'Korn as the most likely candidate to start against the Buckeyes.
MORE: The Game vs. the Iron Bowl: Which rivalry is better?
Harbaugh on Tuesday addressed the uncertainty of preparing for a game without knowing who his starting quarterback will be.
"We've had experience at it with three different quarterbacks who have started games," Harbaugh said on the Big Ten teleconference. "I don't know the degree of difficulty of it. … It's kind of our way. We always feel it's necessary to prepare more than one quarterback for each game."
On the other side, Ohio State's J.T. Barrett will make his fourth start against the Wolverines. Barrett has 140 total touchdowns and is one of the most decorated quarterbacks in program history. If there has been a big difference in this rivalry over the last 10 meetings, then it's certainty at the game's most important position. 
This theme hasn't changed for Michigan since Lloyd Carr retired after 2007 — and even in that season, four-year starter Chad Henne dealt with an injury and gave way to backup Ryan Mallett for a few series against the Buckeyes. Since 2008, Michigan's quarterback plan against Ohio State has included starters Nick Sheridan, Tate Forcier, Denard Robinson, Devin Gardner, Jake Rudock, Wilton Speight and Saturday's starter. The Wolverines are 1-8 against the Buckeyes in those matchups.     
Injuries aren't a new development for the Wolverines heading into The Game. Speight's status for last year's Ohio State game was questionable because he suffered from a shoulder injury. Rudock was injured late in a blowout loss in 2015. Gardner suffered a broken foot during the 2013 game. Robinson played running back in the 2012 game and was knocked out of the 2010 game. Sheridan subbed in for an injured Steven Threet in 2008. Now Harbaugh has two injured quarterbacks in Peters and Speight, and might be forced to turn to O'Korn.
WEEK 13 PICKS: Straight up | Against the spread
ESPN analyst Kirk Herbstreit is impressed the Wolverines made it to the regular season finale with an 8-3 record, considering those injuries.
"How many teams would be able to be down to their third quarterback and be able to look at their season and say, 'We're still doing this?'" Herbstreit said. "It's uncommon to see this with so many injuries and struggles."
Admirable? Sure, but it's not going to help against the Buckeyes. In those same nine matchups, Ohio State has made seamless transitions from Terrelle Pryor to Braxton Miller to Barrett, and it has been able to compensate when injuries happen. Barrett filled in for Miller in 2014, and Cardale Jones replaced him when he suffered a fractured ankle against Michigan. Jones then led the Buckeyes past Wisconsin, Alabama and Oregon for the national championship. Urban Meyer is blessed with experienced quarterback play — and depth — at the game's most important position. The Buckeyes had stability then, have it now and will have it in the future. 
"That's what you hope to have happen," Meyer said of recruiting quarterbacks. "Things happen along the journey, and that's exactly what it is. That's certainly the way you recruit. You try to take one in each class, then develop them and have good competition for the spot."
How much does that quarterback production really matter in The Game? It isn't that different when breaking down those nine years. Michigan quarterbacks have combined for 2,157 yards of total offense, one more yard than Ohio State's total of 2,156. That statistic is skewed, however, by Robinson's line (337 total yards, five touchdowns) in Michigan's 40-34 victory in 2011 and Gardner's line (461 total yards, five touchdowns) in a 42-41 loss two years later. Both of those games were in Ann Arbor.
In the other seven losses, however, Wolverines quarterbacks average 142.9 passing yards and 10 rushing yards, with eight touchdowns and eight interceptions. That's not good enough going up against experienced quarterbacks such as Pryor, Miller and Barrett. Those three quarterbacks have combined to average 153 passing yards and 86.6 rushing yards. They have 22 total touchdowns and six interceptions over the last nine games.
Again, Barrett has a chance to go 4-0 against Michigan.
MORE: Wisconsin has a QB it can trust; Michigan is still searching
"It doesn't happen very often, and I think this is going to be a critical game for his career," Meyer said.
That's the big difference on the field right now. How much will it change in the future?
Ohio State will move on from Barrett, but it has a stable that includes Dwayne Haskins, Joe Burrow, Tate Martell and incoming freshman Emory Jones. All four are highly touted quarterbacks brought up in Meyer's system, and they will follow Barrett's lead. 
"He was very mature person back when he was a freshman," Meyer said of Barrett. "His preparation is legendary around here in terms of the time and effort he puts into practice and preparing. That's what we expect." 
Michigan, meanwhile, will have questions at quarterback heading into Harbaugh's fourth season in 2018. Is Speight, Peters or freshman Dylan McCaffrey the guy? Or will Harbaugh turn to a transfer quarterback again? Keep in mind, if O'Korn starts, he will join Rudock as the second transfer to start against the Buckeyes the past three seasons. There are some more popular potential transfers on message boards.
Ohio State will have a new quarterback in 2018. Michigan will to, if Speight doesn't end up reclaiming the job. And we'll see then if the Wolverines have closed ground at that position. How will we know if anything has changed and if the Wolverines are ready to start winning the big games? 
When Harbaugh doesn't have to answer questions about the starting quarterback before the Ohio State game.