Playoff pressure, family support propel James Hahn to Wells Fargo title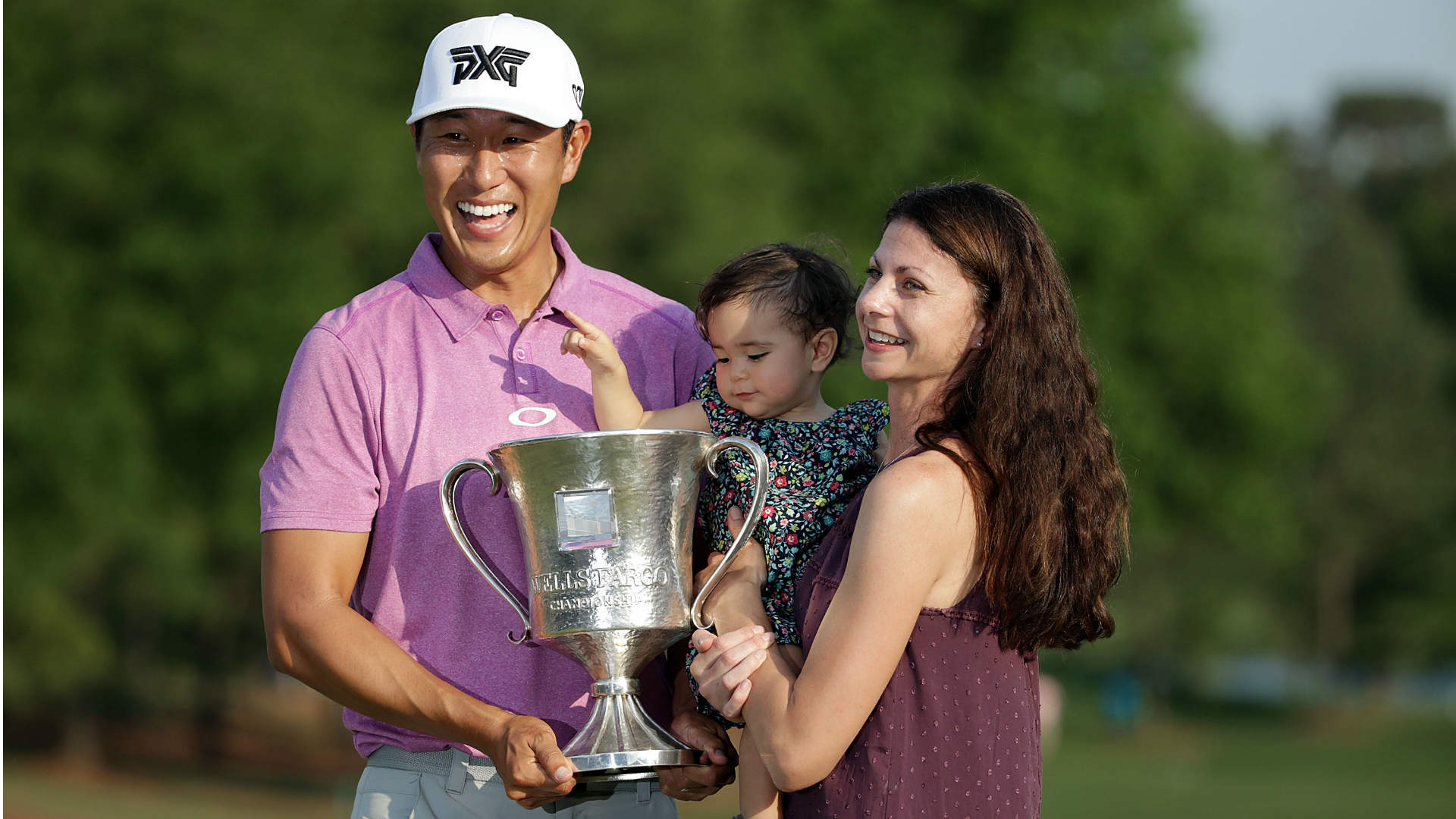 CHARLOTTE, N.C. — It's amazing the difference a week can make.
James Hahn was contemplating his future outside of golf just last week after missing his eighth consecutive cut at the Zurich Classic. Then on Sunday he hoisted the Wells Fargo Championship trophy and earned a $1.3 million pay day.
MORE: PGA Tour winners of the 2015-16 season
"I was telling my wife, I've never missed more than four cuts in a row, maybe not even that, maybe three cuts in a row," Hahn said after winning in Charlotte. "The mind is a powerful thing and it was going bad for a while. Just didn't have the confidence, didn't believe in my myself."
Hahn, 34, won once before on the PGA Tour, last year's Northern Trust Open, and one other time on the Canadian tour. Both of those victories, like Sunday's, came in a playoff.  
"On the 72nd hole, I had no idea that was to win a golf tournament. I just kind of went through my routine, didn't hit a good putt, made bogey," Hahn said. "But to know that on the last hole or on the first playoff hole that I had that putt to win a golf tournament, it's pretty exciting. It's kind of — it's the things that you dream of as a kid."
But Hahn's string of failures almost extinguished his golfing dreams altogether last weekend. Luckily for the 34-year-old golfer from South Korea, a serious conversation with his caddie last week after missing the cut in New Orleans turned things around.
"My caddie and I, we just kind of had a talk that, 'Hey, look, you just have to keep believing in yourself, keep grinding because it's not always going to be like this,'" Hahn recalled. "I try not to remember all that stuff but that was a week ago and now I'm here. So I constantly remind myself that I'm good enough that I belong out here. Was kind of chanting to myself that I can do this, I will do this and I must do this. I mean, this is something that I look in my daughter's eyes and say, 'Hey, I can't give up on you, I have to do this.'"
Hahn's daughter, 14-month-old Kailee, flew into Charlotte late Saturday with Hahn's wife, Stephanie. The two planned to join Hahn in Jacksonville, Fla., for The Players Championship next week. But as Hahn pointed out, with Sunday being Mother's Day, "girls are funny, they want to be together on days like today."
"They were fortunate enough to come here last night to watch me win," Hahn said. "You know, that just gives me extra motivation on the golf course that they're here."
As Hahn readily recognizes, his family pushed him toward his Sunday championship long before the sudden-death playoff with Roberto Castro. 
Hahn gave up golf shortly after his college career for a job at an advertising agency. But golf never stopped calling his name and Stephanie gave him a gentle nudge in what proved to be the right direction.
"I talked to my now‑wife about it and we just talked for weeks and weeks and weeks, and the thing that was holding me back was money," Hahn said. "It's very expensive to travel, hotel fees, caddie fees and all that. And there was something, I was always worried about being one of those guys that lived out of my car, traveling from mini tour to mini tour event.
"So my wife just asked me, 'Hey, would you rather be that guy or make $200,000 working for an advertising agency?' And didn't even think about it. I said I would rather go chase my dream. At that point I knew that she was the one for me because she was 100 percent on board and she said, let's do it."
From there, Hahn quit his advertising job, picked up his clubs and sold shoes at Nordstrom part time before dropping the gig altogether six months later to focus on his game. 
Now a two-time PGA Tour event winner, Hahn leaves Quail Hollow with the confidence his caddie and family continually instilled in him over the past three months of missed cuts. And the man who asked for a cold beer before his victory press conference isn't terribly worried about next week's cut.
"I try not to think about that," he said when asked what he thinks he can accomplish in the game. "I'm sure other athletes don't think about how many Super Bowl rings they're going to win or how many NBA championships they're going to win. They just go into every day and put in 110 percent. Whether I win three events, five events or 20 events, I can't let my family down and I just have to put in 110 percent every single day."
That journey continues Monday in a full car with his wife and daughter still cheering him on.
"We're going to start driving to Jacksonville with a screaming baby in the back," Hahn said. "Any of you guys need a ride?"
We're good. You just enjoy the ride.