'I've just snapped my ankle,' practice-round partner's caddie tells Jason Day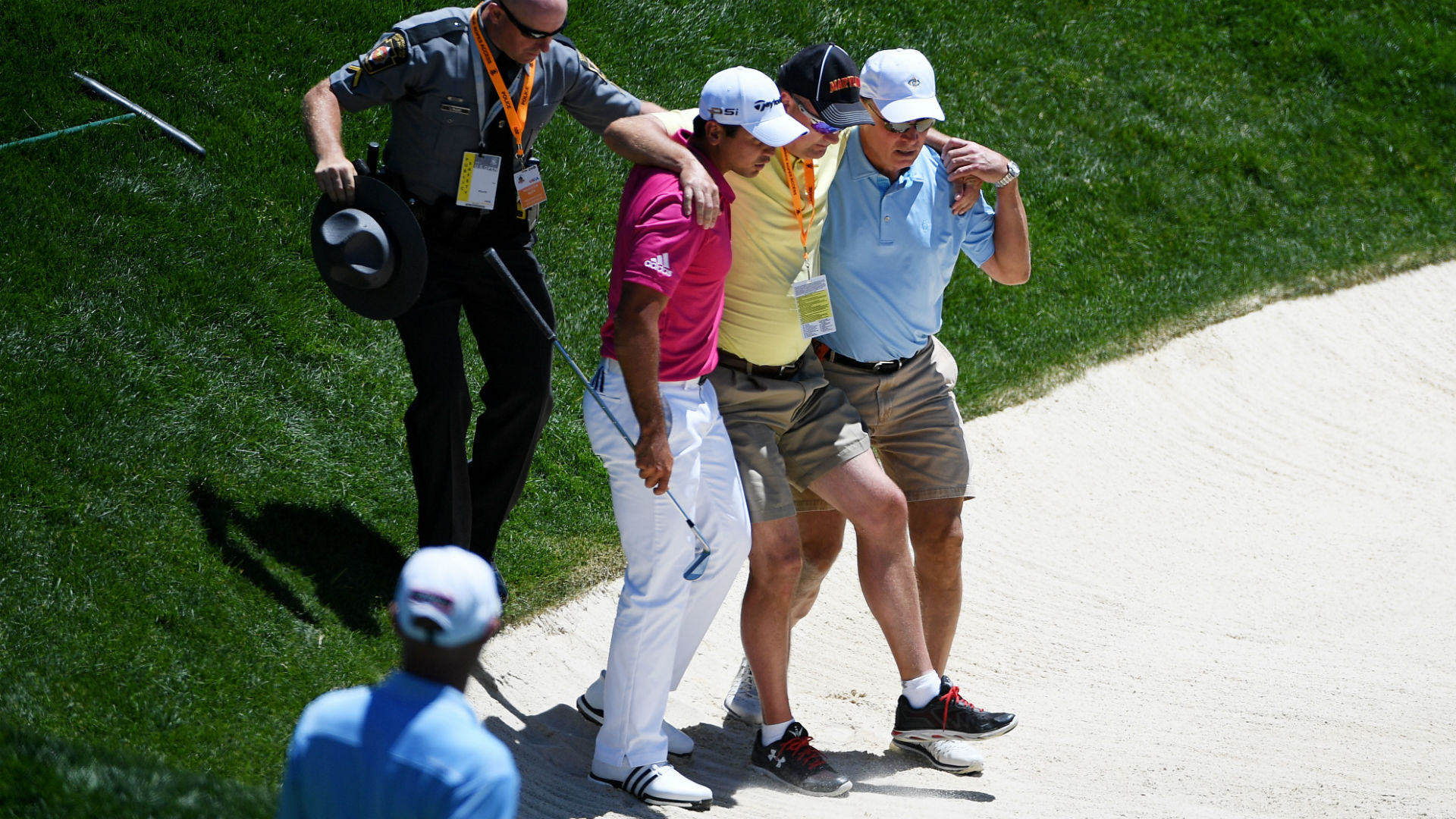 Jason Day famously fell over during the 2015 U.S. Open because of a bout of vertigo, but the world No. 1 was in the vicinity of a more damaging trip on Tuesday in a practice round ahead of this year's tournament at Oakmont.
MORE: U.S. Open 2016 pairing, tee times | U.S. Open 2016 winners
Day was preparing to play a bunker shot on the sixth hole when Bill Henaghan, the caddie for amateur playing partner Chris Crawford, suffered a tumble that resulted in a broken left ankle.
Medical assistance was swiftly called for, with Day among those to help the stricken Henaghan before longtime Steelers team doctor Jim Bradley, a member at Oakmont who happened to be walking with the group, headed a first-aid assessment.
Describing the unexpected drama, Day told Golf Australia, "He was walking around the bunker pretty quick to get out of my way, I think, and he fell down a little bit and I hear this 'snap' and I thought that sounded weird.
"I turned around and he [Henaghan] said, 'Jason, I've just snapped my ankle'.
"I said, 'What?' and he said it again, 'I've snapped my ankle. I'm OK, so you go ahead.' He was actually asking me to hit.
"I was [saying], 'Mate, I'm not going to hit, I'm going to try to get a medic over here' ... and then he was taken care of.
"Poor fella, I feel so sorry for him. He was probably so jacked to caddie at the U.S. Open, especially at Oakmont, and then to have it done on hole six of a practice round two days before it all starts, that's pretty devastating."
MORE: U.S. Open records, all-time leaders | Foreign U.S. Open winners
Day's own stumble 12 months ago came as he played his final hole, the ninth, in round two at Chambers Bay. The Australian went on to shoot an impressive 68 in his third round before finishing inside the top 10.