Ryder Cup 2021 results, scores: Dustin Johnson remains undefeated as USA dominates again on Day 2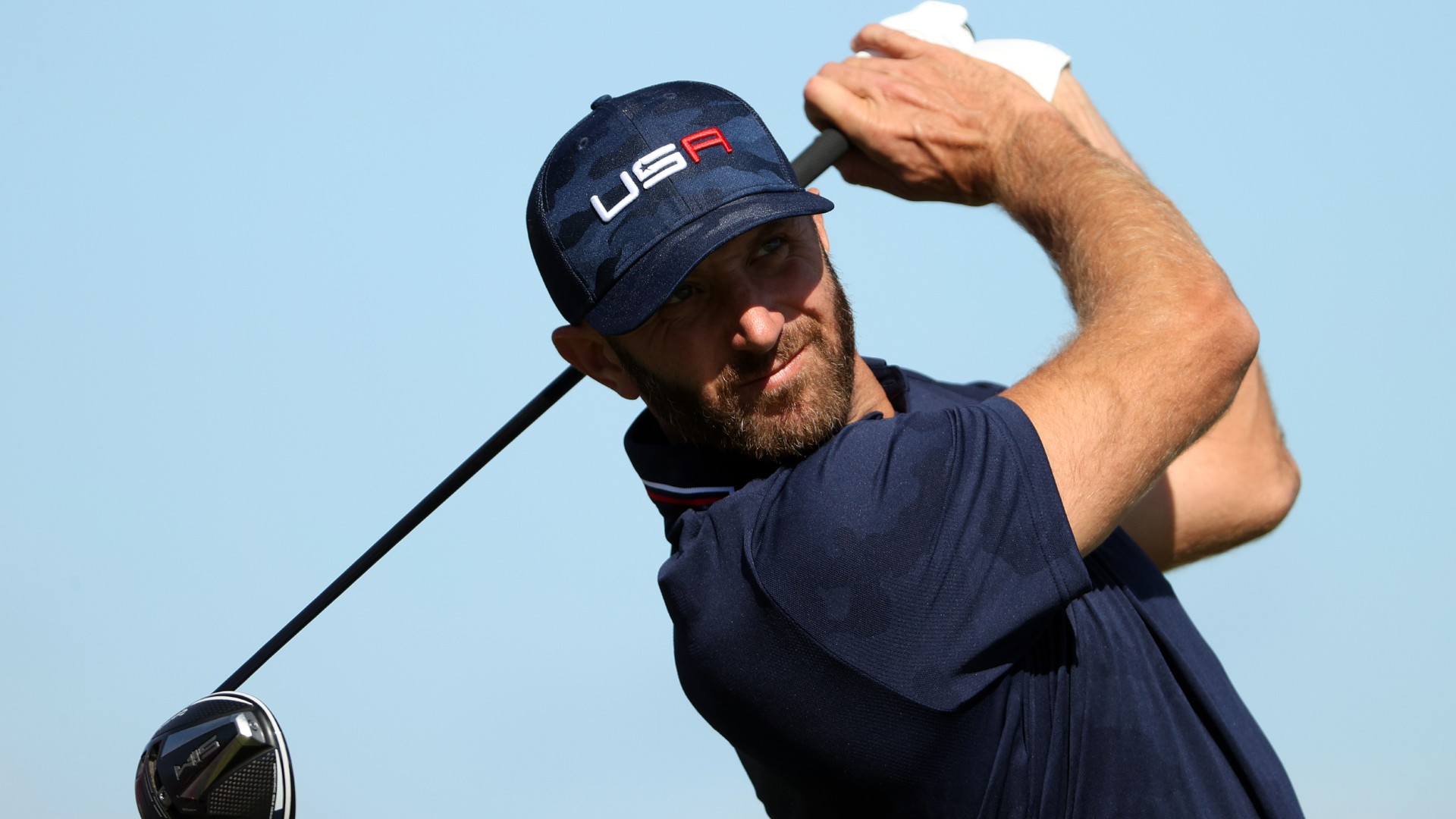 Team Europe wasn't giving up the fight heading into Day 2 of the 2021 Ryder Cup, but after Team USA went 3-1 in the foursomes morning round and split the four afternoon fourball matches, the defending champs' deficit was 11-5 heading into Sunday's singles play. The Americans need just 3.5 more points to capture the Ryder Cup trophy. Europe needs nine points to retain it.
Dustin Johnson stayed undefeated for Team USA after winning both his matches Saturday with partner Collin Morikawa. Even though he is the oldest American player, the 37-year-old Johnson has played in all four rounds this weekend. Jon Rahm and Viktor Hovland have done the same for Europe.
MORE: Updated standings from 2021 Ryder Cup
Bryson DeChambeau captured his first Ryder Cup victory after going 0-3 in 2018. He and his partner, Ryder Cup rookie Scottie Scheffler, earned their first Ryder Cup points Friday with a tie.
Rahm continued his own undefeated streak as he won his morning and afternoon rounds with Sergio Garcia, who has the most Ryder Cup wins in history. Otherwise, the only other winning Europeans were Shane Lowry and Tyrrell Hatton. Lowry had quite the putting day with six long birdie putts, including one on 18 to secure a point. 
MORE: Brooks Koepka gets into heated argument with Ryder Cup officials
Rory McIlroy was absent from the morning foursome round, breaking his streak of 26 consecutive Ryder Cup rounds. He has yet to win a point for Europe this year.
Sporting News tracked live scoring updates and highlights of the 2021 Ryder Cup's featured groups. Below are the results and highlights from Saturday's foursome and fourball matches at Whistling Straits in Wisconsin.
MORE: Watch the Ryder Cup live with fuboTV (7-day free trial)
Ryder Cup scores
Foursome results
Fourball results
Ryder Cup live updates, highlights from Day 2
7:18 p.m. — Team USA secures the final point of the day after Hovland and Fleetwood miss their birdie putts. This is DeChambeau and Scheffler's first official Ryder Cup victory. The final score for the day is 11-5.
7:09 p.m. — DeChambeau's tee shot rolls near the hole on Hole 17, putting them in a good position to finish the match here.
7:06 p.m. — Scheffler birdies Hole 16 to win the hole, as Team USA is 2UP with two holes to play.
7:04 p.m. — And another match finishes after McIlroy misses a birdie putt that can't match Morikawa's. The overall score is 10-5 .
7:03 p.m. — Rahm and Garcia remain undefeated as they beat Koepka and Spieth on Hole 17 after Koepka misses a birdie putt to win the hole. The overall score is 9-5 .
7:02 p.m. — Lowry's putt on Hole 18 brings the first point of the afternoon, this one is awarded to Team Europe. The overall score is now 9-4 .
6:57 p.m. — Out of the bunker on Hole 18, Hatton doesn't make it to the green. It's up to Lowry to have a good putt for Team Europe to gain a point from this match.
6:47 p.m. — Rahm makes another birdie on Hole 16. Spieth just misses his answer, which was his sixth putt missed today that was only around 10 feet away. Team Europe moves to 2UP with two to play.
6:44 p.m. — Scheffler makes a crucial putt on Hole 15 to go 1UP on Team Europe. Team USA now leads two matches.
6:40 p.m. — And another bad tee shot as Finau lands in the middle of spectators on Hole 18.
6:38 p.m. — More rough tee shots on Hole 16 for Team USA, as Spieth almost lands in Lake Michigan and Koepka lands in a bunker behind a huge bush. Koepka escapes and ends up on the green.
6:34 p.m. — Engilsh's tee shot also ended up near the cliffs, and his attempt rolls to the other end of the green. Finau finally attempts to make birdie, and misses the hole by inches.
6:32 p.m. — Hatton misses his putt, and Lowry decides to try to hit his cliff shot. However, he decides to use the two-club length option to reposition the ball with a one-stroke penalty. He misses his chip.
6:25 p.m. — Lowry's chip shot drops on the cliffs on Hole 17 just like Spieth's did yesterday. Will he be able to make a miraculous shot like Spieth?
6:25 p.m. — DeChambeau birdies on Hole 13, and Fleetwood doesn't answer it. This match is now tied with five to play.
6:20 p.m. — Rahm birdies Hole 15 after Spieth misses his birdie chance. This ends the tie, bringing Rahm/Garcia 1UP with three to play. Three European teams lead now.
6:16 p.m. — English and Lowry both miss eagle putts on Hole 16. Lowry concedes his putt for a birdie, giving Finau and English both a chance to tie the hole. Finau makes the putt, so Team Europe remains only up 1 with two holes to go.
5:52 p.m. — Fleetwood scores a par, and Scheffler can't do the same. Team Europe goes 1UP after 12.
5:42 p.m. — Similarly to watch happened to Spieth on the previous hole, Rahm's putt lips out of the hole giving Koepka a chance to win the hole. Koepka makes the birdie putt and this match is tied for the first time since Hole 2 heading into the 14th hole.
5:37 p.m. — Hatton makes a long birdie putt needed to tie Hole 14 and secure their lead.
5:35 p.m. — DeChambeau and Scheffler both miss birdie putts, allowing this match to remained tied.
5:26 p.m. — After Koepka misses another long putt for birdie and to win the hole, Spieth's putt lips around the hole and ends up not going in. This hole finishes with another tie.
5:22 p.m. — Finau/English finally win their first hole of the day with a Finau birdie on Hole 13. They bring Europe's lead down to 1UP .
5:16 p.m. — DeChambeau has a big confidence booster after making a huge birdie putt on Hole 10. Hovland misses his birdie, so the match is now tied .
5:12 p.m. — Koepka misses his birdie and a chance to tie the match on Hole 11.
5:02 p.m. — On Hole 9, Hovland ends the tie to bring Europe 1UP heading into the back nine. 
4:57 p.m. — Morikawa makes another birdie to go 3UP on Poulter/McIlroy. The American duo is 5 under this afternoon.
4:54 p.m. — Rahm gives Koepka a chance to birdie and win the hole, which Koepka then does. Team Europe leads only 1UP as they head to Hole 11. 
4:52 p.m. — Hatton expands Team Europes lead to 2UP after getting a birdie on Hole 11. 
4:44 p.m. — After DeChambeau's tee shot lands in the middle of a spectator group, his second shot on Hole 9 lands in the brush on the side of the green. 
4:36 p.m. — Fleetwood/Hovland win Hole 8, bringing the third match back to a tie .
4:32 p.m. — Lowry has his fifth birdie of the day, giving Team Europe a 2UP lead through 10 holes, their biggest of the day.
4:30 p.m. — DeChambeau attempts to hit his ball out of the bunker, but it just lands behind him. He is having a rough last couple of holes.
4:29 p.m. — McIlroy makes a par putt, but Morikawa birdies giving Team USA a larger lead. They are 2UP through seven.
4:15 p.m. — Koepka makes a much needed putt to win Hole 9. Team Europe is now 2UP as they go to the back nine.
4:12 p.m. — McIlroy misses his putt for a tie, so Johnson/Morikawa go 1UP , the only Team USA pair leading.
4:02 p.m. — DeChambeau's tee shot on Hole 7 plops in Lake Michigan. Scheffler ends up winning the hole, going 1UP .
3:53 p.m. — Koepka's putt hops over the hole during his birdie chance. Rahm is able to make his birdie and Spieth misshes his chance to tie. Team Europe goes 3UP in this match. Koepka and Spieth cannot catch a break yet this round.
3:50 p.m. — Poulter makes a 28-foot birdie on Hole 5, his third already today. Johnson isn't able to match is, now the match is now tied .
3:39 p.m. — After Spieth lands on the green close to the hole, he is only able to score a par, which Garcia then matches. 
3:36. p.m. — DeChambeau makes a birdie putt that Team Europe cannot answer. This match is now tied .
3:16 p.m. — As DeChambeau approaches the Hole 5 tee box, fans chant "Bombs away!" after he drove 417 yards yesterday. He only drove 262 yards today — a major difference. The wind doesn't help most likely.
3:15 p.m. — After his close drive, English fails to make eagle and win Hole 6. Lowry finishes with a birdie, putting pressure on Finau and English to do the same. Finau birdies to finish the hole with a tie.
3:12 p.m. — DeChambeau makes a par putt after Hovland concedes his putt. They finish Hole 4 with a tie.
3:05 p.m. — English's drive on Hole 6 creates an uproar from the crowd after the ball rolls onto the green and near the hole. This sets up an eagle attempt for English.
3:01 p.m. — Rahm follows up his commanding putt with a rough drive on Hole 5 that lands in the penalty area near Lake Michigan.
2:55 p.m. — Rahm birdies Hole 4 to go 2UP . This is the largest lead as of now.
2:51 p.m. — Hovland ends the only remaining tie of the afternoon after he birdies Hole 3 to go 1UP . Team Europe leads three matches.
2:50 p.m. — Johnson birdies while Team Europe doesn't, so Team USA is now 1UP . This is the only match they lead right now.
2:42 p.m. — Johnson's drive rolls onto the green on Hole 2, ending up closer than Lowry's from earlier.
2:37 p.m.  — As English struggles with strong winds on Hole 4, he misses a birdie and par chance to win the hole after Team Europe bogeys. Team Europe remains 1UP after both teams bogey.
2:36 p.m. — Rahm putts for par after Garcia and Spieth both miss. Team Europe goes 1UP after three.
2:29 p.m. — Hatton has a shot on the side of the green on Hole 4. His attempt fails as the ball rolls back down to the sand trap. 
2:27 p.m. — Poulter shouts "C'mon!" as he makes his first big putt of the day. Johnson matches it with a birdie of his own. The final matchup stays tied after Hole 1.
2:19 p.m. — Spieth puts Team USA back to a tie after he makes eagle on Hole 2.
2:18 p.m. — After DeChambeau's par putt on Hole 1, he lays his putter on the ground to show that his ball was close enough to concede the putt. DeChambeau is the third golfer to do this today, after Thomas does it in the morning and Lowry does it in the afternoon.
2:14 p.m. — The last matchup of the day tees off between Rory McIlroy and Ian Poulter, both Ryder Cup veterans who have yet to capture a point this year, and Dustin Johnson and Collin Morikawa, who remain undefeated in this year's event.
2:13 p.m. — Lowry makes a long birdie putt on Hole 3 to put his team 1UP .
1:58 p.m. — Matchup three of the afternoon tees off. Bryson DeChambeau and Scottie Scheffler are still looking for their first Ryder Cup wins (DeChambeau lost all four in 2018). Viktor Hovland and Rahm are the only two on Team Europe who will play all five matches.
1:55 p.m. — Rahm's shot is conceded for birdie, and Spieth misses his chance to tie the hole. Europe leads 1UP after one.
1:42 p.m. — The most anticipated matchup of the afternoon begins as Sergio Garcia and Jon Rahm, the only undefeated European team, tee off, followed by the new American duo of Brooks Koepka and Jordan Spieth. All four golfers played this morning, and Koepka lost to Garcia and Rahm in their foursome matchup.
1:38 p.m. — English birdies the first hole of the day, making the American crowd excited. Lowry answers with his own birdie, so the first match remains tied .
1:26 p.m. — Day 2 begins with the winning American team from yesterday (Tony Finau/Harris English) against the new European duo (Shane Lowry/Tyrrell Hatton). Lowry's monster drive rolls to the edge of the green.
Highlights from the morning foursome matches:
Team USA showed another dominant morning performance on Saturday, winning three of the four matches. They currently lead Team Europe 9-3 heading into the afternoon matches. This is the largest winning margin after three rounds since Europe in 1987. 
Team Europe's single victory came from the undefeated team of Jon Rahm and Sergio Garcia who took a point over Brooks Koepka and Daniel Berger. 
Jordan Spieth and Justin Thomas came back from a down 3 deficit after six holes to winning their match 2UP. Collin Morikawa and Dustin Johnson remain undefeated as teammates this year. 
MORE: Updated standings for the 2021 Ryder Cup
How to watch the 2021 Ryder Cup
Dates:  Sept. 24-26
TV channels:  NBC, Golf Channel
Live stream:  Peacock,  fuboTV
Golf Channel and NBC will split live coverage of the 2021 Ryder Cup. Golf Channel aired the first rounds of the tournament exclusively on Friday. NBC is taking over most of the weekend coverage on Saturday and Sunday.
Ryder Cup tee times for Sunday
Here are the complete Ryder Cup tee times and pairings for Sunday:
Singles