Tiger Woods score: Final-round results, highlights from the Memorial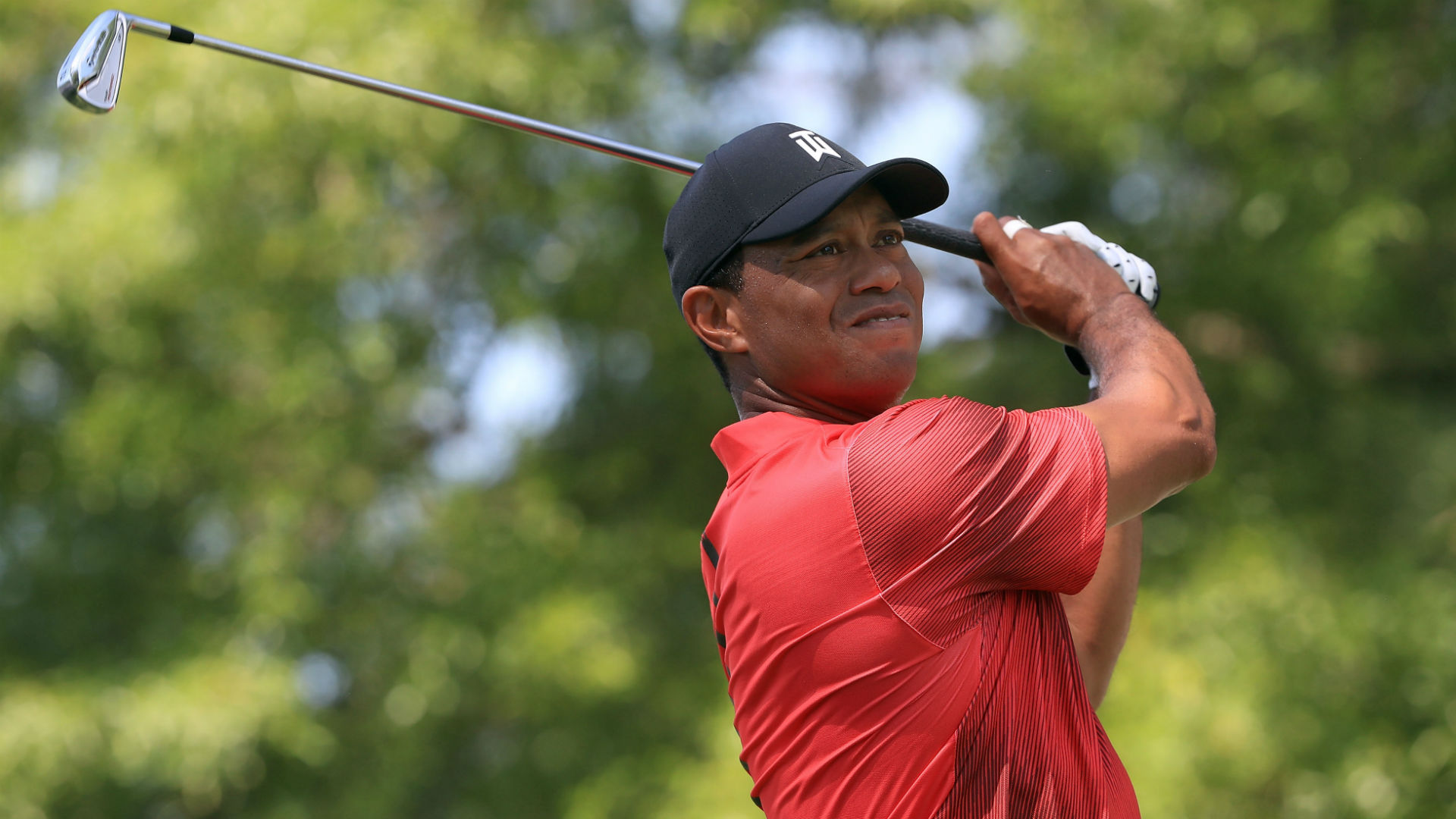 Given his place on the leaderboard, Tiger Woods' score in the final round of the Memorial Tournament on Sunday was worth tracking. He entered Round 4 at nine under for the tournament, tied for seventh overall on the leaderboard and five shots behind the leader.
Tiger ended his final round with the same score, nine under for the tournament, after shooting a 72. The problem was he entered the clubhouse in a tie for 23rd after an up-and-down day that netted nothing special.
LIVE STREAM: Watch the PGA Tour on fuboTV (7-day free trial)
The main issue for Tiger in the final round of the Memorial was the same thing that doomed him in previous rounds — his putting. He hit 10 of 14 fairways and 13 of 18 greens, but he had 31 putts.
"I had some chances to shoot some good rounds this week," he said after the round. "Overall my game is where it needs to be heading into the US Open, which is a positive."
SN followed Tiger's final round with live updates and highlights in real time. Here's how it went down.
THE MEMORIAL: Full leaderboard
Tiger Woods score: Results, highlights from the Memorial
| | | |
| --- | --- | --- |
| Hole (Par) | Tiger's score (Overall) | Place |
| 1 (4) | 3 - Birdie (10 under) | T6 |
| 2 (4) | 4 - Par (10 under) | T6 |
| 3 (4) | 4 - Par (10 under) | T7 |
| 4 (3) | 3 - Par (10 under) | T7 |
| 5 (5) | 4 - Birdie (11 under) | T6 |
| 6 (4) | 4 - Par (11 under) | T7 |
| 7 (5) | 5 - Par (11 under) | T9 |
| 8 (3) | 3 - Par (11 under) | T9 |
| 9 (4) | 4 - Par (11 under) | T9 |
| 10 (4) | 5 - Bogey (10 under) | T11 |
| 11 (5) | 4 - Birdie (11 under) | T7 |
| 12 (3) | 3 - Par (11 under) | T7 |
| 13 (4) | 5- Bogey (10 under) | T12 |
| 14 (4) | 4 - Par (10 under) | T13 |
| 15 (5) | 5 - Par (10 under) | T13 |
| 16 (3) | 4 - Bogey (9 under) | T22 |
| 17 (4) | 4 - Par (9 under) | T23 |
| 18 (4) | 4 - Par (9 under) | T23 |
HOLE 18: Par 4, 484 yards
— Tee shot: Tiger's final tee shot of the day was a good one, right down the middle of the fairway.
— Second shot: Barely caught the front edge of the green, setting him up for a chance at a long birdie to end the day.
— First putt: Short, of course. How else would Tiger end the tournament? The 35-footer's roll stopped a couple feet short.
— Second putt: Got it. Tiger's day ends with a par. PAR
HOLE 17: Par 4, 478 yards
— Tee shot: His iron shot traveled 291 yards and landed in the middle of the fairway.
— Second shot: Another solid strike. This one found the green about eight feet from the hole.
— First putt: Missed it again. Tiger's putting has been a disaster all weekend.
— Second putt: Got it. PAR
HOLE 16: Par 3, 201 yards
— Tee shot: Caught the back end of the green. The ball rolled slightly away from the hole to set him up for a 40-foot birdie putt.
— First putt: Not enough on it. It was heading for a break to the right but stopped a few feet short of the hole.
— Second putt: Missed it. His first three-putt of the round continues the story of the tournament for Tiger.
— Third putt: A frustrating tap-in. BOGEY
HOLE 15: Par 5, 529 yards
— Tee shot: Best driver shot of the round thus far for Tiger. He sent one 283 yards down the middle of the fairway.
— Second shot: Whoops. He sailed one to the left of the green and landed it in the gallery. May or may not have hit a person.
— Third shot: Not a bad on considering the difficulty of his shot. It rolled short and right of the hole to set up a 15-foot birdie putt.
— First putt: Too much speed. Tiger sent it wide left; it didn't break.
— Second putt: Got it. Hooked the left edge of the cup. PAR
HOLE 14: Par 4, 363 yards
— Tee shot: Tiger laid up with an iron and rolled his shot down the middle of the fairway, a 236-yarder.
— Second shot: His approach with a gap wedge was solid, as it found the front of the green, but it didn't roll toward the hole the way Tiger wanted.
— First putt: Short again. He rolled it a little to the right, too.
— Second putt: Got it. PAR
HOLE 13: Par 4, 455 yards
— Tee shot: Very bad. Out of bounds, far right with the driver. Tiger immediately asked for a new ball after his shot landed.
— Provisional.
— Second tee shot: Much better. He hugged the right edge of the fairway and avoided the rough.
— Third shot: A nice approach. He stuck one on the green and rolled it back a few feet toward the hole for a good chance to sink a six-footer.
— First putt: Got it. BOGEY
HOLE 12: Par 3, 184 yards
— Tee shot: Great shot. Tiger landed one on the green left of the hole for a good chance at birdie from eight feet away.
— First putt: Nope. Not enough speed, and it broke right sooner than Tiger expected.
— Second putt: Another disappointing tap-in. PAR
HOLE 11: Par 5, 567 yards
— Tee shot: Tiger laid back on his tee shot, sending it 264 yards to the middle of the left-bending fairway.
— Second shot: He smacked his second shot 195 yards to the fairway just short of the green.
— Third shot: He didn't sink it like he did Friday, but his approach on 11 was a good one. He hit the green and spun the ball back toward the hole to set up a five-foot birdie putt.
— First putt: That'll work. BIRDIE
HOLE 10: Par 4, 471 yards
— Tee shot: The driver shot was pulled left. It landed in the rough and rolled into the left-side fairway bunker after traveling 276 yards.
— Second shot: Tiger just wanted to get back to the fairway and try to save par. He chipped one 82 yards to the fairway in front of the green.
— Third shot: Great shot. Tiger's approach grabbed the green and utilized back spin to pull the ball back toward the hole. He'd have a five-footer for par.
— First putt: Yikes. Not good. He sailed it wide left. It would be Tiger's first bogey of the round.
— Second putt: A tap in. BOGEY
HOLE 9: Par 4, 412 yards
— Tee shot: Tiger's stinger shot was perfect; down the middle of the straight fairway, 261 yards.
— Second shot: A great approach. It stuck to the center of the green and set him up for an 18-foot birdie putt.
— First putt: Wow. Missed it by maybe an inch to the right. Tiger judged the break and speed well, but not well enough.
— Second putt: A very disappointing tap-in. PAR
HOLE 8: Par 3, 185 yards
— Tee shot: Not bad. Tiger stuck the ball in the rough on the front edge of the green. At least he avoided the bunkers that surround the eighth green.
— Second shot: A decent chip rolled just left of the hole. The speed was good. It set up a one-foot par putt.
— First putt: A relative tap-in. PAR
HOLE 7: Par 5, 563 yards
— Tee shot: Another driver. This time his tee shot stuck on the right edge of the left-bending fairway after traveling 287 yards.
— Second shot: Tiger blasted his second shot 290 yards to the back edge of the green, where it rolled into the rough.
— Third shot: Tiger's chip clipped the edge of the green and rolled right, not toward the hole. He would have a 20-footer for birdie.
— First putt: A slight miss to the right. The speed was a little off, and he just misjudged the break.
— Second putt: A tap-in. PAR
HOLE 6: Par 4, 447 yards
— Tee shot: Tiger used his driver for the first time in the round, and he sailed his tee shot right, into the bunker off the edge of the fairway.
— Second shot: We have club throwing, if that's an indication of how the bunker shot went. It sailed a little too far and landed in the rough behind the green.
— Third shot: Not a bad approach, but it rolled about seven feet beyond the green for a tricky par putt.
— First putt: Got it. PAR
HOLE 5: Par 5, 527 yards
— Tee shot: Tiger smacked his tee shot to an ideal location, but it rolled a little far, off the right-bending fairway and into the intermediate rough.
— Second shot: His approach landed on the right side of the long, left-bending green; a great shot considering the tough angle he had. He'll have a 45-foot eagle putt.
— First putt: Short. Tiger's line was on, but he didn't have enough on it. About three feet short.
— Second putt: The three-footer falls. BIRDIE
HOLE 4: Par 3, 200 yards
— Tee shot: Tiger found one of the four bunkers that surround the fourth green. He landed in the sand trap to the left.
— Second shot: A great out landed just short of the hole, less than a foot away. The bad tee shot ends up not hurting him.
— First putt: A tap-in. PAR
HOLE 3: Par 4, 401 yards
— Tee shot: A great iron shot traveled 272 yards and landed in the middle of the fairway; Tiger's third fairway in three holes.
— Second shot: Another green, setting himself up for a 10-footer for birdie. Tiger's six shots through three holes have been nearly perfect.
— First putt: Just missed it. His putt didn't break right as much as he hoped it would.
— Second putt: Another frustrating tap-in. PAR
HOLE 2: Par 4, 455 yards
— Tee shot: Another solid tee shot with the 3 wood. Tiger's shot traveled 326 yards, hugged the left edge of the fairway and stayed away from the rough; similar to his tee shot on 1.
— Second shot: Got the green. He stuck one on the front, about 20 feet from the hole for a chance at a tough birdie.
— First putt: A slight miss to the right on an uphill put.
— Second putt: A tap-in. PAR
HOLE 1: Par 4, 470 yards
— Tee shot: A solid start. Tiger's tee shot traveled 300 yards, hugged the right edge of the fairway and stayed away from the rough.
— Second shot: Another beauty. His second shot dropped on the middle of the green about 13 feet from the hole for a chance at birdie.
— First putt: Got it. Now, if Tiger could just keep up the solid putting throughout the round. BIRDIE
Live updates: