U.S. Open golf 2016: List of winners, champions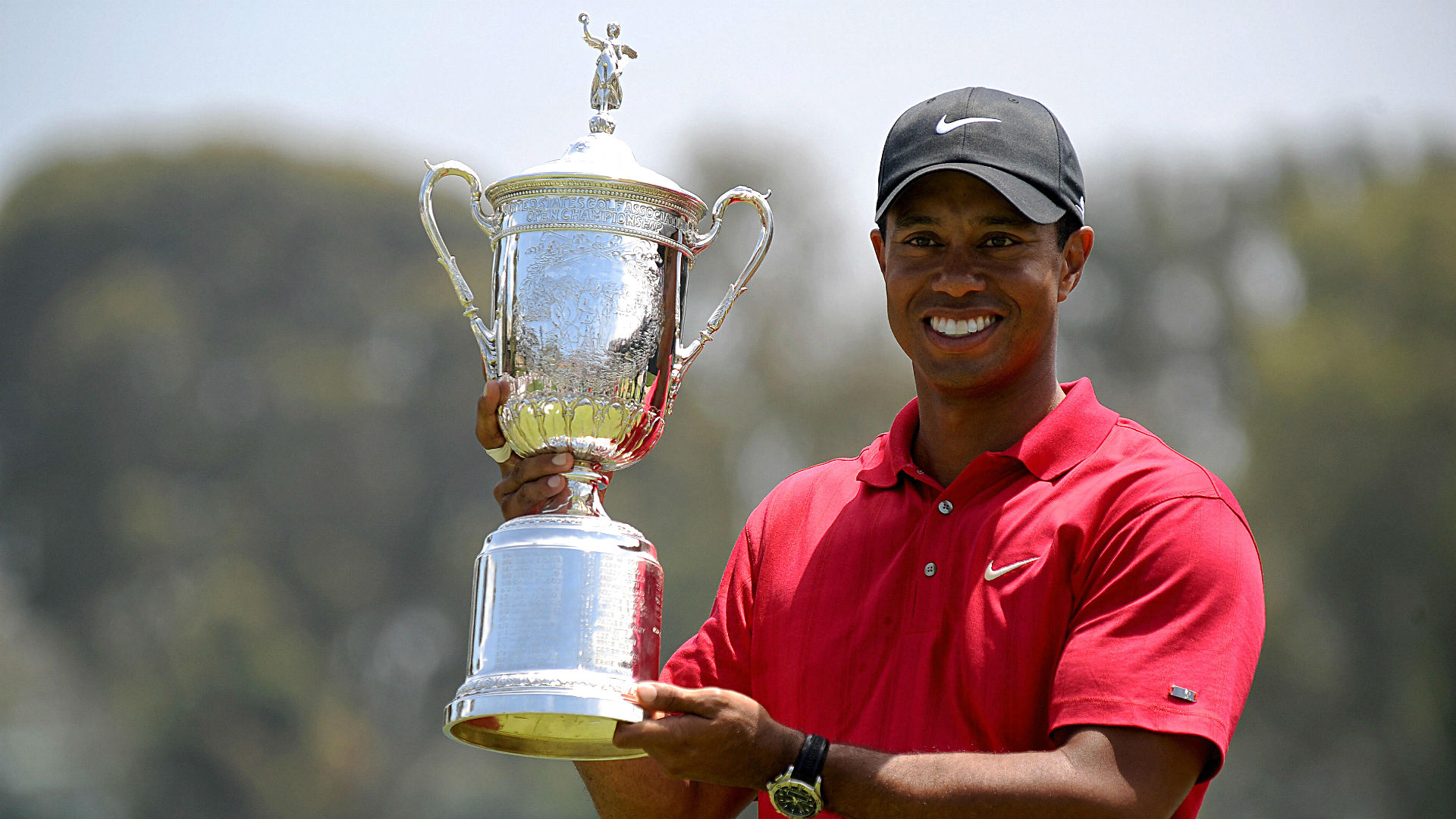 Only a handful of men have survived golf's toughest test. Many, many more have watched the U.S. Open tournament slip through their fingers. It's almost a guarantee to happen this time around, when the 2016 U.S. Open gets going at Oakmont Country Club in western Pennsylvania on June 16. The last time the tournament was there, Angel Cabrera won it at 5-over par.
This year, Jason Day is the favorite to win the U.S. Open, followed by Rory McIlroy and Jordan Spieth, who has struggled at times since his collapse in the Masters in April. He won the U.S. Open last year thanks to some gutsy putting in Sunday's final round.
MORE: Past winners of the U.S. Open, in photos | Phil's U.S. Open failures
Tiger Woods is nowhere to be found. He's won three U.S. Opens, the last in 2008 in an epic playoff over Rocco Mediate. It was his last of 14 major titles.
Here are all the other golfers to survive the U.S. Open.
List of U.S. Open golf winners
2015: Jordan Spieth (Chambers Bay)
2014: Martin Kaymer (Pinehurst Resort)
2013: Justin Rose (Merion Golf Club)
2012: Webb Simpson (The Olympic Club)
2011: Rory McIlroy (Congresssional Country Club)
2010: Graeme McDowell (Pebble Beach Golf Links)
2009: Lucas Glover  (Bethpage State Park, Black Course)
2008: Tiger Woods (Torrey Pines Golf Course)
2007: Angel Cabrera (Oakmont Country Club)
2006: Geoff Ogilvy (Winged Foot Golf Club)
2005: Michael Campbell (Pinehurst Resort No. 2)
2004: Retief Goosen (Shinnecock Hills Golf Club)
2003: Jim Furyk (Olympia Fields Country Club)
2002: Tiger Woods (Bethpage State Park, Black Course)
2001: Retief Goosen (Southern Hills Country Club)
2000: Tiger Woods (Pebble Beach Golf Links)
1999: Payne Stewart (Pinehurst Resort No. 2)
1998: Lee Janzen (The Olympic Club)
1997: Ernie Els (Congressional Country Club)
1996: Steve Jones (Oakland Hills Country Club)
1995: Corey Pavin (Shinnecock Hills Country Club)
1994: Ernie Els (Oakmont Country Club)
1993: Lee Janzen (Baltusrol Golf Club)
1992: Tom Kite (Pebble Beach Golf Links)
1991: Payne Stewart (Hazeltine National Golf Club)
1990: Hale Irwin (Medinah Country Club)
1989: Curtis Strange (Oak Hill Country Club)
1988: Curtis Strange (The Country Club)
1987: Scott Simpson (The Olympic Club)
1986: Ray Floyd (Shinnecock Hills Country Club)
1985: Andy North (Oakland Hills Country Club)
1984: Fuzzy Zoeller (Winged Foot Golf Club)
1983: Larry Nelson (Oakmont Country Club)
1982: Tom Watson (Pebble Beach Golf Links)
1981: David Graham (Merion Golf Club)
1980: Jack Nicklaus (Baltusrol Golf Club)
1979: Hale Irwin (Inverness Club)
1978: Andy North (Cherry Hills Country Club)
1977: Hubert Green (Southern Hills Country Club)
1976: Jerry Pate (Atlanta Athletic Club)
1975: Lou Graham (Medinah Country Club)
1974: Hale Irwin (Winged Foot Golf Club)
1973: Johnny Miller (Oakmont Country Club)
1972: Jack Nicklaus (Pebble Beach Golf Links)
1971: Lee Trevino (Merion Golf Club)
1970: Tony Jacklin (Hazeltine National Golf Club)
1969: Orville Moody (Champions Golf Club)
1968: Lee Trevino (Oak Hill Country Club)
1967: Jack Nicklaus (Baltusrol Golf Club)
1966: Billy Casper (Olympic Club)
1965: Gary Player (Bellerive Country Club)
1964: Ken Venturi (Congressional Country Club)
1963: Julius Boros (The Country Club)
1962: Jack Nicklaus (Oakmont Country Club)
1961: Gene Littler (Oakland Hills Country Club)
1960: Arnold Palmer (Cherry Hills Country Club)
1959: Billy Casper (Winged Foot Golf Club)
1958: Tommy Bolt (Southern Hills Country Club)
1957: Dick Mayer (Inverness Club)
1956: Cary Middlecoff (Oak Hill Country Club)
1955: Jack Fleck (Olympic Club)
1954: Ed Furgol (Baltusrol Golf Club)
1953: Ben Hogan (Oakmont Country Club)
1952: Julius Boros (Northwood Club)
1951: Ben Hogan (Oakland Hills Country Club)
1950: Ben Hogan (Merion Golf Club)
1949: Cary Middlecoff (Medinah Country Club)
1948: Ben Hogan (Riviera Country Club)
1947: Lew Worsham (St. Louis Country Club)
1946: Lloyd Mangrum (Canterbury Golf Club)
1945: Not played (World War II)   
1944: Not played (World War II)    
1943: Not played (World War II)    
1942: Not played (World War II)    
1941: Craig Wood (Colonial Country Club)
1940: Lawson Little (Canterbury Golf Club)
1939: Byron Nelson (Philadelphia Country Club)
1938: Ralph Guldahl (Cherry Hills Country Club)
1937: Ralph Guldahl (Oakland Hills Country Club)
1936: Tony Manero (Baltusrol Golf Club)
1935: Sam Parks, Jr. (Oakmont Country Club)
1934: Olin Dutra (Merion Cricket Club)
1933: Johnny Goodman (North Shore Golf Club)
1932: Gene Sarazen (Fresh Meadow Country Club)
1931: Billy Burke (Inverness Club)
1930: Bobby Jones (Interlachen Country Club)
1929: Bobby Jones (Winged Foot Golf Club)
1928: Johnny Farrell (Olympia Fields Country Club)
1927: Tommy Armour (Oakmont Country Club)
1926: Bobby Jones (Scioto Country Club)
1925: W. MacFarlane (Worcester Country Club)
1924: Cyril Walker (Oakland Hills Country Club)
1923: Bobby Jones (Inwood Country Club)
1922: Gene Sarazen (Skokie Country Club)
1921: James M. Barnes (Columbia Country Club)
1920: Edward Ray (Inverness Club)
1919: Walter Hagen (Brae Burn Country Club)
1918: Not played (World War I)    
1917: Not played (World War I)    
1916: Charles Evans, Jr. (Minikahda Club)
1915: Jerome Travers (Baltusrol Golf Club)
1914: Walter Hagen (Midlothian Country Club)
1913: Francis Ouimet (The Country Club)
1912: John McDermott (Country Club of Buffalo)
1911: John McDermott (Chicago Golf Club)
1910: Alex Smith (Philadelphia Cricket Club)
1909: George Sargent (Englewood Golf Club)
1908: Fred McLeod (Myopia Hunt Club)
1907: Alex Ross (Philadelphia Cricket Club)
1906: Alex Smith (Onwentsia Club)
1905: Willie Anderson (Myopia Hunt Club)
1904: Willie Anderson (Glen View Club)
1903: Willie Anderson (Baltusrol Golf Club)
1902: Laurie Auchterlonie (Garden City Golf Club)
1901: Willie Anderson (Myopia Hunt Club)
1900: Harry Vardon (Chicago Golf Club)
1899: Willie Smith (Baltimore Country Club)
1898: Fred Herd (Myopia Hunt Club)
1897: Joe Lloyd (Chicago Golf Club)
1896; James Foulis (Shinnecock Hills Golf Club)
1895: Horace Rawlins (Newport Golf Club)