Wells Fargo Championship: A look ahead to Sunday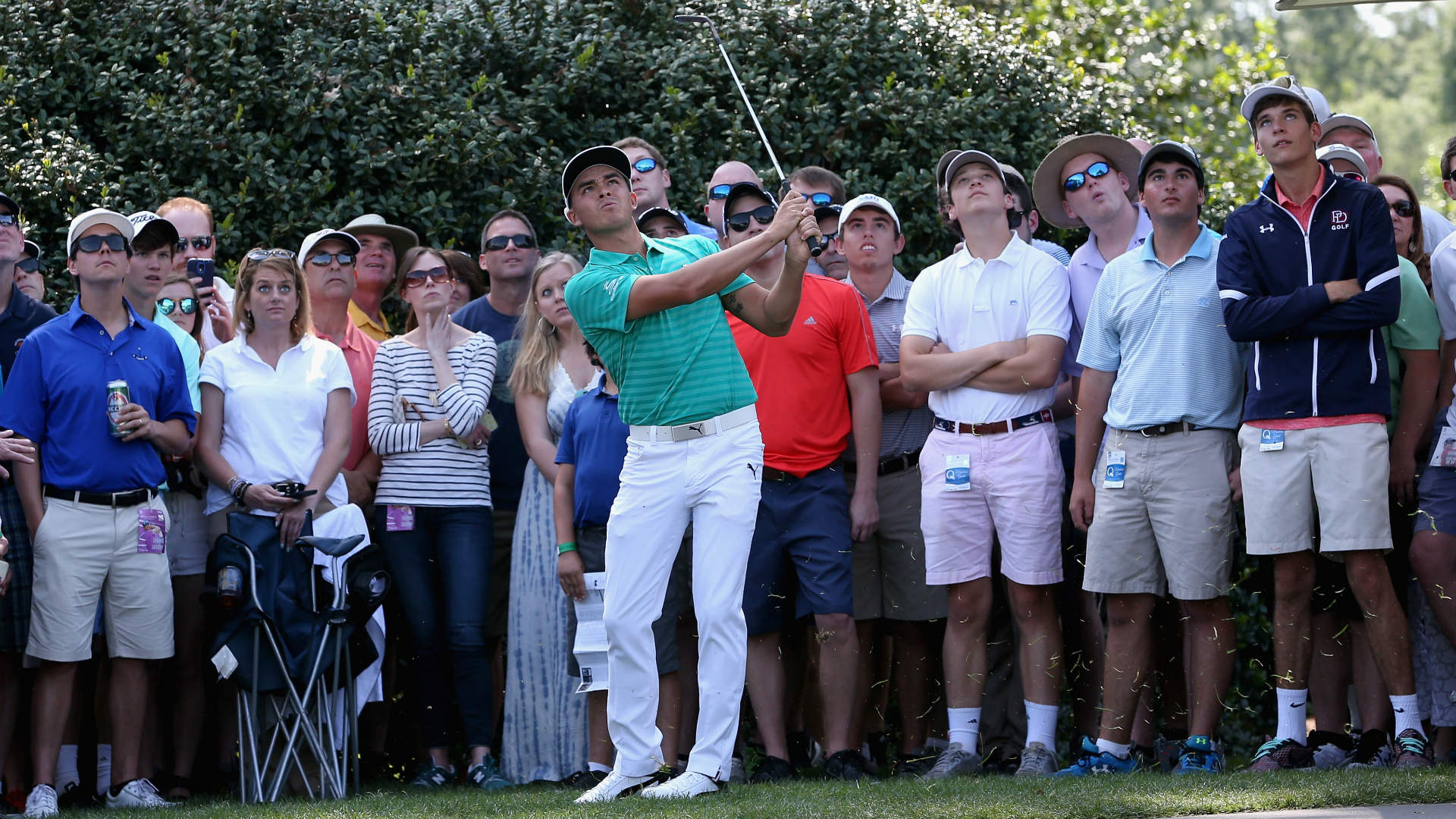 CHARLOTTE, N.C. — Quail Hollow Club has played long and tough all week during the Wells Fargo Championship. Even Rory McIlroy (-1), whose game fits the course perfectly, has struggled mightily and won't be a factor Sunday as he's eight strokes behind leader Rickie Fowler (-9).
The top of the leaderboard switched during the first two rounds of the tournament between ordinary names Steven Wheatcroft and Andrew Loupe. While Wheatcroft failed to stay in contention Friday and Saturday, Loupe is still within striking distance at 6 under and in a tie for fifth place.
MORE: Iconic jersey for every pro city | Fowler takes control
Playing conditions have gone from damp and soggy to sunny and windy over the course of the week. Sunday's final round is expected to see temperatures reach the mid-80s with more swirling winds on the course making for the week's fastest, firmest conditions. 
Here are Sunday's top contenders:
Rickie Fowler (-9) — Fowler, who won this tournament in 2012, has only gotten better as the tournament's progressed with a 1-under Thursday, 4-under Friday and another 4-under Saturday, including four birdies on the back nine in Round 3. After taking the lead, Fowler was noticeably loose, which could spell disaster for the rest of the field.
"I'm looking forward to (the greens) drying out and firming up even more (Sunday)," Fowler said of the fast putting surface. "You're going to have to be in control of your golf ball, especially out of the fairway. You're not going to be able to play this golf course out of the rough."
Roberto Castro (-8) — Friday was Castro's big moving day with a 6-under 66, but a steady Saturday with just one bogey prevented him from climbing higher on the leaderboard. If he can turn in another where he lifts mistakes and makes shots when he needs to he could hold off Fowler, who will certainly be the crowd favorite in the pairing.
"If you want to win a tournament out here and really win a marquee event like this one, you're going to have to grab your hat and play with one of the top five players in the world — probably the final round," Castro said. "So that's what I've got (Sunday), so I'm excited about it."
Justin Rose (-7) — Rose has dipped away at the course all week with back-to-back 2 under rounds and a 3-under 69 on Saturday. As the most accomplished player in serious contention (seven PGA Tour wins), he should be well-suited to handle the Sunday pressure with another respectable round capable of winning the tournament.
"The talent is so deep out here on Tour that you can never underestimate anybody," Rose said. "The point is not to care too much about the leaderboard and just focus on a good round of golf."
James Hahn (-7) — After bogeying three of his first six holes in the opening round, Hahn has settled into the course and made his way into a tie for third place with Rose. If he shakes the bogey bug and manages the par 5s, he could be a surprise winner.
"I'm hitting the ball well, putting well, my speed's great," Hahn said Saturday. "Tomorrow's a new day though. Just try to take it one shot at a time and show up, and hopefully both my shoes are on left and right."
Andrew Loupe (-6) — Loupe has collected somewhat of a cult following on the course with screaming drives, long hair and easily mispronounced name (it's pronounced LOOP, not loo-PAY). As a player with limited PGA Tour experience and just one Web.com Tour win, he was expected to fade after taking the lead in Round 2. However, the 27-year-old from Louisiana had laser focus Saturday and seems able to make any shot on the course.
"No changes to the game plan really," Loupe said of his Sunday outlook. "I'll look at the weather (for Sunday). I'm sure it's going to be warm again with a little bit of a breeze, probably in a similar direction as (Saturday). I'm learning a little bit about the course every day. I'm confident with how I feel and looking forward to (Sunday)."
Other notables in contention:
Lucas Glover (-5)
Retief Goosen (-4)