Celtics' win over Raptors could be major 'building block' for Boston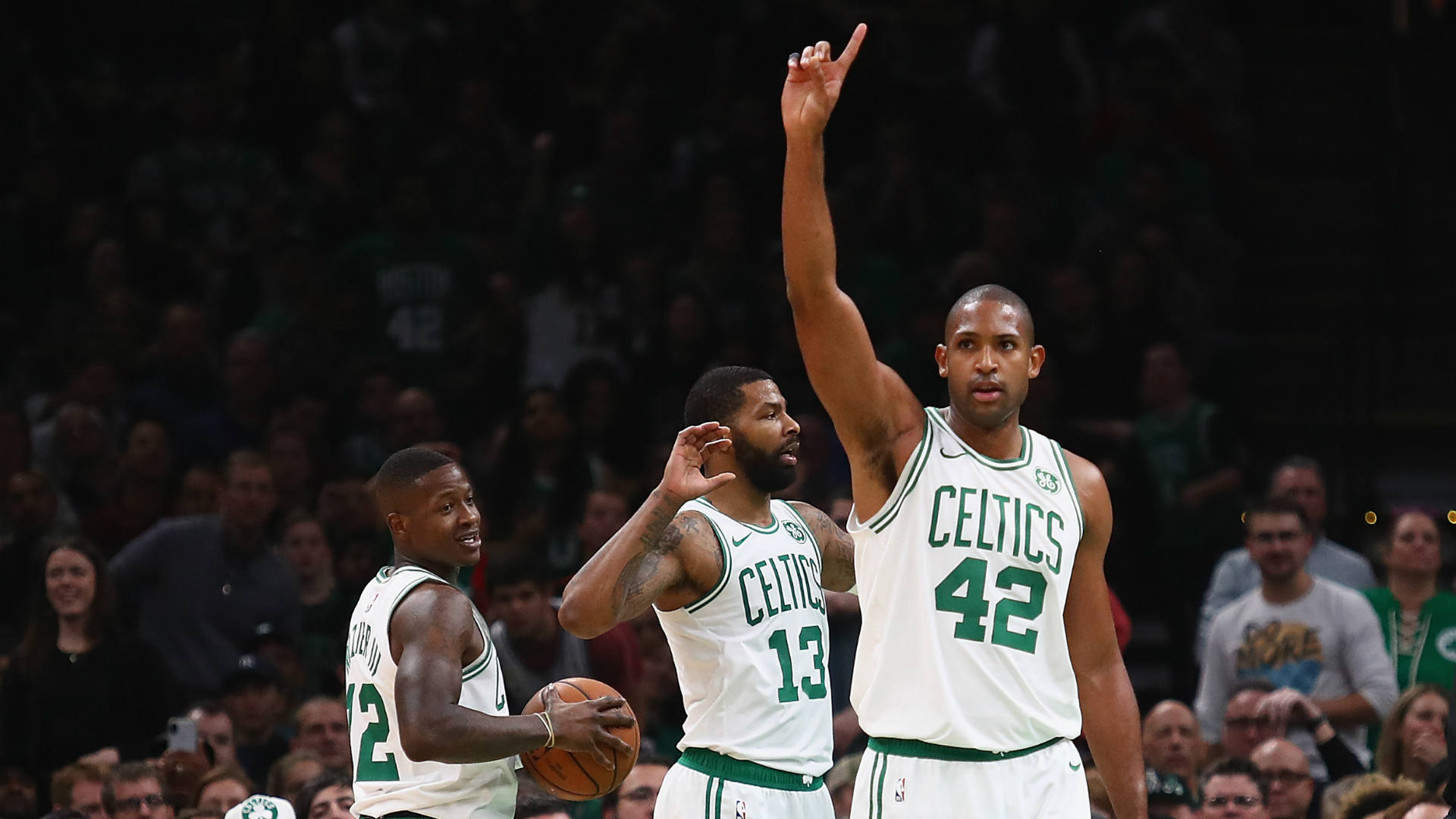 BOSTON — He did it against Kyle Lowry, a veteran bulldog of a defender. He did it against Delon Wright and his 6-8 wingspan. He did it by driving on Pascal Siakam and Serge Ibaka, both skilled shot-blockers. He even did it when guarded by Kawhi Leonard, a two-time Defensive Player of the Year notorious for swallowing up rambunctious point-guard scorers. 
 
The Raptors tried to cover every angle on Boston star Kyrie Irving in their heavyweight matchup against the Celtics here on Friday, but it was Irving's array of angles that did in Toronto, the conference leaders at 12-3 coming into the game. In a dandy of a November showdown, the Celtics won in overtime, 123-116, behind Irving's 43 point and 12 assists. 
MORE: What was wrong with Celtics' offense? Coaches, scouts weigh in
But this game might have given us a subtler storyline, a possible turning point for the Celtics. The team entered the year with such high expectations, but were just 8-6 to start the year, including a disastrous 1-4 road trip that rendered those expectations hollow. 
 
With Boston integrating established veteran stars — Irving, 2017 marquee free agent Gordon Hayward, Al Horford — with budding youngsters Jayson Tatum, Jaylen Brown and Terry Rozier, the Celtics were lacking order.
 
The vets were deferring too much. The youngbloods were forcing too much. 
 
On Friday, the Celtics seemed to find their core triumvirate. If every championship team needs a Big Three, the Celtics will start with Irving, flanked by Tatum as the No. 2 option and Hayward alongside. Getting the ball into those sets of hands most consistently gives the Celtics their best chance of fulfilling their massive expectations. 
 
Irving, who had been uncharacteristically gun-shy when it comes to driving to the rim (he was averaging only 9.4 drives, 42nd in the league, before Friday), drove 16 times, went 7 for 9 on those plays and went to the free throw line four times. That's Irving's strength, and he played to it. 
 
For him, the problem for the Celtics has been shot selection. Until Friday, at least.
"I think we have to find a happy balance," Irving said, "between taking some good 3s rather than just waiting for the great ones to come, and then just attacking the basket. … Any time we go to the rim like that, that's when our runs start. When we're attacking the rim and getting to the free-throw line, we're a totally different team."
 
Tatum appears to have snapped himself out of an early November slump and had his third excellent game in the past week. He finished with 21 points (on 8-for-13 shooting) and seven rebounds, and in his past four games he has averaged 20.9 points on 49.2 percent shooting and 52.0 percent 3-point shooting.
MORE: NBA Mock Draft 2019: Two Duke stars battle for top spot
Hayward looked entirely comfortable, a rarity in his short Boston career. He's had the most difficulty fitting into his new surroundings, and his mental state has become the favorite subject of the city's amateur psychologists on sports radio. Hayward took only eight shots, but made four, and finished with 15 points, five rebounds and five assists. He frequently took on ball-handling duties when Irving was off the ball or on the bench, and flashed deft passing skill.  
 
"He's a good player," coach Brad Stevens said. "And there's going to be a curve. I think that 15 on eight shots is pretty good when you consider how much we're asking him to handle the ball and make plays for others. But you know, I think he's done a lot of things in the last couple of weeks where you can see those steps are being made. And it's just a matter of feeling good again."
 
It was the first time this season that the trio each shot better than 50 percent and scored in double-digits in the same game, the first time all three were themselves.
 
This was especially evident in the fourth quarter and overtime. Boston entered the final quarter having been roughed up in the third quarter by Toronto's physicality, but turned the load over to Irving, who took 10 of the team's 18 shots and had 19 points in the fourth. Tatum had eight points in the fourth, and Hayward, who was excellent defensively, had the team's other two points. 
 
In overtime, the Celtics scored on all eight of their possessions, starting with Hayward, who had a layup opportunity on a pass from Irving, but was fouled by Toronto's Pascal Siakam. Hayward made those, followed by a turnaround jumper on the right wing on Boston's next possession, with an assist from Irving. 
 
After an Irving finish at the rim for two points, Tatum got into the act, sinking two free throws and finishing a driving shot on an assist from Irving. When Irving made a pullup jumper near the elbow with 1:44 to play, the Celtics had built a seven-point lead and effectively won the game. Irving, Tatum and Hayward had scored all of the Celtics' previous 41 points in the preceding 14 minutes. Horford finished off the game with two baskets in the final 1:10 of overtime, each assisted by Irving. 
MORE: Carmelo Anthony must confront harsh truth about his future
For the Celtics, there was some relief in the game, a big win on national television in which we finally got an inkling of what this team can become. There are plenty of roles available — Horford and Brown can be anchors of a terrific defense, Rozier can be a thrilling sixth man, Marcus Smart and Marcus Morris are always wildcards — but the more Boston settles into an Irving-Tatum-Hayward hierarchy, the faster the offensive issues will melt away. 
 
That, the hope is, started on Friday.
 
"I think we can use it as a building block," Hayward said. "I think we are still not playing our best basketball, I think we went through a little drought there. We've shown numerous times that we're fighters and we are going to continue to fight. But we have got to get to the point where we are playing 48 minutes of basketball the way we want to play. It's a process for us. We're using this one as a building block."