Nowitzki 'thrilled' by Chandler trade, willing to recruit Carmelo Anthony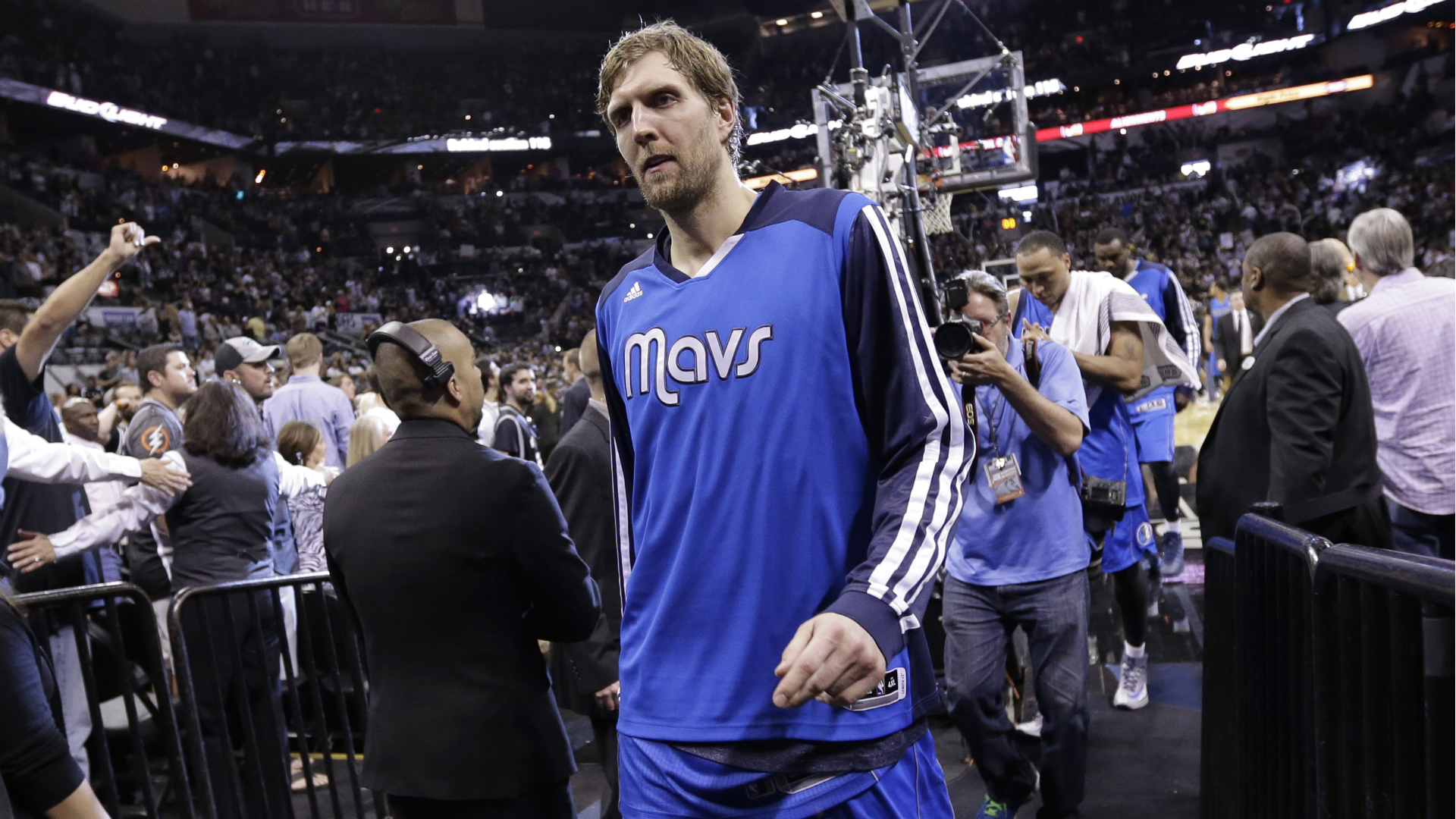 NEW YORK — They're getting the band back together in Dallas. Or, at least, one significant part of the band.
Tyson Chandler, who left Dallas for New York as a free agent in 2011, is heading to the Mavericks in a trade that will send guards Jose Calderon, Shane Larkin and Wayne Ellington to the Knicks, along with big man Sam Dalembert and second-round draft picks.
MORE: Details of Chandler trade | Melo's landing spot and more draft rumors
Mavericks forward Dirk Nowitzki, in town for Steve Nash's Showdown in Chinatown charity soccer event, said that bringing Chandler back to Dallas — where he helped the Mavs to the 2011 NBA championship — would be a boon for the team.
"He helped me get a championship, so we had great chemistry together," Nowitzki said. "So if it is true, I will be thrilled."
Nowitzki himself is a free agent, and though he is 36 years old, he once again led his team in scoring, averaging 21.7 points and 6.2 rebounds. He said he still intends to play two or three more years, but fret not, Mavs fans — Nowitzki has no intention of leaving Dallas, and made that clear on Wednesday.
"I will probably meet with Cubes (Dallas owner Mark Cuban) since I am a free agent myself on July 1, and I will go from there," Nowitzki said. "I mean, I don't want to go anywhere, he doesn't want me to go anywhere. Hopefully, it will be a short, quick meeting and we'll get it over and get better as a franchise."
The bigger question for Nowitzki is whether the Mavericks can finally get another top-flight star player to join him in Dallas. Nowitzki was an active part of trying to bring point guard Deron Williams to the Mavs in 2012, and was involved once more last summer, when he helped Dallas make its pitch to big man Dwight Howard. Dallas struck out on both accounts.
"I was active the last couple of years but it didn't do anything," Nowitzki said. "I was active with D-Will, but he stayed here. I flew to L.A. last year to meet with Dwight, but he signed with Houston. I guess they don't like me much."
There is an outside chance that small forward Carmelo Anthony will consider Dallas in free agency this summer. Anthony will be wooed by the Knicks, but also will get pitches from the Bulls, Lakers and Rockets, and perhaps even the Hawks and Heat.
"For sure, if Dallas is on his radar, he is one of the best forwards we have in this league," Nowitzki said. "He can score with the best of them. If that's really a possibility, we would love to have him."