Source: Wolves likely to target Bulls, Rockets after Melo derby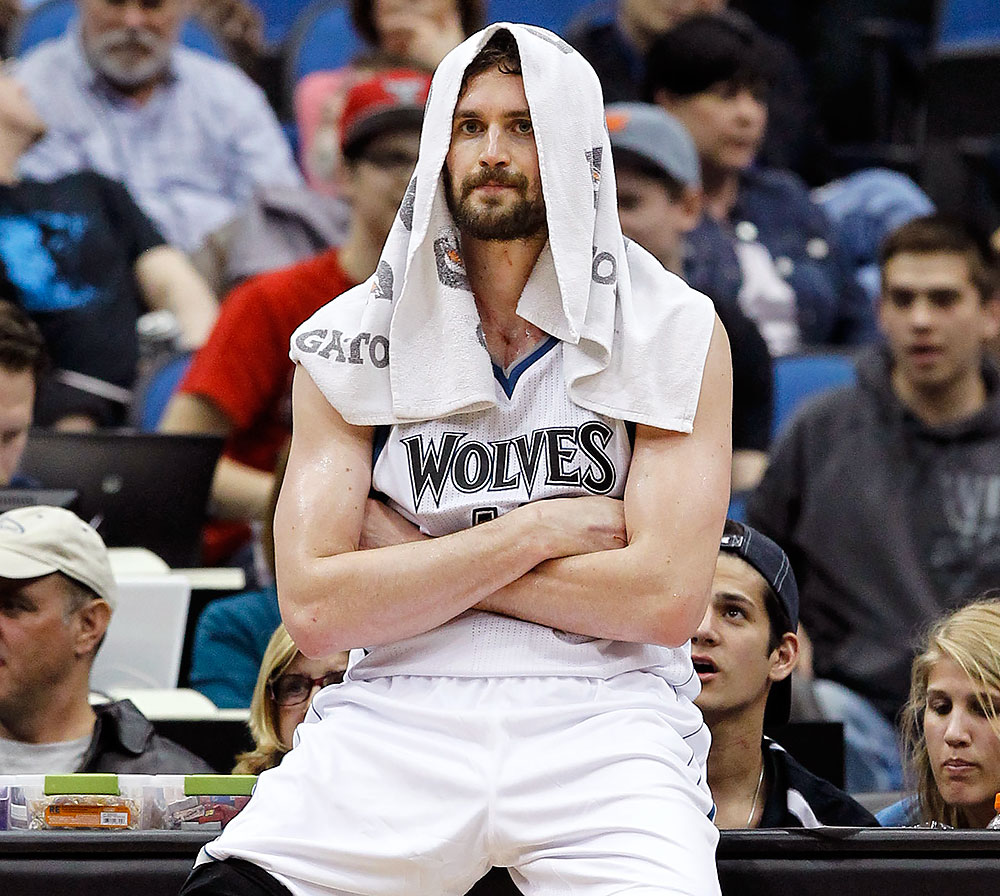 The Timberwolves and Kevin Love are, undoubtedly, headed for a divorce. It's only a matter of when.
For more than a month now, Minnesota has been laying the groundwork for a potential deal that would send its star forward elsewhere, with the Timberwolves looking for a return that includes draft picks but, more important, includes ready-to-produce young players. Ideally the Timberwolves would get the deal done by the end of draft night — which is tomorrow, of course.
MORE: Anthony opted out of Knicks deal | Flip: Trade talk at 'feeding frenzy' | NBA Mock Draft
But, according to a league source, the Timberwolves are prepared to wait out the draft and instead focus on Plan B — taking advantage of the aftermath of the Carmelo Anthony sweepstakes. "There are going to be some teams left at the altar, and that is a good time to make a deal," the source said.
Specifically, two teams known to be in the mix for Anthony's services this summer, Chicago and Houston, are also considering the possibility of separately pursuing Love. Anthony is expected to make a decision on his free agent destination relatively quickly. That means that, by the end of the first week of July, either the Bulls or Rockets could be left empty-handed — or both, should Anthony return to New York.
While the preference would be to make a deal that brings back a good young player and at least one good pick in this year's draft, the Timberwolves can also afford to wait, because both the Rockets and Bulls have attractive young pieces on the roster.
A Bulls offer would center around Taj Gibson, but could include developing wing Tony Snell and either player (or both) the Bulls land with the Nos. 16 and 19 picks. Chicago has also been looking to move up in the draft, which would potentially make their offer to Minnesota better.
The Rockets, too, have much to offer, starting with center Omer Asik, but including young big men Donatas Motiejunas and Terrence Jones. The Rockets have a spate of intriguing young guards, too, including Patrick Beverley, Isaiah Canaan and Troy Daniels, plus the 25th pick in this year's draft.
All of this is not to say the Wolves won't find a deal on Thursday night. It is entirely possible, of course, that the potential trade with Golden State is resuscitated, with Harrison Barnes taking the place of Klay Thompson in the offer. And teams like Boston, Denver and the Lakers are still holding out hope that, somehow, the Wolves will be more willing to listen to offers for their lottery picks and future assets.
But with the Anthony sweepstakes looming, the Timberwolves are in position to let draft night slide without pulling the trigger on a Love deal.