Markelle Fultz, 76ers are driving down road toward ugly divorce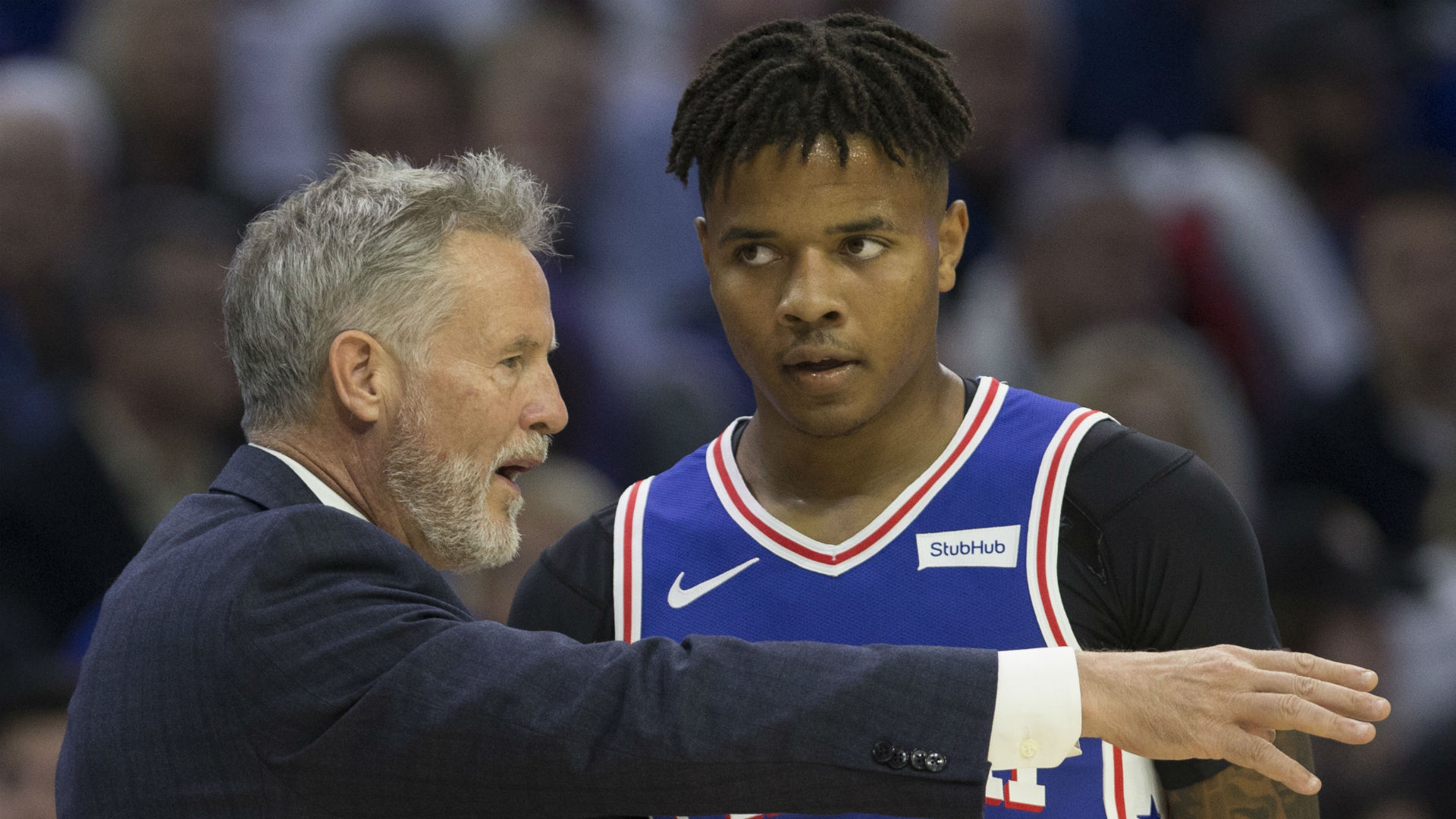 There are no surprises when it comes to the Markelle Fultz saga.
The second-year guard is dealing with shoulder issues again? Yep. The 76ers are considering trading Fultz? Sure. Fultz is going to return to the starting lineup after undergoing a procedure to give him a bionic arm? (OK, that last one might be a little bit surprising.)
TRADE RUMORS: Are Cavs interested in Fultz?
Fultz's professional career, which spans only 33 regular season games, has been full of sad, surreal twists and turns since he entered the NBA as the No. 1 overall pick in 2017. The most recent development came last week when Sixers general manager Elton Brand revealed Fultz will be out indefinitely while he seeks additional opinions on his injured shoulder. But this wasn't the organization's decision — Brand said Fultz's agent, Raymond Brothers, informed him Fultz won't participate in practices or games until the evaluations are complete.
"Raymond's job is different than my job," Brand said. "Raymond's job is to do the best, what he thinks is [the best] for his client. My job is to continue our positive trend and try to get deeper in the playoffs. At the end of the day, we all want to support Markelle, or what's best for Markelle."
What's best for Fultz and what's best for the Sixers are two things moving in opposite directions, though, and this relationship is quickly heading toward an ugly divorce.
The Jimmy Butler trade accelerated the Sixers' timeline. Head coach Brett Brown knows this is no longer a "Process" team. There are high expectations now, which is why Brown recently pushed backup point guard T.J. McConnell ahead of Fultz in his rotation. Fultz could still play a role off the bench, but it's unclear how effective he can be with his issues, which could extend beyond just physical limitations if he is struggling with anxiety and stress about his shot.
If the 76ers decide Fultz is no longer part of their long-term plans, they need to view him as a sunk cost. They've already mishandled a top prospect in former No. 3 overall pick Jahlil Okafor, who remained glued to the bench for far too long while Philadelphia searched for a trade. Perhaps the Sixers could at least recover a draft pick or use Fultz to acquire another shooter like Cavs guard Kyle Korver, but he simply doesn't hold much value on the trade market. That value will only continue to plummet with Fultz away from the team.
As for the former Washington star, he may prefer a "fresh start" with a new team, according to a report from The Athletic's Jared Weiss, Derek Bodner and Sam Amick. (Brothers told ESPN's Adrian Wojnarowski he hasn't told anyone in Philadelphia's front office that Fultz wants to be traded.) That makes sense in theory, but it's hard to find a trade partner interested in a young guard who can't shoot. We're not talking poor shooting percentage here — he has to relearn how to shoot the ball and rediscover some confidence in his ability to impact the game on the offensive end. 
MORE: Jimmy Butler could see himself staying with 76ers
Fultz possesses elite athleticism and has put together impressive sequences as a defender, so it's possible a franchise in the middle of a rebuild takes a chance on his talent. Ideally, Fultz would land in a situation with low bars to clear and little media coverage to analyze every hitch in his shot. He is only 20 years old, so he can still develop into a contributing player, even if he never touches his All-Star potential.
The Sixers can't hold on to that hope. Brand should put Fultz on the trade block because that's the best move for the Sixers in terms of their roster construction and salary cap numbers. Fultz should be open to a trade because it would turn the page and create a brighter future for him personally and professionally.
Trying to salvage the situation will only make it worse. Fultz's presence shifts the focus away from the 76ers' championship aspirations.​ Brand already sounds exhausted dealing with questions about Fultz's status. Brown has to figure out the right way to use Fultz while putting his team in the best position to win. Fultz can't truly escape the idea of what he was supposed to be if he stays in Philly. 
Resentment builds. Communication decreases. Both sides eventually reach the point of no return, realizing they should have separated a long time ago.
There are no surprises in the Markelle Fultz saga. However, there could be an end in sight — and it might be ugly.