After long journey, DeAndre Kane to honor father in draft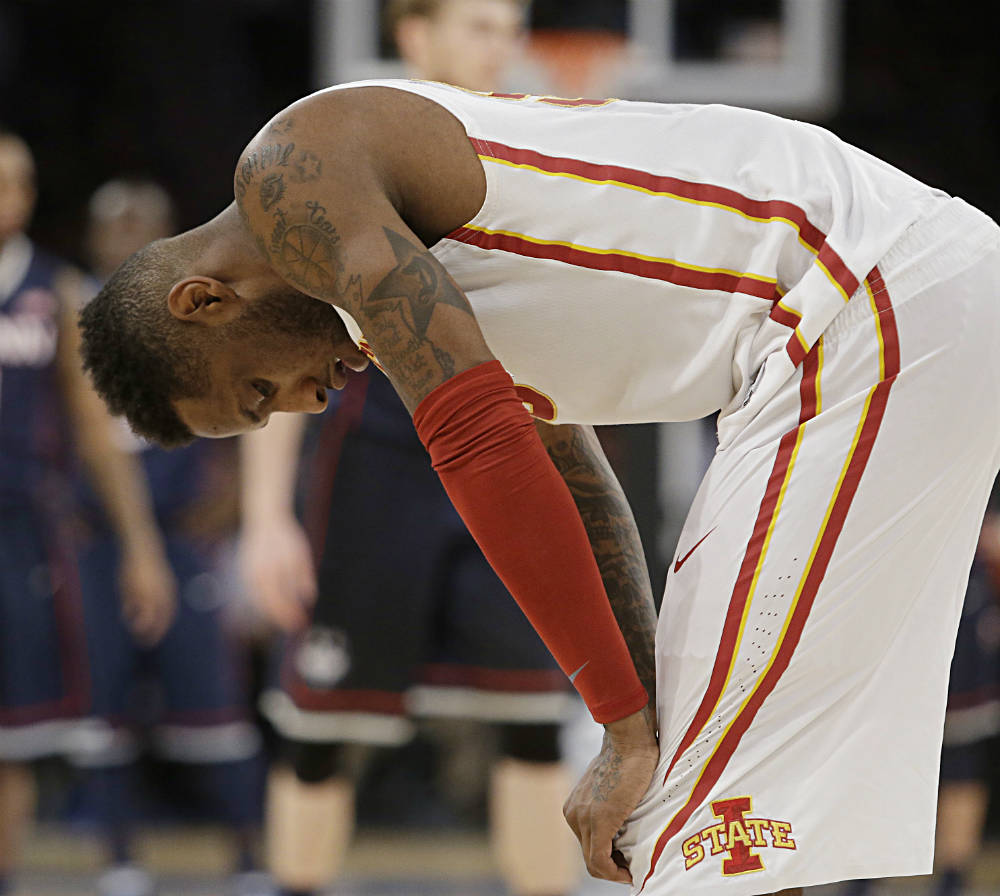 It was a little more than two years ago that Iowa State point guard DeAndre Kane bottomed out.
His father, Calvin — himself a star point guard at Schenley High in Pittsburgh in the 1970s — had been preparing to visit his son at Marshall, where DeAndre Kane was finishing his sophomore year. But before he could leave, Calvin Kane collapsed and died of a brain aneurysm.
MORE: SN's Mock Draft | Joel Embiid injury | Marcus Smart's decision 
DeAndre was devastated. He had been very close to his father, the two sharing the bond of basketball. Calvin had taught his son the game, urged him to practice, beamed at DeAndre's successes and was always willing to lend a hand when it came to tuning up the mechanics of his shot. But in an instant, he was gone, without even a chance to say goodbye.
"Without my dad, none of this is possible," Kane told Sporting News. "He was the one who put the ball in my hands as a kid. I know he is up in heaven watching down on me and happy, smiling down. I am happy to be doing this, for him. Every day I step on the court, I am doing it for my dad, so this is all for him."
In a way, the coming week for Kane will be as much about his father as about himself. If all goes well, Kane could land in one of the late first-round spots held by a contending team in need of immediate help — Kane is a versatile, 6-4 point guard who is already 25 years old, polished enough to begin contributing as a rookie.
Even if Kane is a second-rounder, he figures to be a player with a chance at sticking on a roster long term. After his third year at Marshall, Kane was dismissed from the team but still got his degree and transferred to Iowa State in the offseason.
There, he showed tremendous improvement, averaging 17.1 points, 6.8 rebounds and 5.9 assists. He boosted his shooting significantly, going from 41.5 percent from the field and 27.5 percent from the 3-point line with the Thundering Herd to 48.3 percent from the field and 39.8 percent from the 3-point line with the Cyclones.
There had been rumors of Kane being a hothead, and he led the nation in technical fouls twice while at Marshall. But Iowa State coach Fred Hoiberg had no such problems in Ames, Iowa.
"When you bring a guy in as a transfer, there are so many rumors that go around, really about a lot of transfers," Hoiberg said. "But we did not have any issues with DeAndre. I think we have a really good culture here — he came right in and fit with that, fit in with our guys. I give him a lot of credit for that, for changing his ways. At least, in terms of what the perception was of him. I had him for one year, and I had no issues in that time span. He didn't even have a technical foul."
Hoiberg himself spent 10 years in the NBA with the Pacers, Bulls and Timberwolves. He says he has followed up with every team for which Kane has worked out, and repeatedly tells them the same things — Kane is ready to produce.
"No. 1, he has positional size, and that is so important playing at that level," Hoiberg said. "He has got great instincts, you look at the numbers he put up across the board, and there are two players who put up those kinds of numbers — (Kyle) Anderson from UCLA and DeAndre. If you look at the overall player, he is right there. When he needs to score, he will score, when he needs to make a play, he makes a play. When you have that versatility, you have the ability to play at the next level."
Now Kane, more at peace with the death of his father and more mature as a player, is focused purely on becoming a professional at the next level. He is aware that his age is a strike against him; that teams might shy away from choosing a player five or six years older than those in his draft class. But his age also helps him maintain some perspective and, with all he has been through, that's a necessity.
"To get to this point after a long journey, a long career — coming from Marshall, going to Iowa State, going to prep school, losing my father, sitting out a year, being probably oldest guy in the draft — to be here, it is a blessing," Kane said. "This is what I worked for my whole life. I am going to continue to work."