NBA Draft 2014: Tracking the selections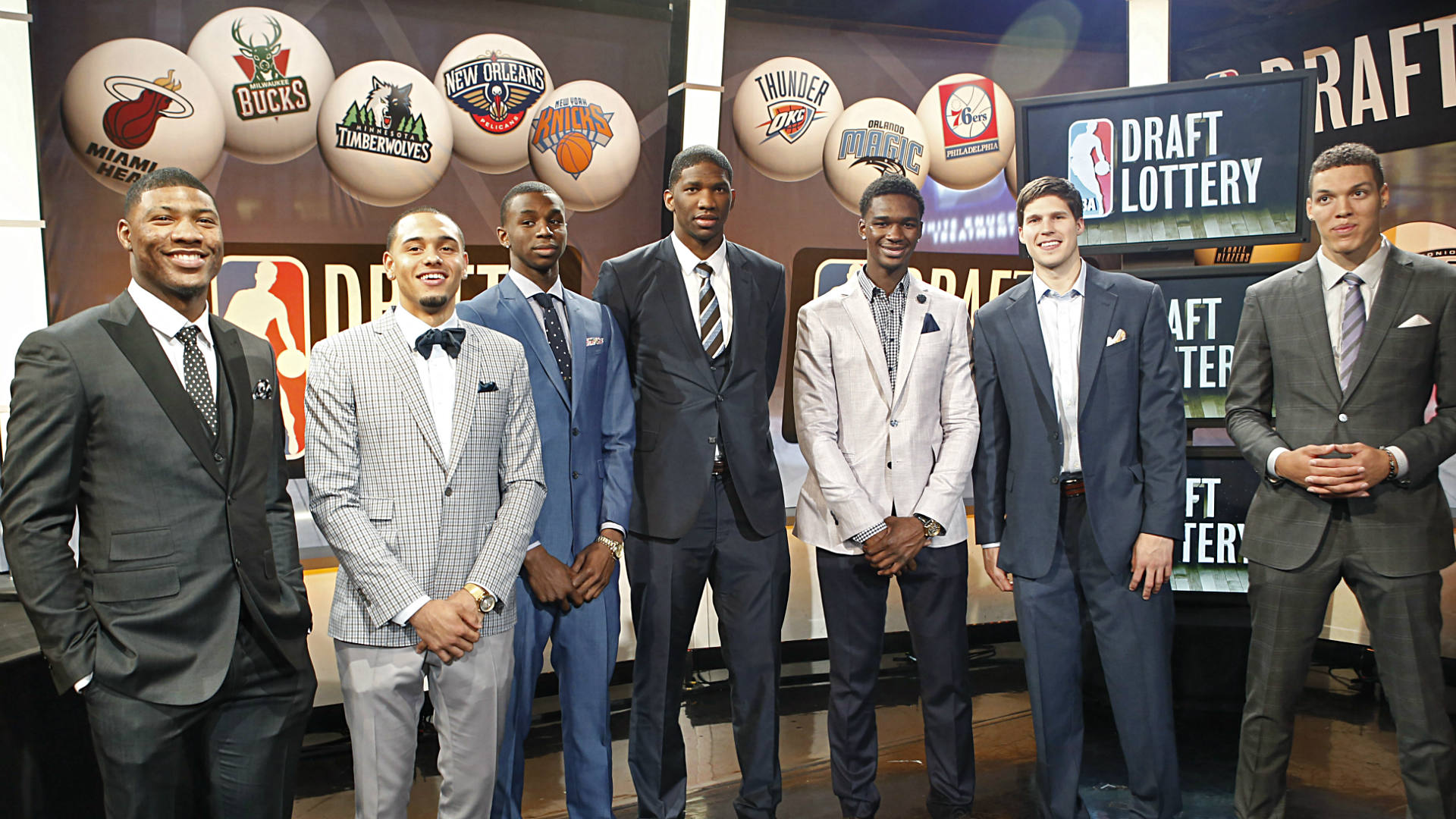 After months of mock drafts and weeks of teams gesturing for positioning over top-ranked prospects, the 2014 NBA Draft has finally arrived.
Who will the Cavaliers pick first overall? Will Joel Embiid fall down the board after undergoing surgery? Who will take wildcard Aussie Dante Exum?
MORE: Draft recap podcast | Crusade for Payne | Wiggins' intensity| LaVine made for NBA? | Photos
We'll have the answers to all those questions shortly.
This page will refresh as each pick (or trade) is announced, so stay tuned.
Here are all the first-round picks in the 2014 NBA Draft. 
1. Cleveland: Andrew Wiggins, g, Kansas.
2. Milwaukee: Jabari Parker, f, Duke.
3. Philadelphia: Joel Embiid, c, Kansas.
4. Orlando: Aaron Gordon, f, Arizona.
5. Utah: Dante Exum, g, Australia.
6. Boston: Marcus Smart, g, Oklahoma State.
7. Los Angeles Lakers: Julius Randle, f, Kentucky.
8. Sacramento: Nik Stauskas, g, Michigan.
9. Charlotte (from Detroit): Noah Vonleh, f-c, Indiana.
10. Philadelphia (from New Orleans): Elfrid Payton Jr., g, Louisiana-Lafayette. *traded to Orlando for Dario Saric, 2015 second-round pick and 2017 first-round pick (latter from the Dwight Howard trade)
11. Denver: Doug McDermott, f, Creighton. *traded to Chicago with Anthony Randolph for 16th (Jusuf Nurkic) and 19th (Gary Harris) picks in 2014, and 2015 second-round pick
12. Orlando (from New York via Denver): Dario Saric, f, Cibona (Croatia). *traded to Philadelphia for Elfrid Payton Jr.
13. Minnesota: Zach LaVine, g, UCLA.
14. Phoenix: T.J. Warren, f, N.C. State.
15. Atlanta: Adreian Payne, f, Michigan State.
16. Chicago (from Charlotte): Jusuf Nurkic, c, Cedevita (Croatia). *traded to Denver for Doug McDermott
17. Boston (from Brooklyn): James Young, g, Kentucky.
18. Phoenix (from Washington): Tyler Ennis, g, Syracuse.
19. Chicago: Gary Harris, g, Michigan State. *traded to Denver for Doug McDermott
20. Toronto: Bruno Caboclo, f, Pinheiros (Brazil).
21. Oklahoma City (from Dallas via Houston and Los Angeles Lakers): Mitch McGary, f, Michigan.
22. Memphis: Jordan Adams, g, UCLA.
23. Utah (from Golden State): Rodney Hood, f, Duke.
24. Charlotte (from Portland): Shabazz Napier, g, Connecticut. *traded to Miami for 26th (P.J. Hairston) and 55th (Semaj Christon) picks in 2014, future second-round pick and cash considerations
25. Houston: Clint Capela f, Chalon (France).
26. Miami: P.J. Hairston, g, North Carolina/Texas (NBADL). *traded to Charlotte for Shabazz Napier
27. Phoenix (from Indiana): Bogdan Bogdanovic, g, Partizan (Serbia).
28. Los Angeles Clippers: C.J. Wilcox, g, Washington.
29. Oklahoma City: Josh Huestis, f, Stanford.
30. San Antonio: Kyle Anderson, g, UCLA.
UPDATE: Second-round selections
31. Milwaukee: Damien Inglis, f, Roanne (France).
32. Philadelphia: K.J. McDaniels, f, Clemson.
33. Cleveland (from Orlando): Joe Harris, g, Virginia.
34. New York (from Boston through Dallas): Cleanthony Early, f, Wichita State.
35. Utah: Jarnell Stokes, f, Tennessee. *traded to Memphis for 2016 second-round pick 
36. Milwaukee (from Los Angeles Lakers via Minnesota and Phoenix): Johnny O'Bryant III, f, LSU.
37. Toronto (from Sacramento): DeAndre Daniels, f, Connecticut.
38. Detroit: Spencer Dinwiddie, g, Colorado.
39. Philadelphia (from Cleveland): Jerami Grant, f, Syracuse.
40. Minnesota (from New Orleans): Glenn Robinson III, f, Michigan.
41. Denver: Nikola Jokic, f, Mega Vizura (Serbia).
42. Houston (from New York): Nick Johnson, g, Arizona.
43. Atlanta: Walter Tavares, c, Gran Canarias (Spain).
44. Minnesota: Markel Brown, g, Oklahoma State. *traded to Brooklyn for $1 million
45. Charlotte: Dwight Powell, f, Stanford. *Traded to Cleveland for small forward Alonzo Gee
46. Washington: Jordan Clarkson, g, Missouri. *traded to Los Angeles Lakers for cash considerations
47. Philadelphia (from Brooklyn via Dallas and Boston): Russ Smith, g, Louisville. *traded to New Orleans for Pierre Jackson
48. Milwaukee (from Toronto via Phoenix), Lamar Patterson, g, Pittsburgh. *traded to Atlanta for future second-round pick
49. Chicago, Cameron Bairstow, c, New Mexico.
50. Phoenix, Alec Brown, c, Green Bay.
51. New York (from Dallas), Thanasis Antetokounmpo, f, Delaware (NBADL).
52. Philadelphia (from Memphis via Cleveland), Vasilije Micic, g, Mega Vizura (Serbia).
53. Minnesota (from Golden State), Alessandro Gentile, f, EA7 Armani (Italy). *traded to Houston for cash considerations
54. Philadelphia (from Houston via Milwaukee), Nemanja Dangubic, f, Mega Vizura (Serbia).
55. Miami: Semaj Christon, g, Xavier. *traded to Charlotte for Shabazz Napier; traded to Oklahoma City for cash considerations
56. Denver (from Portland), Roy Devyn Marble, f, Iowa. *traded with Evan Fournier to Orlando for Arron Afflalo 
57. Indiana, Louis Labeyrie, f, Paris-Levallois (France). *traded to New York for cash considerations
58. San Antonio (from Los Angeles Clippers via New Orleans), Jordan McRae, g, Tennessee.
59. Toronto (from Oklahoma City via New York), Xavier Thames, g, San Diego State. *traded to Brooklyn for cash considerations
60. San Antonio, Cory Jefferson, f, Baylor. *traded to Brooklyn for cash considerations