NBA Draft: For Stauskas, Harris, Big Ten rivalry extends into draft process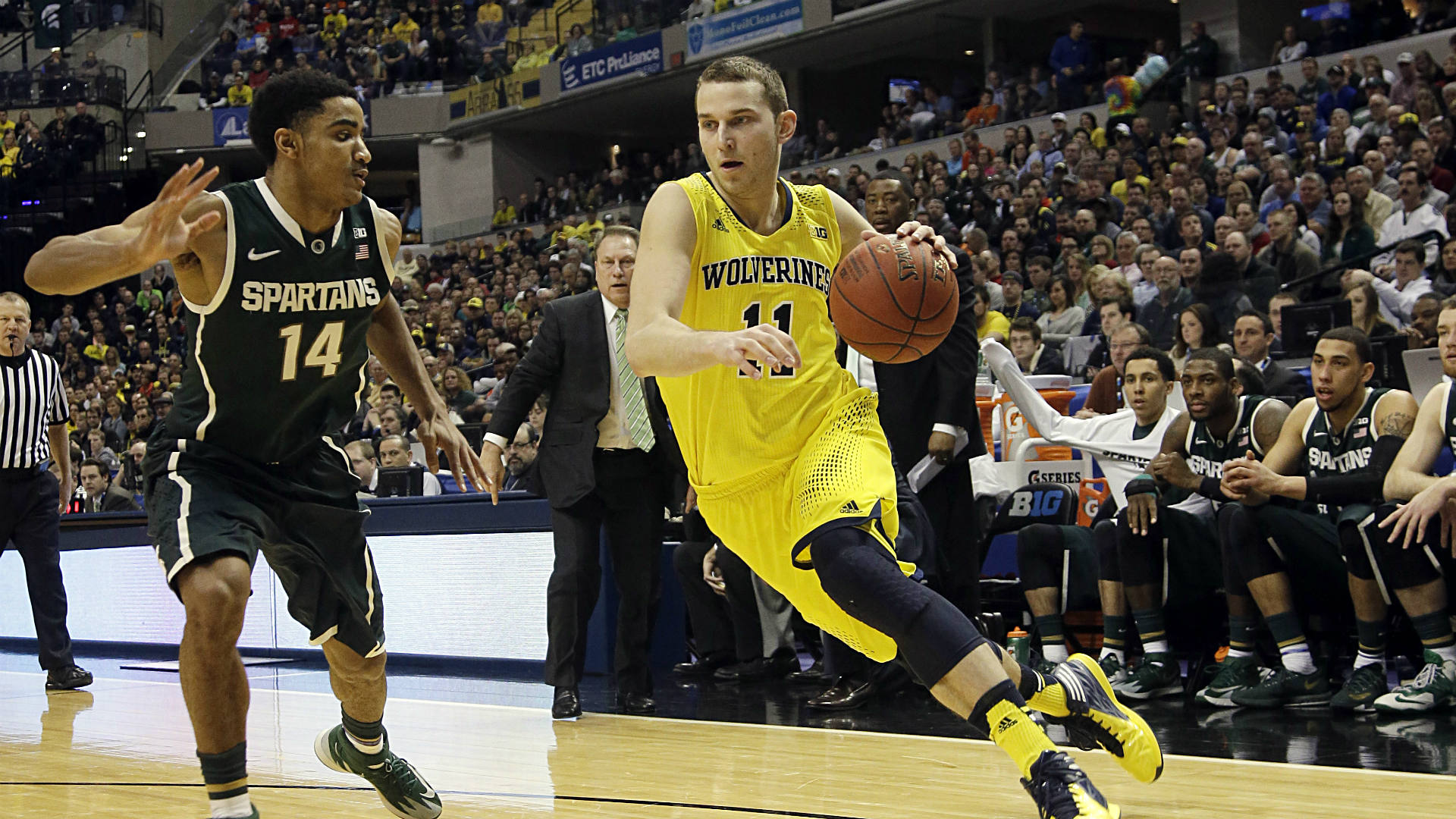 For many NBA players, once they leave college for the pro ranks, their former rivalries remain behind. But it's kind of hard for Nik Stauskas and Gary Harris to forget their Big Ten ties, because the June 24 draft has pitted them in direct competition.
Stauskas, a sweet-shooting guard from Michigan, is billed as a mid-to-late lottery pick, with several mock drafts placing him at No. 9 to the Hornets. Harris sits in a similar position with a week left before he will be chosen by an NBA team. 
DRAFT: Mock Draft | Stauskas can shoot | Smart decision | Wiggins visits 76ers
When asked if there was a competition between the two, it became clear that college is still fresh in Stauskas' mind. He remembered the win-loss tally between Michigan and Michigan State over his two years, he recalled his performances against Michigan State and he believed he got the better of Harris.  
"Obviously, we have a rivalry because of the teams we played for and we are such big rivals in terms of that, the positions and roles we played," Stauskas said. "But we beat them twice this year.
"He played pretty well against us, but we won the games and I had some good games going against him this year, too, I had good games against his team. They did beat us in the (Big Ten) tournament, so he has that, but I think if you look at it overall in the rivalry, I got the better of him. We won twice."
Anyone familiar with Stauskas as a player wouldn't be surprised by that straight-forward response. He's a talker on the court and he was a straight shooter when talking to the media during his visit to Charlotte.
In fact, Stauskas is so confidenent in his ability that he will only work out for four teams. Of those franchises, the Suns have the latest pick at No. 14, which is the last lottery slot.
Harris has similar confidence, though, and if a team has to make the choice, the MSU star believes he should be picked over Stauskas.  
"Not taking anything away from Nik, he's a great player, but I like my chances," Harris said. "I like what I can do with my ability to play offense and defense and go out there and compete. And I really don't get caught up in any of that because at the end of day we're past college and we're getting ready for the NBA."
Both players possess the ability to stretch a defense, but there are pluses and minuses for each. Stauskas, the Big Ten Player of the Year, is a solid 6-6 shooter, while the Draft Combine in Chicago revealed Harris to be closer to 6-foot-3. Harris is the more accomplished ball-handler and creator. 
The decision will be a close one, though — so close that Sporting News NBA writer Sean Deveney's latest mock draft has Stauskas at No. 9 to Charlotte and Harris at No. 10 to Philadelphia. 
Hornets coach Steve Clifford has watched each player go through predraft workouts, and he went through some of the similarities and differences between two players, who appear to be high on Charlotte's list for the No. 9 pick. 
Clifford made observations similar to those we've heard before, noting that Harris is the better defender and ball-handler, but he was sure to point out that Stauskas is no slouch with the ball in his hands, either. 
Few teams in the lottery have the luxury of drafting based on need, but Clifford sees that as the main factor for any team making the choice between Stauskas and Harris.
"Some of that to me will be what a team needs and what they're looking for for their roster," Clifford said. "But they're both very good players."