NBA Draft: After ups and downs, Marcus Smart right back where he started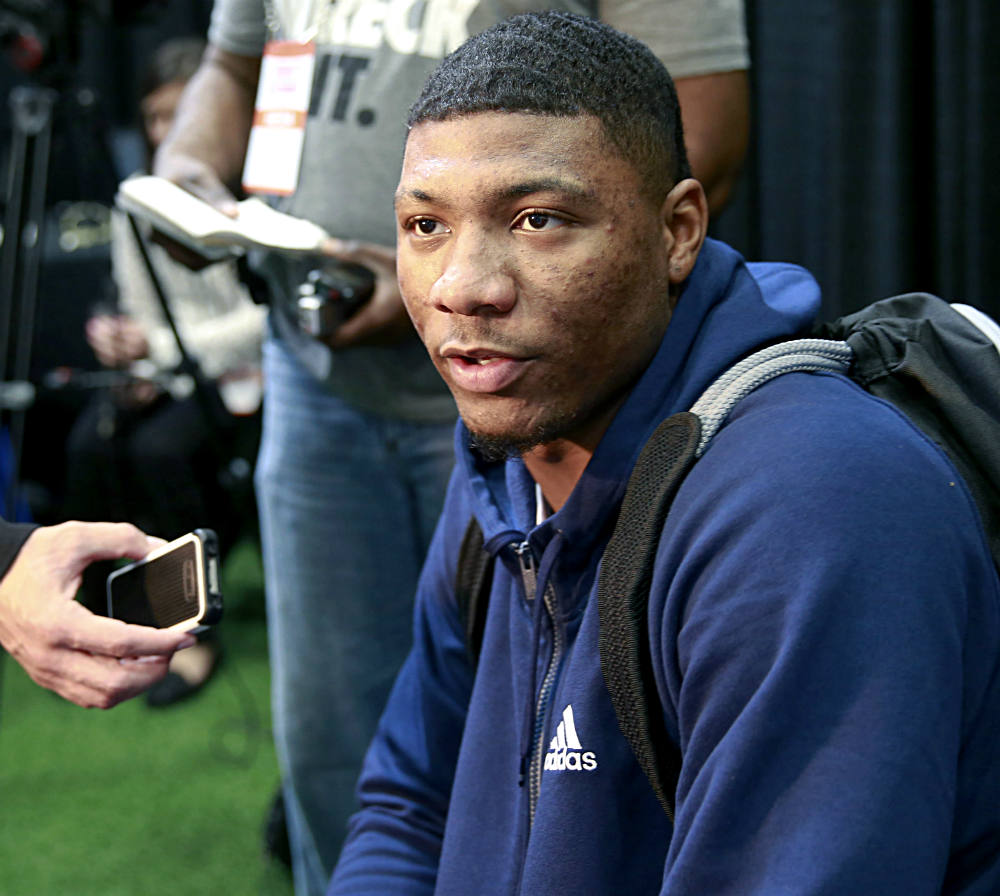 Had Marcus Smart left Oklahoma State last year, as was expected, he likely would have been chosen with the No. 2 selection by Orlando. He did return to Stillwater, though, and his decision to do so was widely criticized for a guy not expected to stack up with the hyper-athletic top picks in this year's draft.
And yet, a year later, it is entirely possible that the net result for Smart will not be all that much different than if he'd come out last year — going to Orlando, only this time with the fourth pick. Rumors of the Magic's intentions with Smart, even with the fourth pick this year, have long been percolating, and the fact that he's had two invitations to Orlando are indicative of the team's interest.
MORE: Wiggins tops mock draft | Ranking 30 years of No. 1 picks | Great tank of 1984
It's possible that things could work out just fine for Smart in the end, having only sacrificed a year's salary last year and a couple of draft spots. And he got a year of being a college student out of the deal.
"I got to enjoy things," Smart said. "I was the first person in my family to go to a D-I college. It was interesting to me, being able to spend another year at college, it intrigued me a lot.
"I just wanted to enjoy my life before I entered the NBA, the professional part of it, the business aspect of it. A lot of people don't understand that. The NBA is more than just what you see in the playoffs and the Finals, there is a lot of business that goes into it."
Smart understands the criticism of his decision to return to school, but he said that most people can't comprehend that he never really had a chance to be a kid. Growing up just south of Dallas, Smart said his neighborhood was so dangerous it sometimes resembled a war zone. He also lost an older brother to cancer 10 years ago.
While, for most prospects, there is much anxiety as we head into the final days before the NBA draft, Smart remains calm. He's dealt with enough leading up to this point.
"This is not anxiety," he said. "I have seen a lot of things that would cause anxiety. This is an opportunity. I am ecstatic about it, I am just taking it all in."
One of the reasons Smart went back to school was purely basketball — he wanted to become a better point guard. That remains a question in some circles. Smart is 6-3.25 with a 6-9.25 wingspan and a strong frame, huge assets when playing point guard.
But if teams see him as a shooting guard, his size becomes less of a plus, and his spotty shooting (he shot 42.2 percent last year, including 29.9 percent from the 3-point line) becomes that much more of a concern.
"If I could do it all over again, I would," Smart said. "My maturity level is even better on and off the court. I have always been a mature person, but now, more than ever, it's up at the top level it's been.
"I was able to go through some adversity and learn some things that prepared me for what's coming in the future. I have got a better understanding of being a point guard and what it is to be one. Point guard is one of the hardest positions to play in the NBA."
Of course, that adversity included an incident in which he went after a fan at a game against Texas Tech. He lost his cool, and Smart said he has heard about that at every meeting he has had with team executives.
"It comes up a lot," he said. "I am not surprised about it. But it's like I tell them, it is something that happened, in the past. I am not proud of it. But I am moving on from that, I have got bigger and better things to look forward to in my life, and if I am too busy looking in the past, how can I see what's in front of me?"
What's in front of him now is the draft, and a possible landing spot in Orlando — which is likely what would have happened had he come out last year. For Smart, then, perhaps all's well that ends well.