NBA Draft Rumors: Dwyane Wade remains biggest Heat issue; Bucks making deals?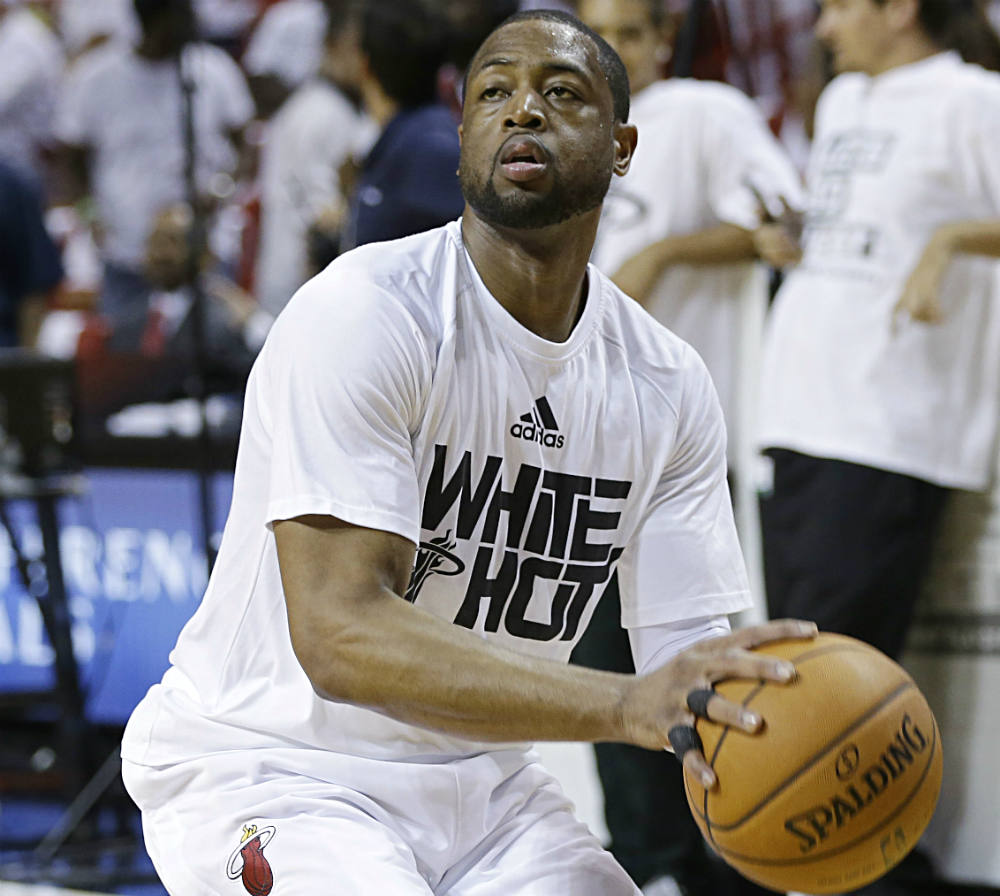 In the front office of the Miami Heat, news that LeBron James will opt out of the remainder of his contract was met, generally, with yawns and shrugs. When forward Chris Bosh, as is expected, does the same, the reaction will be no different.
It is still expected that James will sign back on with the Heat, though on a short-term deal that gives him some flexibility going forward. James will have options in free agency, of course, but sticking with the Heat — winner of the East four straight times — gives him his best short-term shot at championships.
MORE: James opts out of deal | Bulls could move up to No.8 | Antetokounmpo could land in 1st round
The next step for the Heat is to deal with the draft, in which they hold the No. 26 pick. Miami is expected to find a ready-to-play wing prospect there.
The real question mark for Miami is the third member of the Big Three, guard Dwyane Wade. When it comes to decisions, that will have the biggest impact on where the Heat go from here. That choice might not come until the day of the deadline, June 30.
Wade is owed $42 million over the next two years, the end of the contract he signed at the same time Bosh and James came to Miami, in 2010. While Bosh just turned 30 and James will be 30 in December, Wade is already 32 and showing the ill effects of a problematic knee, as well as a spate of other minor injuries.
Ideally, the Heat will be able to sell Wade on spreading the money he is owed over a longer stretch of time, to lessen the up-front hit of his contract. If Wade were to opt out and sign back for something in the range of a four-year deal worth $50 million, he could give himself more guaranteed money while dropping the short-term hit to Miami's payroll.
The Heat would like to sell forward Udonis Haslem on the same idea. Haslem, too, could opt in to a contract next year, at $4.6 million. But if the Heat can sign him to a longer deal at less money annually, they could diminish the immediate damage of Haslem's payday. Haslem's deadline is June 30, too.
Wade played just 54 games this year, averaging a career-low 32.9 minutes. That was part of a program the Heat put in place to protect Wade and ensure he was at 100 percent for the team's postseason run. That plan was a big success — at least until the Heat hit the NBA Finals, during which Wade struggled, averaging 15.2 points and 43.8 percent shooting.
Wade could need to remain on such a program if he is playing for a contender. Thus, taking less money on a per-year basis fits.
Bucks block
While Milwaukee, which holds the No. 2 pick in the draft, as well as Nos. 31, 36 and 48 in the second round, remains engaged in trade talks, they are not actively seeking to trade power forward John Henson — though he is the guy who has drummed up the most interest, sources told Sporting News. They, will, however remain open to the idea if it nets a lottery pick.
Ideally, the Bucks would move underachieving forward Ersan Ilyasova, but Ilyasova is still owed two years and $15.8 million, a hefty price tag for a guy who is coming off an injury-plagued year in which he shot just 40.9 percent from the field and 28.2 percent from the 3-point line. But Ilyasova had shot better than 46 percent from the field and 44 percent from the 3-point line in two previous seasons, so some league executives are willing to write off Ilyasova's struggles last year.
Henson was one of the few Bucks to actually play well in an otherwise dismal year — he averaged 11.1 points and 7.1 rebounds on 53.8 percent shooting, in 26.5 minutes per game. Henson is still on his rookie contract, due just under $2 million next year. The Bucks are not eager to get rid of a bargain like that unless it brings a high pick in this year's draft.
Scouting Saric
One of the few NBA types who has actually seen Croatian forward Dario Saric in the heat of battle is former coach and NBA TV analyst Mike Fratello, who also coaches the Ukraine national team. Saric has the talent to be a lottery pick, though it is possible that he will slip lower because he will stay in Europe for two years.
"He has got a nice feel for the game, he is long, he can do a little bit of everything with the ball — pass, make the midrange shot and capable around the basket," Fratello said. "The first time I saw him, I did not know, initially, that he was a prospect.
"We were scouting and I asked one of my assistants, 'That guy, right there, that kid has a chance to be a good player down the road.' So you could see it. He is a talented young guy. He has played with guys much older, much stronger than him coming up in these pro leagues. So the physicalness is something he has been used to."