NBA MVP race: Bucks' Giannis Antetokounmpo rises above competitive crowd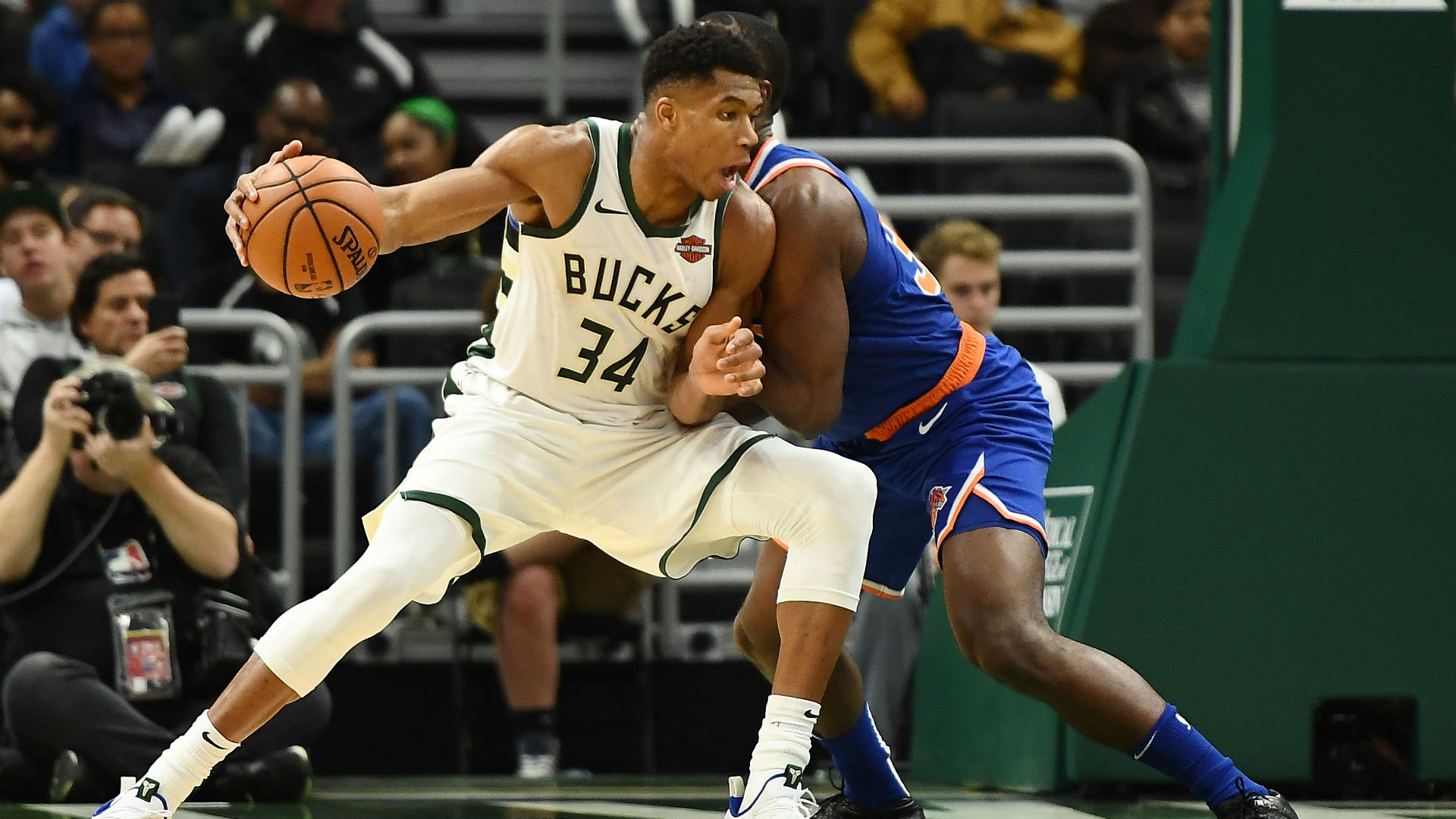 James Harden secured last year's MVP award long before the 2017-18 season ended. He earned 86 of the 101 first-place votes after averaging a league-high 30.4 points per game for a 65-win Rockets team. LeBron James made a charge down the stretch, but Harden's body of work silenced any arguments about who should take home the hardware.
This time around, the NBA community could have a real conversation on its hands. A few worthy candidates are already on the MVP radar. It's still early, of course, but it's worth taking a closer look at which players are storming out of the gates and seeking that coveted MVP trophy.
TRADE GRADES: 76ers take calculated risk with Butler deal
1. Giannis Antetokoumpo, Bucks
Stats: 25.4 points, 13.0 rebounds, 5.8 assists, 1.4 steals, 1.3 blocks, 55.0 percent shooting
New Bucks coach Mike Budenholzer has unleashed "The Greek Freak." Antetokounmpo is dominating within Budenholzer's system. With shooters filling spots around the 3-point arc, Antetokounmpo is free to attack the basket (18.3 points in the paint per game, most in the NBA) or kick out to an open man.
Antetokounmpo is also everywhere defensively. Only three players currently average at least 1.4 steals and 1.3 blocks per game: Antetokounmpo, Anthony Davis and Robert Covington. The Bucks hold a 100.2 defensive rating with Antetokounmpo on the floor, a mark that would lead the league. 
Incredible highlights, eye-popping stats and big wins — Giannis is doing it all so far.
2. Stephen Curry, Warriors
Stats: 29.5 points, 6.1 assists, 5.0 rebounds, 1.0 steals, 51.5 percent shooting, 49.2 percent 3-point shooting
Curry is the driving force on the best team in the NBA, but he won't receive as much credit as other stars with Kevin Durant, Klay Thompson and Draymond Green in the lineup. The narrative is working against him.  (Then again, perhaps the Durant-Green drama with Curry out due to a groin injury actually helps his cause?)
That's just the truth when it comes to MVP votes. It's not the only factor, but it is definitely one factor.
However, Curry is blowing away his own numbers. He has the highest effective field goal (64.6) and true shooting (68.1) percentages of his career, and he leads the league in player efficiency rating (28.6). He is ready to chase a ridiculous 50/50/90 shooting season and could challenge his own single-season record for made 3-pointers (402), which sounds impossible, but then again, why couldn't Curry pull it off?
Plus, he's still doing stuff like this.
Curry is already a two-time MVP, so he doesn't need to check a box on his resume like Harden last season. If he stays on this pace, though, his case will be hard to deny. Health will be key here.
3. Kyle Lowry, Raptors
Stats: 16.2 points, 11.0 assists, 4.0 rebounds, 1.4 steals, 47.6 percent shooting, 36.0 percent 3-point shooting
Yes, the Raptors acquired Kawhi Leonard this past offseason, but Lowry deserves credit for not only adapting but thriving as Toronto's best player through 14 games. He is averaging nearly four more assists per game than his previous career high (7.4), and he is also shooting better than ever (57.2 effective field goal percentage).
On the defensive end, he remains a pest, leading the NBA in charges drawn with nine. That total is higher than 16 teams. As FiveThirtyEight's Chris Herring points out, he often takes them at the perfect time.
Put it all together, and Lowry could prove to be a legitimate MVP threat despite Leonard's presence.
| | | | | |
| --- | --- | --- | --- | --- |
| 2017-18 Raptors | Off Rating | Def Rating | Net Rating | Eff FG % |
| Lowry On | 121.2 | 107.8 | 13.4 | 58.6 |
| Lowry Off | 93.6 | 100.0 | -6.4 | 47.3 |
4. Damian Lillard, Trail Blazers
Stats: 26.0 points, 5.8 assists. 5.0 rebounds, 0.8 steals, 46.5 percent shooting, 37.2 percent 3-point shooting
Lillard's usage percentage is down slightly (29.2) from his previous three seasons, which might be why he's looked more explosive around the rim. The three-time All-Star is shooting 58.8 percent in the restricted area, a huge improvement over last season (53.8) that has opened up his offensive game.
He is using the threat of his 3-point shot to create openings and finish in more creative ways.
At age 28, Lillard is in the middle of his prime and able to score at every level. He will never be a two-way force like Antetokounmpo, and he can't match Curry's ability to shake a defense to its core (no one can). But Lillard is capable of leading the Blazers back to the playoffs, and it's clear he is motivated to get past the first round after Portland's first-round debacle against the Pelicans.
5. Joel Embiid, 76ers
Stats: 28.2 points, 13.4 rebounds, 3.5 assists. 2.1 blocks, 48.4 percent shooting
The dynamic in Philadelphia will quickly change following the blockbuster trade for Jimmy Butler, but Embiid has been an absolute monster. He is learning how to use his size and athleticism to score inside against any defender, and he is fouling big men out at a ridiculous rate. He is second in the NBA in personal fouls drawn (8.1) behind only Blake Griffin (8.5) and shooting 11.1 free throws per game, nearly four more shots at the line than last season (7.4).
Embiid is also elite at protecting the paint — opponents are shooting 49.0 percent with Embiid at the rim, one of the best figures for any center. And if guards want to isolate against him, well, good luck with that.
Chemistry issues with Butler and the loss of key role players in Robert Covington and Dario Saric could mean a temporary drop in production, but there is no debating Embiid's impact on both ends of the floor.
Honorable mentions: Anthony Davis, Pelicans; Kawhi Leonard, Raptors; Nikola Jokic, Nuggets; Victor Oladipo, Pacers