Non-conference schedule rankings: FSU, Clemson toughest in ACC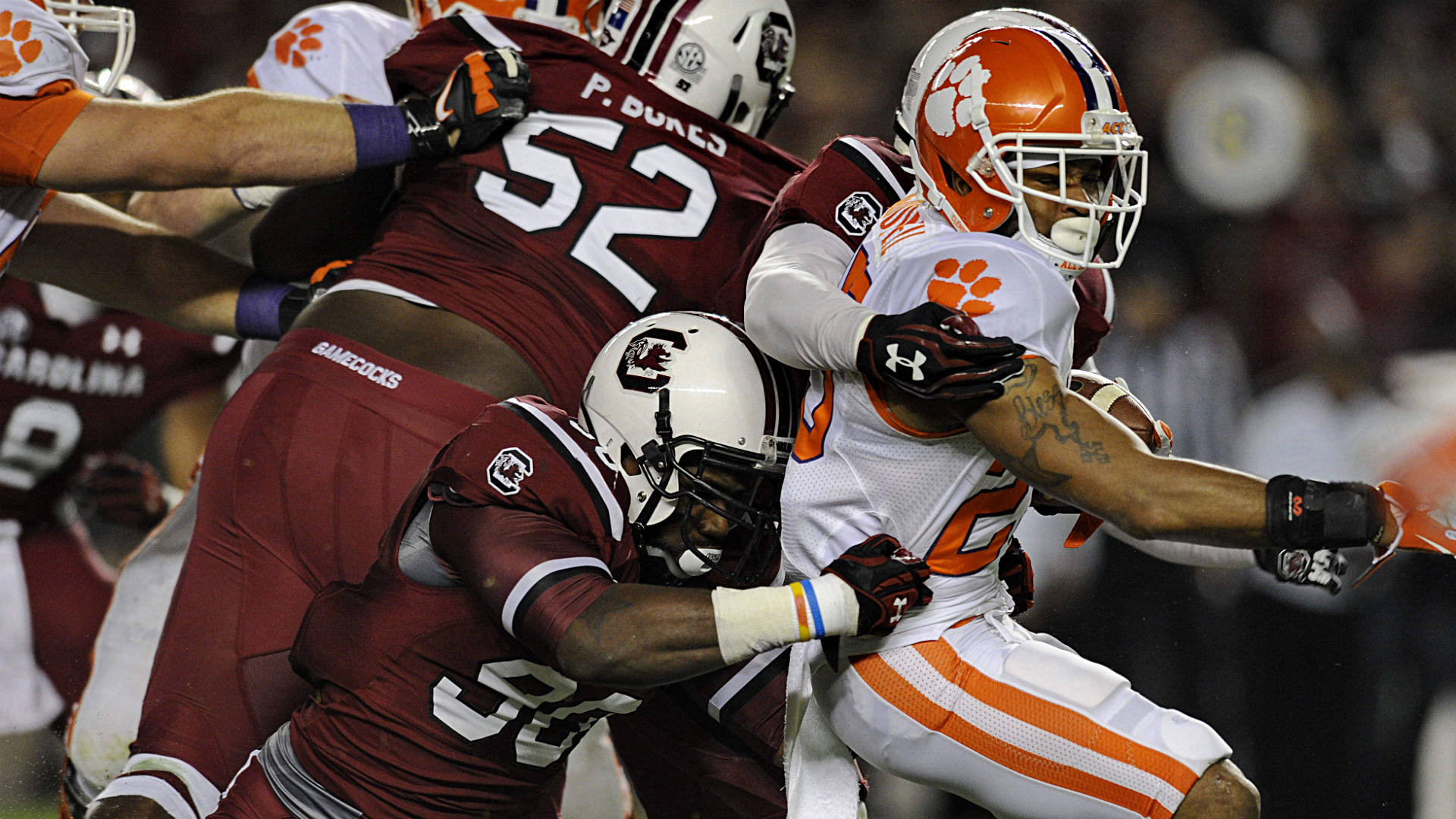 Jimbo Fisher likes to say the greatest downfall of a player or program is boredom.
A championship season is finally realized, and what's next never becomes what could be because too many are distracted by too little motivation.
"I don't care how good you were, even if you were perfect," Fisher says. "That extra one or two or three percent can mean the difference in winning or losing."
MORE SCHEDULE RANKINGS: Big Ten | SEC
What better way to eliminate any distraction — or in this case, boredom — from Fisher's Florida State team than by opening the season with a game that matters? And while Oklahoma State may not be the team of last season, the first of three significant non-conference games for the defending national champion 'Noles should be enough to keep everyone motivated through the summer.
The last two critical non-conference games, meanwhile, could be the key to strengthening a case for the College Football Playoff Committee. Notre Dame and Florida both come to Tallahassee this fall, and both will be a handful for FSU.
The last time Florida played at Tallahassee in 2012, the Gators gave Fisher his worst loss as FSU's coach. The last time FSU and Notre Dame played — the Champs Sports Bowl in Orlando in 2011 — the 'Noles escaped in the fourth quarter with an 18-14 win.
A breakdown of the ACC's non-conference schedules:
MORE: SN Top 25 | SN All-Americans | Top 25 players | Preseason All-ACC
From first to worst
1. Florida State: Oklahoma State (Arlington, Texas), Citadel, Notre Dame, Florida
2. Clemson: at Georgia, South Carolina State, Georgia State, South Carolina
3. Miami: Florida A&M, Arkansas State, at Nebraska, Cincinnati
4. Virginia: UCLA, Richmond, at BYU, Kent State
5. Syracuse: Villanova, at Central Michigan, Maryland, Notre Dame
6. Boston College: at UMass, USC, Maine, Colorado State
7. North Carolina: Liberty, San Diego State, at ECU, at Notre Dame
8. Louisville: Murray State, at FIU, at Notre Dame, Kentucky
9. Virginia Tech: William & Mary, at Ohio State, ECU, Western Michigan
10. Georgia Tech: Wofford, at Tulane, Georgia Southern, Georgia
11. Pittsburgh: Delaware, at FIU, Iowa, Akron
12. Duke: Elon, at Troy, Kansas, Tulane
13. Wake Forest: at Louisiana-Monroe, Gardner-Webb, at Utah State, Army
14. NC State: Georgia Southern, Old Dominion, at USF, Presbyterian
MORE: Magic numbers: Offense | Bowl projections | Take SN's bowl quiz
Scoreboard
Games against Power 5 teams: 17 of 56 (30 percent)
Games against Group of 5 teams: 25 of 56 (45 percent)
Games against FCS teams: 14 of 56 (25 percent)
Five best games
1. Clemson at Georgia
2. USC at Boston College
3. Florida State vs. Oklahoma State
4. UCLA at Virginia
5. Miami at Nebraska
Five worst games
1. Citadel at Florida State
2. Murray State at Louisville
3. Presbyterian at NC State
4. Elon at Duke
5. Florida A&M at Miami
MORE: Power 5 vs. Group of 5 | Path to playoffs: Week 1 | 2 | Coach rankings, 1 to 128
Quick hits
— Twelve of the 14 ACC teams play at least one game against a Power 5 team. If that's non-conference scheduling progress as a result of the new College Football Playoff, we're in trouble. Or we better hope the Power 5 breaks away from the rest of FBS and plays a schedule among themselves.
 
— Say this much for the ACC: its top two teams (FSU and Clemson) play the toughest non-conference schedules. In fact, if Clemson didn't sandwich games against SEC heavyweights Georgia and South Carolina around FCS South Carolina State and FBS transitional newbie Georgia State, it would have the ACC's toughest non-con schedule.
 
— Looking for a bounce-back team? We give you NC State. The Wolfpack didn't win an ACC game last season under first-year coach Dave Doeren. He's too good a coach, and new quarterback Jacoby Brissett (Florida transfer) will give a stagnant offense some momentum in 2014 — as will the easiest non-con schedule in the ACC. How easy, you ask? NC State's toughest non-con game will be against either USF (three wins last season) or FBS transitional newbie Georgia Southern. If this were 2013, the Wolfpack would have three games against FCS opponents (Georgia Southern, Old Dominion, Presbyterian).
 
— Duke is a lock to reach its third straight postseason, extending its current school record streak under coach David Cutcliffe. The Blue Devils not only have a soft non-con schedule (Elon, at Troy, Kansas, Tulane), they also avoid Florida State, Clemson from the Atlantic Division, and the Notre Dame rotation.