Numbers that matter: Inside Alabama's rushing machine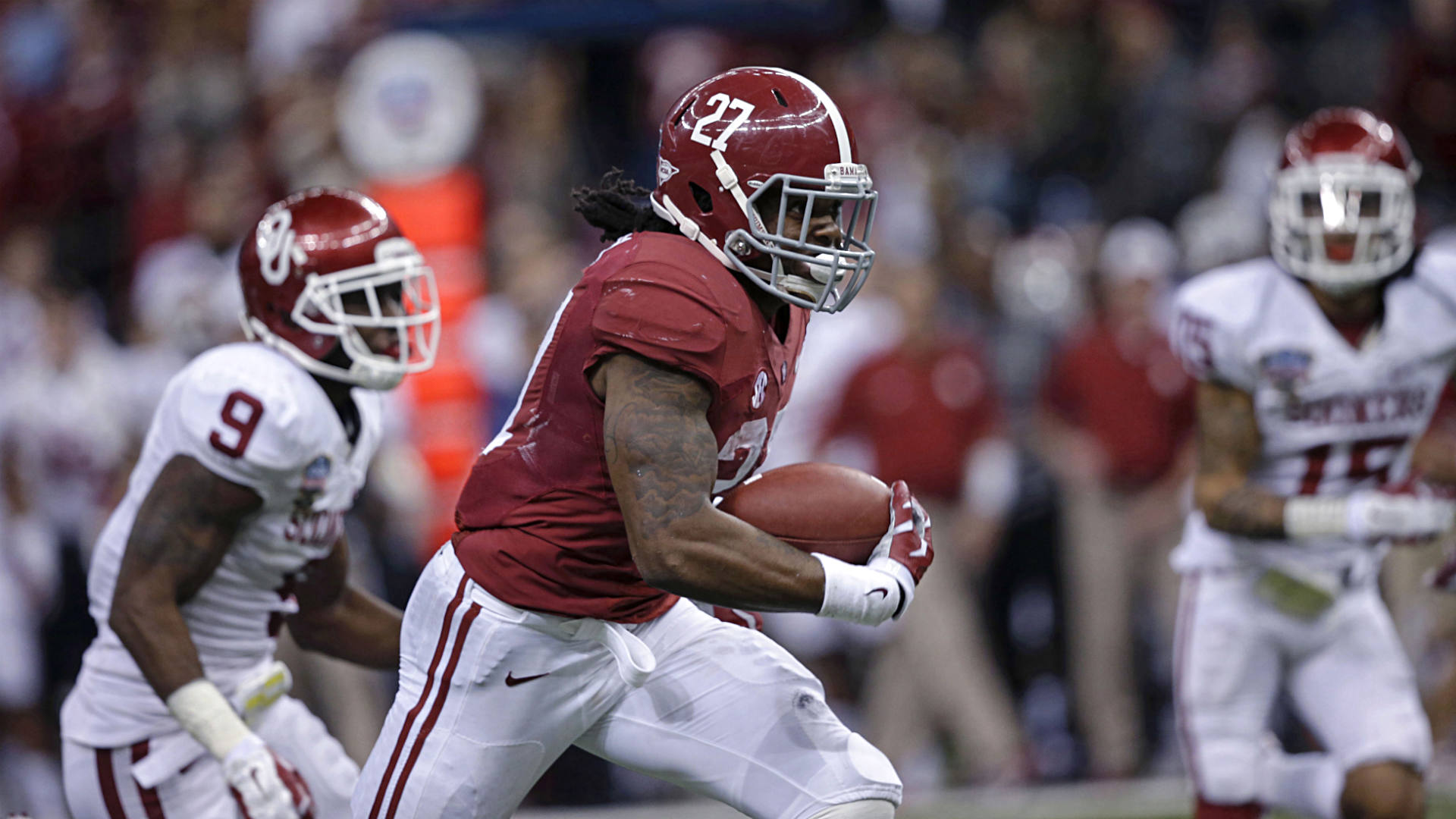 Take "three yards and a cloud of dust" and double it.

Statistically speaking, that's what Alabama's rushing attack has evolved into under Nick Saban. Since 2007, Alabama's top three running backs combine to average 6.0 yards per carry per season.
The Crimson Tide have perfected an old-school power rushing running attack that continues to churn out NFL-ready talent. 
MORE: Saban tops SN coach rankings | SN Top 25 | All-Americans | SEC icons

There's one stat that suggests this year's trio of T.J. Yeldon, Kenyan Drake and Derrick Henry might put up even better numbers in 2014.

Let's go inside the numbers of Alabama's rushing machine since Saban's arrival in 2007:
THE STARTER
THE STAT: Alabama lead backs average 1,291 yards, 5.9 yards per carry and 14.3 TDs per season. 
THE STANDARD: Trent Richardson rushed for 1,679 yards and 21 TDs in 2011, better than the Heisman Trophy season Mark Ingram put together with 1,658 yards and 17 TDs in 2009.
STILL STANDS OUT: The Crimson Tide are the only team to have multiple running backs drafted in the first round of the NFL Draft over the past five years.  Ingram (2011) and Richardson (2012) went in back-to-back seasons, and Eddie Lacy (2013) was a second-round pick.
THIS YEAR: T.J. Yeldon is back and looking for a third-consecutive 1,000-yard season. He's averaged 1,172 yards and 13 TDs the last two seasons.
PHOTOS: T.J. Yeldon | Looking back: Bama hammers Irish | 10 greatest Alabama players of all-time
NO. 2 BACKS
THE STAT: Alabama's No. 2 back averages 742 yards, 5.8 yards per game and 7.9 TDs per season.

THE STANDARD: T.Y. Yeldon needed just 175 carries to put up 1,108 yards and 12 TDs in 2012.

MOST IMPRESSIVE: Kenyan Drake averaged 7.5 yards per carry last season. Eddie Lacy averaged 7.1 yards per carry in 2011.
THIS YEAR: Drake and Henry will battle for the No. 2 job. Drake has impressed in spot duty the last two years with 7.3 yards per carry. He also was arrested Saturday and certainly faces some type of punishment from Saban.
MORE: ROAD MAP TO PLAYOFFS — Week 1 | Week 2 | Week 3
THIRD WHEEL
THE STAT: Alabama's No. 3 back averages 334 yards, 6.8 yards per carry and 3.6 TDs.

THE STANDARD: Lacy rushed for 406 yards and six TDs in 2010 in a backfield that also featured Ingram and Richardson.
MOST IMPRESSIVE: Alabama's third-leading rusher averages 6.8 yards per carry per year under Saban.
THIS YEAR: Henry had two 100-yard games last season in games where he had less than 10 carries. He scored on a 43-yard run and 61-yard reception in last year's Sugar Bowl. 
OVERALL
THE STAT: Alabama's top three backs average 2,369 yards, 6.0 yards per carry and 25.7 TDs per season under Saban.
THE STANDARD: Take your pick from the '11 trio of Richardson, Lacy and Jalston Fowler (2,738 yards, 6.3 ypc., 32 TDs) or the '12 trio of Lacy,  Yeldon and Drake (2,711 yards, 6.4 ypc., 34 TDs). The edge goes to '12 considering both Lacy and Yeldon cleared 1,000 yards. 

MOST IMPRESSIVE: Last year's trio of Yeldon, Drake and Henry averaged 6.9 yards per carry together, the most of any of Saban's backfields.
THIS YEAR: Dare we say, "Seven yards (or more) and a cloud of dust?"