State of Texas: Baylor, A&M chasing down Longhorns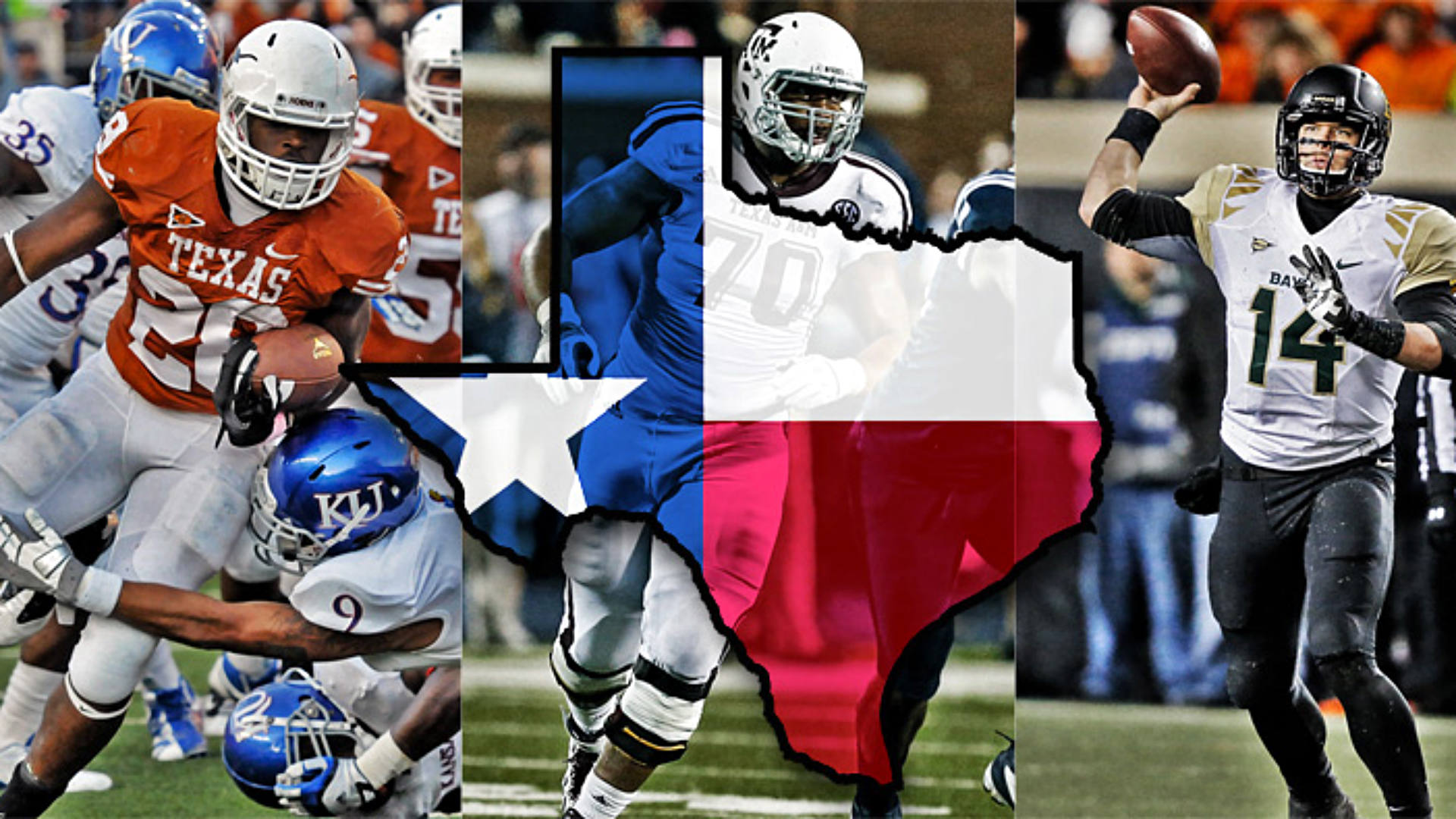 Imagine a dozen siblings fighting for attention in the same house, and the rivalries and bitter feelings that come with it.
That has and always will be college football in Texas. The state boasts 12 FBS schools spread across five conferences; a far cry from the good ole' days of the Southwest Conference when eight of those schools were lumped together until 1995.
Greg Tepper is the managing editor of "Dave Campbell's Texas Football," one of the state's most-revered football publications. Tepper told Sporting News that for the first time in a long time, there's parity in the state of Texas.  
MORE: Magic Numbers: Offense | SN All-Big 12 | Playoff path: Week 1 | 2
"This is a state that for a long time belonged to Texas to the point it was UT and everybody else," Tepper said. "Now it's at the very least a two-team race at the top, and maybe a three-, four- or five-team race for the heart and soul of the state and the bragging rights that come with it. It's never boring here."
Boring and Baylor haven't collided in the same sentence since Art Briles' arrival, and the Bears' landed on the cover of "Dave Campbell's Texas Football" for the first time since 1975. Bryce Petty and Antwan Goodley flanked Briles with the backdrop of the Bears' new stadium-in-construction.
Baylor had the best record of those 12 FBS schools in Texas last season at 11-2. Are they the new king of Texas?

"They are cool for really the first time ever," Tepper said. "Baylor is the swag capital of Texas when you think of what they've built there. To appreciate what's happening now you have to appreciate their history."
If it's a history lesson, the argument shifts back in the Longhorns' favor.
RELATED: An inside look at each of the 12 FBS teams in Texas
Here's a look at how the schools have fared since 1996:
1. Texas 170-60, .739
2. TCU 150-71, .679
3. Texas Tech 140-85, .622
4. Texas A&M 133-92, .591
5. Houston 111-109, .505
6. Rice 95-118, .446
7. SMU 81-133, .379
8. Baylor 79-133, .373
9. UTEP 78-136, .364
10. North Texas 77-136, .362
That doesn't factor in Texas San-Antonio and Texas State, which joined the FBS in 2012.
MORE: SN Top 25 | Preseason All-Americans | Coach rankings | Bowl projections
Texas still has the best overall record — not to mention the state's only three national championships since World War II, but there is a sense of "rebuilding" around first-year Charlie Strong.
Baylor isn't the only school taking aim at the Longhorns. Over the past five seasons, TCU has the best record of the Texas schools in the FBS.
1. TCU 47-17, .734
2. Texas 43-22, .662
3. Texas A&M 42-23, .646
4. Houston 41-24, .631
5. Baylor 40-24, .625
6. Texas Tech 38-26, .594
7. SMU 35-30, .538
8. Rice 27-36, .429
9. North Texas 23-38, .377
10. UTEP 20-41, .328
SN TOP 10 PLAYERS: Texas | Baylor  | More schools
The Horned Frogs also are the last Texas school to go undefeated, but they are 11-14 since joining the Big 12 in 2012.
Texas A&M, meanwhile, made a splash by leaving the Big 12. The combination of a move to the SEC along with the attention given to 2012 Heisman Trophy winner Johnny Manziel has increased the Aggies' profile big time.
"You've seen a big surge in A&M fans," Tepper said. "They've always been here and they've always been vocal, but I do think they've closed the gap.
"Texas used to be a clear No. 1, and there was a gap. Now you could say it's 1A-1B with Texas A&M with what they've built with Kevin Sumlin. They've got an opportunity to build a powerhouse there that could compete for a national championship."
Texas Tech brings the hip factor with 34-year-old coach Kliff Kingsbury, a social media superstar who has more than 63,000 followers on Twitter. They have the innovative passing game, while UTEP is building a run game under Sean Kugler.
The best of the rest includes Rice, which won the Conference-USA championship last season. Houston and SMU are looking to make a mark in the American Athletic Conference, while North Texas (C-USA) and Texas State (Sun Belt) are building programs. 
That leaves one school Tepper said could be the next sleeper. That's Texas-San Antonio, which also plays in Conference-USA.



"If you want to be the cool guy and hop on board a bandwagon before it gets full; UTSA is going to be a power really soon," Tepper said. "The infrastructure is there, and being in a big metropolitan area with a fanbase hungry for a winner helps. They have a great coach in Larry Coker."
It might not be the old Southwest Conference, but just because all those siblings aren't under the same roof doesn't mean it's not as heated as ever.
"We loved the Southwest Conference; our magazine was built on it," Tepper said. "But just because they're in different conferences doesn't mean they don't snipe at each other. Just look at Twitter and the back-and-forth between UT and A&M fans.



"If you're down here, there's something to be said for state bragging rights. In some cases; that can mean more than a conference title."
Who thinks like that? Texas football fans, of course.
"It's fun to just sit back, watch and enjoy the ride," Tepper said. "I think I can speak for all Texans when I say we are crazy down here. Damn crazy."