James Franklin applying pressure through satellite camps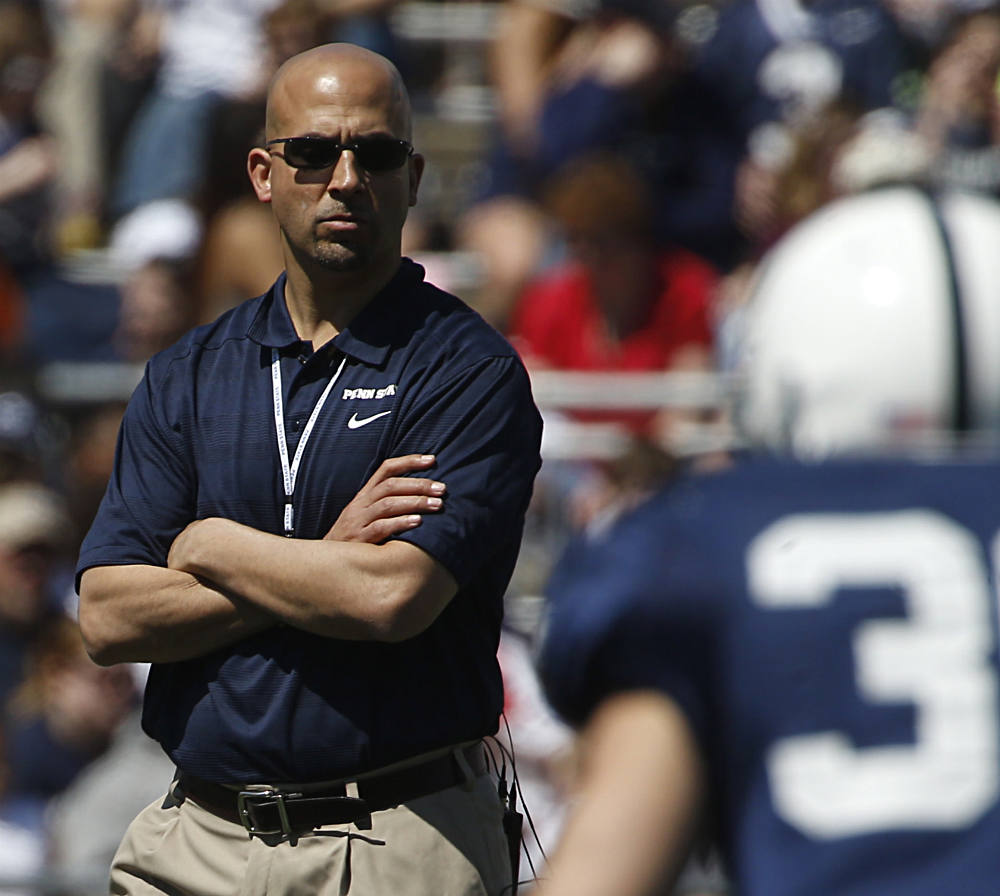 DELAND, Fla. — So this is what it's all about. This is what has an entire conference — the biggest, baddest, winningest conference in all of college football — whining like teenage boys.
One man and his vision. And a few satellite football camps.
"If we get one player from this camp," says new Penn State coach James Franklin, "it's worth it."
MORE: SN Top 25 | All-Americans | Coach rankings, 1 to 128 | SN's 10 greatest Nittany Lions
And therein lies the problem. You better believe Franklin, the coach whose staff recruited elite players to Vanderbilt of all places; whose staff won 18 games the last two seasons at Vanderbilt, of all places; who proved he could compete (and beat) the SEC heavyweights at Vanderbilt, of all places, is going to do the same thing at Penn State.
That's why SEC coaches are beside themselves, pleading their case to commissioner Mike Slive to do something, anything, to stop this unfair practice of satellite high school football camps. By unfair we mean they see the future with Franklin — and the still strong, still dynamic brand of Penn State behind him — rolling into their geographic footprint and landing their recruits.
As sure as those daily summer thunderstorms roll in from the Atlantic and douse this tiny campus at Stetson University, Franklin will land recruits from the state of Florida. Just like he'll land recruits from the state of Georgia, where he was (at Georgia State in Atlanta) a day earlier coaching high school players at a satellite camp and, in the process, spreading the Nittany Lions word.
The only question is, how many recruits will he land and — more important to those in the SEC — which teams will lose because of it?
"The thing for me," says Texas A&M coach Kevin Sumlin, "is everybody should be able to do it or nobody should be able to do it."
This argument begins, of course, with a silly NCAA rule that prohibits schools from running football camps at an out of state location more than 50 miles from campus. But that's not the silly part.
This is: the loophole that allows coaches to work at — but not technically hold — camps all over the country, a practice that has been going on the last decade throughout major conferences. Franklin was a guest of Georgia State coach Trent Miles, and a guest of Stetson coach Roger Hughes, so he wasn't running the camp.
But don't kid yourself: Elite players come to these camps for Franklin, and GSU and Stetson benefit because it allows them to cast a greater net to sell their program. It's a win-win for everyone.
Everyone, that is, but the SEC. The SEC has its own rule of no "guest-coaching" — see how the SEC is ahead of the NCAA in rules management when it should be the other way around? — more than 50 miles from campus.
MORE: Bowl projections | Take the SN bowl quiz: Real, Fake or Defunct?
James Franklin is making the most of satellite camps, spreading the word about the Nittany Lions. (AP Photo)
That opens the door for the nation's hottest recruiter, the guy who — we'll say it one more time for effect — landed elite recruits to Vanderbilt, of all places, to do what he pleases in the most fertile recruiting grounds in the country. It takes any form of restraint from an energetic and charismatic 42-year-old coach who connects with recruits like few in the sport can.
Hours after Franklin officially left Vanderbilt for Penn State, he called current Penn State recruits and told them he was honoring their commitments. He then got on the phone to the class he had built at Vanderbilt, and told them he was leaving for Penn State — and that's when moving on became selling out. At least in the eyes of Vanderbilt.
When a handful of recruits decided they were following Franklin to Penn State, the talk radio narrative quickly became Franklin never cared about Vanderbilt and only cares about himself. This is the same guy who, during his first season at Vandy and first as a head coach, stood at the top of the staircase in his house to welcome high school players on a recruiting visit and saw a reality that, for an admittedly "highly emotional" guy, scared the hell out of him.
"I look down there, and I see our coaches and their families and I see our recruits and their families and I started choking up," Franklin said. "I thought to myself, I am responsible for all of these people."
That's why he didn't leave Vanderbilt much sooner than he could have. Why he told other schools that wanted to hire him over the previous two Decembers that he wasn't interested. Moving on not only impacted his family, it impacted everyone he was associated with at Vanderbilt.
So when the first call to the committed Vanderbilt players came, and Franklin told offensive lineman Chance Sorrell he was leaving for Penn State, it's no surprise that Sorrell, who was sold on Franklin, not Vandy, blurted out, "I'm going with you."
"There was never any hesitation," Sorrell said.
Except there was: "I said, you're what?! Then I started thinking in my head, wait, do we have enough scholarships? It's not like we did a whole lot of recruiting. We called and told them we were going to Penn State, and they said we're going with you."
Penn State landed a top 25 recruiting class in less than a month of work on the job (with a lot of help from the foundation Bill O'Brien laid the previous two seasons), and four months later, has the No. 4-ranked recruiting class for 2015 according to 247Sports.com.
Not one of those 16 verbal commitments — 10 of which are 4-star players — is outside Franklin's 6-hour recruiting radius from State College, Pennsylvania. But the No. 1 interior defensive lineman in the country — Trent Thompson from Albany, Georgia — is considering Penn State, as are others from outside the 6-hour mark.
For those who think one player won't matter, understand this: Cam Newton was from suburban Atlanta.
It starts with the 2015 class, then gets stronger with the 2016 class that will have seen Franklin and his staff at the satellite camps, and the next thing you know, Penn State is pulling itself from the abyss of NCAA sanctions through the only way possible: recruiting.
Want to know why Franklin was the perfect hire to replace O'Brien? Because he had been working on the Penn State plan — recruiting under dire circumstances — all along at Vanderbilt. Franklin and his staff couldn't miss on recruits at Vandy, couldn't sign a player who wouldn't make it academically or couldn't line up and trade blows in the brutal SEC.
There's zero room for error at Vandy: the more you miss on recruits, the further you fall behind and the harder it is sign other players to make up for it. And now he's in the exact same situation at Penn State, which for years to come will feel the effects of the harshest NCAA probation since SMU's Death Penalty.
The scholarships are slowly coming back, and there's hope that the last two years of the NCAA bowl ban could be modified at some point, maybe even as early as this summer or fall. But he's still selling a dream with no postseason until it happens.
The same dream, really, he was selling at Vanderbilt, which hadn't won nine games since 1915 and had played in one bowl game in the previous quarter century before Franklin and his staff arrived. The Commodores won nine games in each of the last two seasons, and played in bowl games the last three seasons.
"We had great kids, smart kids, who bought in from Day 1," Franklin said. "Because they wanted change."
When Franklin arrived in Nashville, he went door to door down fraternity row to recruit walk-ons. He landed seven that first year — seven guys who never even played high school football.
"To this day, I will make an argument that those kids had an unbelievable impact on that program," Franklin said. "They helped us on the field, and they helped us spread the word through campus and the community. They helped us change a program."
They'll play with 75 scholarships this fall at Penn State, 10 more than they played with last year. In two seasons, they'll be at the NCAA maximum of 85.
But they're not just adding players to get to that magic number. They're doing everything possible — including coaching those satellite camps — to eliminate potential recruiting misses.
"I really believe what we did at Vanderbilt prepared us for this," Franklin said. "I can't sit here and say what it was like being here the last couple of years, because it's hard to imagine unless you've gone through it. But we're all in it together now."