Notre Dame vs. Clemson score, results: Tigers get revenge, leave Irish Playoff case in flux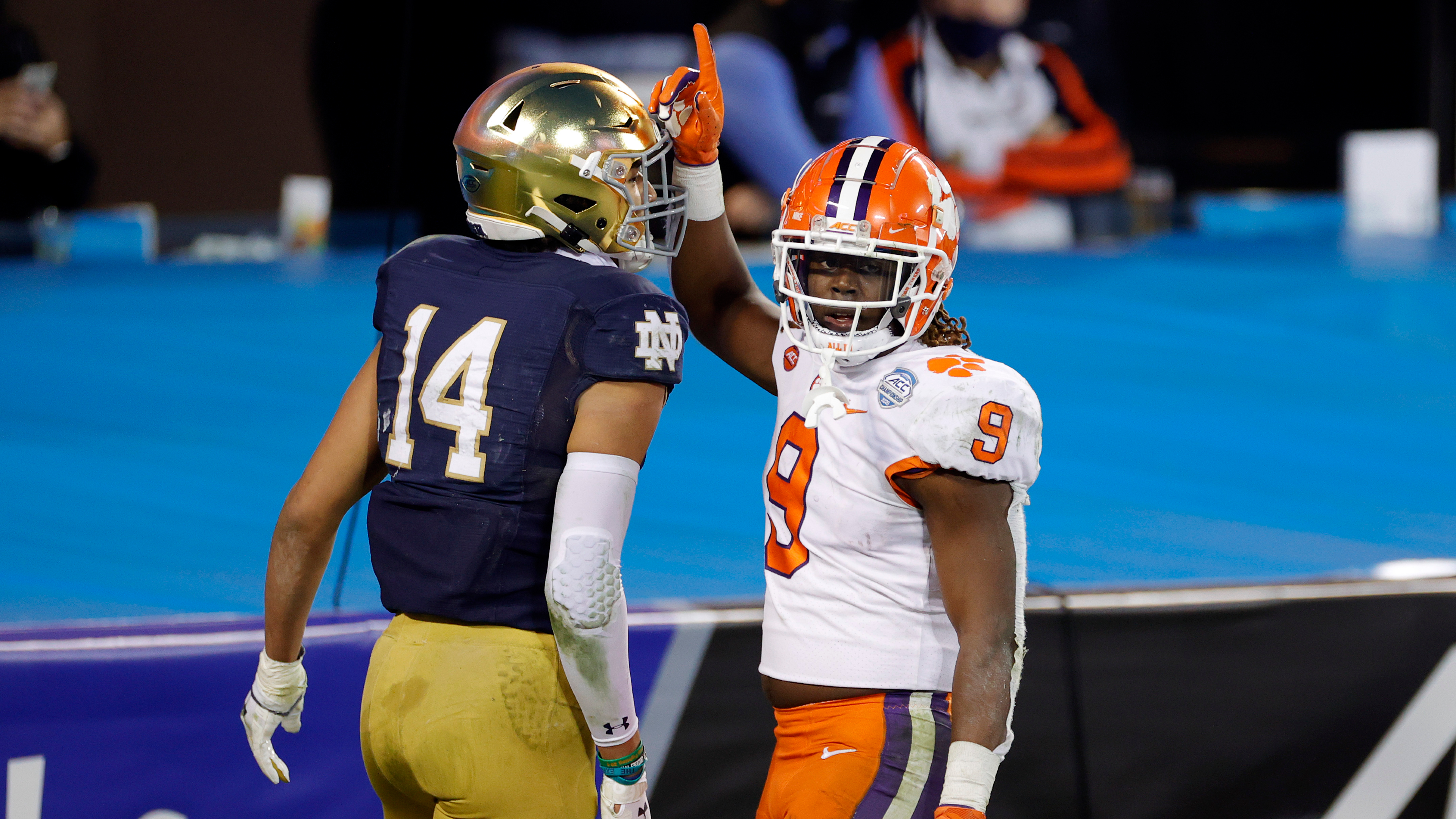 Notre Dame may have felt confident about its chances of making the College Football Playoff before the ACC championship game on Saturday.
After a 34-10 demolition at the hands of Clemson, however, the Irish may be anything but confident now that their fate is in the hands of the selection committee.
MORE: Watch Notre Dame vs. Clemson live with fuboTV (7-day free trial)
It appeared at first as if the Irish would play the Tigers tough; they kicked a 51-yard field goal on their opening drive and picked off quarterback Trevor Lawrence (who missed the first game with COVID-19) on the Tigers' ensuing possession. Notre Dame missed a gimme 23-yard field goal try, however, and it was all downhill from there.
The Tigers took full advantage with Lawrence back in the fold: On the Tigers' next drive, he connected with Amari Rodgers for a 67-yard touchdown. Clemson followed with 17 second-quarter points (a 33-yard E.J. Williams touchdown reception and a 44-yard yard touchdown run by Travis Etienne). The defense was incredible as well, hurrying and harrying Ian Book all night. He finished with 20-of-28 passing for 219 yards but was also sacked six times.
A 34-yard Lawrence touchdown run in the third quarter all but ended it, but a Chris Tyree 21-yard score for Notre Dame may not have been insignificant. If the committee thinks Notre Dame's 24-point blowout loss is better than Texas A&M's 52-24 blowout loss to Alabama, then the Irish could still sneak into the Playoff.
Unfortunately for Brian Kelly and Co., they would have much preferred to be able to set the terms of that decision.
Sporting News tracked live scoring updates and highlights from Notre Dame vs. Clemson. Check out the complete results from the 2020 ACC championship game:
Notre Dame vs. Clemson score
| | | | | | |
| --- | --- | --- | --- | --- | --- |
|   | Q1 | Q2 | Q3 | Q4 | Final |
| Clemson | 7 | 17 | 7 | 3 | 34 |
| Notre Dame | 3 | 0 | 0 | 7 | 10 |
Notre Dame vs. Clemson live updates, highlights
All times Eastern
Final: Clemson 34, Notre Dame 10
7:19 p.m.: One last play for Clemson, and that does it. Final: Clemson 34, Notre Dame 10.
7:17 p.m.: Book can't escape Clemson's sixth sack of the game on third-and-16. The latest one, for 10 yards, comes from freshman linebacker Trenton Simpson. It's now fourth-and-26 from the Notre Dame 35.
7:15 p.m.: Book connects with Mayer on a 10-yard gain to the Clemson 49. That's a first down.
7:15 p.m.: Notre Dame, by the way, still driving. It faces third-and-8 from its 41.
7:14 p.m.: Timeout, Clemson (2:24).
7:12 p.m.: Book's still in for Notre Dame; the Irish desperately need a touchdown here to make this score respectable. Fans of one-loss Texas A&M are watching this drive with intense interest.
7:11 p.m.: Clemson, meanwhile, punts the ball back to Notre Dame. They give the Irish the ball back at their 7 with just over four minutes left in the game.
7:09 p.m.: And that will do it for Lawrence, who leaves the field with about five minutes left in the game. He'll finish the day completing 25 of 36 passes for 322 yards and two touchdowns to one interception. He also rushed 14 times for 90 yards and another score.
7:08 p.m.: Timeout, Clemson (5:08).
7:06 p.m.: Lawrence avoids the pressure on third-and-9 and throws to Cornell Powell for a 26-yard gain out to Notre Dame's 48.
7 p.m.: TOUCHDOWN, NOTRE DAME. Chris Tyree gets the first touchdown for Notre Dame in this ACC championship game, bouncing the ball out for a not-insignificant 21-yard score. That makes it 34-10 Clemson with 8:09 left to play.
6:58 p.m.: And it's confirmed. Turner's out for the rest of this game and the first half the Clemson semifinal.
6:56 p.m.: Uh-oh. Clemson safety Nolan Turner is called for targeting, causing defensive coordinator Brent Venables to fall to his knees; if the call is confirmed, he will be unavailable for the Tigers' semifinal game.
6:51 p.m.: Notre Dame is across midfield for the first time in what seems like forever after a 12-yard, first-down connection to Skowronek. Irish driving at the Clemson 43.
6:50 pm: Clemson is called for pass interference on the third-down play, giving Notre Dame a fresh set of downs at its 45.
6:49 p.m.: Notre Dame's Kyren Williams nearly gives the ball back to Clemson on a fumble, but jumps on it to recover. Notre Dame faces third-and-5 from its 30.
6:45 p.m.: FIELD GOAL, CLEMSON. And Potter's 2 for 2 on the day after hitting the 37-yarder. That makes it 34-3 Clemson with 10:31 left in the game.
6:44 p.m.: Notre Dame is ready for Clemson's shuffle pass and snuff it out at the 20. That makes it fourth-and-8, bringing on the Clemson field goal team.
6:42 p.m.: Lawrence avoids two blitzing backers and finds running back Chez Mellusi on the screen. That connection goes 23 yards to the Notre Dame 23.
6:36 p.m.: Two 10-yard completions get Clemson a first down at midfield.
End of third quarter: Clemson 31, Notre Dame 3
6:31 p.m.: Tigers are taking it to the fourth quarter, facing first-and-10 at their 30.
6:28 p.m.: Tigers to take over at their 14. Another score here wouldn't matter much game-wise, but could be enough to persuade the College Football Playoff committee to drop Notre Dame from the discussion. The Irish aren't just playing for pride here.
6:27 p.m.: Notre Dame converts a fourth-and-6 from Clemson's 40, but a holding call negates the conversion. Punt team should come on now.
6:25 p.m.: Credit to Book: He's not giving up. He hits Skowronek for 16 yards; coupled with a personal foul, Notre Dame has a first down at Clemson's 44.
6:21 p.m.: TOUCHDOWN, CLEMSON. One play later, Lawrence takes the keeper and runs 34 yards for the touchdown. That makes it 31-3 Clemson with 3:43 left in the third quarter. This one's pretty much done.
6:20 p.m.: And that 9-yard scamper by Etienne gives him more than 100 for the day, his 20th such game in the triple digits.
6:18 p.m.: Another nice run by Etienne goes for 17 yards to the Notre Dame 43.
6:13 p.m.: Oh, my, E.J. Williams. The Notre Dame defense stood to get off the field on third down, but Lawrence threw a perfect ball to the freshman receiver, who one-handed the ball for an incredible third-down conversion to the 40.
6:11 p.m.: Seems Swinney took that timeout to give officials time to see whether Skowronek could be ejected for targeting. No such luck; the Tigers have it at their 17 after the punt.
6:08 p.m.: Timeout, Clemson (6:29).
6:06 p.m.: Book does everything he can to avoid the pass-rush, rushing about 30-40 yards laterally to get a 2-yard loss on the scramble. Skowronek was called for an illegal blindside block, but Clemson declines it to make it fourth-and-9 from the Notre Dame 24
6:04 p.m.: Book finds Mayer for the first-down conversion, but the tight end nearly fumbles the ball away. He dives back on it to make it first-and-10 Notre Dame from the 23.
6:02 p.m.: Clemson gets a decent chunk of it back but will punt on fourth-and-3 from just past midfield. Notre Dame will take over at its 13.
6 p.m.: Holding on Clemson sends the Tigers backward on the first play of the drive. it first-and-18 from their 38.
5:56 p.m.: Book takes a sack on third down, and Notre Dame's line is having a miserable time against the Tigers pass-rush. That forces a punt on fourth-and-23, and Clemson will have a short field from its 45.
5:53 p.m.: Nice opening sequence by Notre Dame there to force a three-and-out. They force Clemson's first punt of the game and will take over just short of their 20 after the punt.
5:50 p.m.: Etienne returns the opening kickoff 36 yards to Clemson's 39, punctuated with a big collision at the end. Clemson already with a big energy-generating play.
Halftime: Clemson 24, Notre Dame 3
Some halftime stats:
Total yards: Clemson 339; Notre Dame 169
Passing yards: Clemson 199 yards, 2 TDs, 1 INT; Notre Dame 131 yards
Rushing yards: Clemson 140; Notre Dame 38
First downs: Clemson 15; Notre Dame 8
Third-down percentage: Clemson 4 of 6; Notre Dame 2 of 7
Fourth-down percentage: Clemson 1 for 1; Notre Dame 0 for 1
Penalties: Clemson 1 for 5; Notre Dame 1 for 15
Turnovers: Clemson 1; Notre Dame 0
Time of possession: Clemson 11:07; Notre Dame 18:53
5:30 p.m.: Notre Dame is content to kneel on the ball to end the half, down three touchdowns.
5:28 p.m.: TOUCHDOWN, CLEMSON. Pretty easy decision when you have a player like Etienne on your team. He takes it 44 yards off the zone-read option to make it 24-3 Clemson with 21 seconds left in the half. An absolute disaster for Notre Dame.
5:27 p.m.: Lawrence accidentally spikes it on third-and-1 with 29 seconds left, and now it's decision time for Dabo Swinney from the Notre Dame 44.
5:26 p.m.: Etienne gets 8 yards on the third-and-1 play. Clemson has it first-and-10 just short of midfield with the clock running.
5:24 p.m.: For some reason, officials are reviewing whether Clemson got a first down on that play even though it was stopped a yard short. Officials rule the Tigers were short of the line to gain.
5:23 p.m.: Tigers driving at their 39.
5:22 p.m.: Timeout, Clemson (0:50).
5:21 p.m.: Lawrence fakes the roll right and hands it off to Etienne, even serving as a blocker against the upfield rush. Etienne runs for 15 yards on third-and-7 to keep the drive moving at the Tigers 30.
5:19 p.m.: Timeout, Clemson (1:19).
5:18 p.m.: Lawrence pulls out of a sack at the goal line to throw it away. He is insanely strong (that's his third broken tackle today). Also: What's that he blew up on the sidelines?
5:17 p.m.: False start makes it third-and-15 from the 7.
5:15 p.m.: Book is forced to check it down, and the Irish are forced to punt on fourth-and-5 near their 40. Irish defense must stop a last-minute scoring drive here. Tigers take over at their 12 with just over two minutes remaining.
5:13 p.m.: Book avoids the rush — and getting bulldozed by his own lineman — to roll out and find Tremble for an 11-yard gain to the Notre Dame 36.
5:09 p.m.: FIELD GOAL, CLEMSON. Notre Dame's defense doesn't give up a third consecutive touchdown, holding Clemson to a 27-yard field goal by B.T. Potter. That makes it 17-3 Clemson with 4:31 left before halftime. Notre Dame needs a score here; the Tigers get the ball out of the half.
5:05 p.m.: Clemson wasting no time, gets two quick first downs to get to the Notre Dame 47.
5:02 p.m.: The Tigers will take over at their 27 after the 51-yard punt.
5:01 p.m.: And then Derion Kendrick gets to Book on the cornerback blitz. That's a loss of 2 yards, forcing a Notre Dame punt.
5 p.m.: K.J. Henry gets a coverage sack on Book. He had a decent pocket, but Book had nowhere to throw. Notre Dame faces third-and-11 after the 10-yard sack.
4:54 p.m.: TOUCHDOWN, CLEMSON. Two plays later, Lawrence finds E.J. Williams on the deep post for his second passing touchdown of the day, this one from 33 yards out. It's 14-3 Clemson with 9:24 in the half.
4:53 p.m.: Travis Etienne gets only his second carry of the day, for 4 yards, but it converts a third-and-2. Clemson continues to drive at Notre Dame's 39.
4:51 p.m.: And now Clemson with the big play: Lawrence's pass to Cornell Powell goes 21 yards for a first down at the Tigers 49.
4:47 p.m.: Turnover on downs, Notre Dame. That's rough; Book handles the pocket beautifully and rolls out to find an open receiver in Davis. But he throws the ball behind him, and Davis can't bring it in. The Tigers take over at their own 28 with 12:08 in the half.
4:47 p.m.: Notre Dame has it fourth-and-3 at Clemson's 28. Decision time for Brian Kelly?
4:45 p.m.: And another nice play to start the second quarter: Book rolls out and finds Tommy Tremble for a 30-yard gain to the Clemson 35. Irish haven't had too much trouble moving the ball early.
End of first quarter: Clemson 7, Notre Dame 3
4:40 p.m.: Nice jet sweep by Notre Dame there; Avery Davis goes 18 yards to the Irish 35 for a first down.
4:36 p.m.: TOUCHDOWN, CLEMSON. And there's Lawrence's first score against the Irish: a 67-yard touchdown to an absolutely wide-open Amari Rodgers. That makes it 7-3 Clemson with 41 seconds remaining in the quarter.
4:32 p.m.: Missed field goal, Notre Dame. Doerer, who hit an ACC championship record 51-yard field goal earlier today, missed wide right from 23. Notre Dame's lead remains 3-0 with 1:42 left in the first.
4:32 p.m.: Clemson's defense bends, but doesn't break. On comes the field goal team for a 23-yard attempt.
4:30 p.m.: And there's Notre Dame running back Kyren Williams, who goes left through a massive hole for a 24-yard gain all the way to the Clemson 10. The Irish have it first-and-goal from there.
4:28 p.m.: Notre Dame wastes no time moving the ball upfield; Book throws a quick pass to Ben Skowronek, who makes a man miss and takes it 26 yards to the Clemson 36.
4:24 p.m.: Interception, Notre Dame. Lawrence's pass is tipped in the air by linebacker Drew White and picked by safety Kyle Hamilton. The Irish will take over at their 37-yard line with 5:20 in the first quarter.
4:23 p.m.: A 9-yard rush by Lawrence, coupled with a 15-yard facemask penalty, gets Clemson 24 yards and a first down at the Irish 39.
4:22 p.m.: Now it's Trevor Lawrence's turn to withstand the pressure for a nice play. He finds freshman E.J. Williams on the slant for a 15-yard gain on third-and-9, giving Clemson a fresh set of downs at the 36.
4:20 p.m.: Tigers take over at their 20.
4:20 p.m.: The ABC telecast showed a close-up of Book's hand, which looks a little busted up. Could that factor into his play today?
4:16 p.m.: FIELD GOAL, NOTRE DAME. And Jonathan Doerer absolutely drills the 51-yard field goal to give the Irish an early 3-0 lead with 8:16 left in the first quarter.
4:15 p.m.: This time Clemson's pressure gets to Book. James Skalski is credited with a 5-yard sack on third-and-8, forcing a 51-yard field goal attempt by Notre Dame.
4:14 p.m.: Another nice play Book, on third-and-9, to maintain pocket presence. He again finds Mayer in the zone for 15 yards and a first down. Irish are driving at the Clemson 30.
4:12 p.m.: The Irish get another first down past midfield but have to take a loss on the first-down play after an errant snap by Josh Lugg. Notre Dame has it second-and-15 at its 49.
4:11 p.m.: Good job by Ian Book to stay in the pocket and not succumb to the pressure on third down. He buys time and finds an open Michael Mayer for a 12-yard gain and first down. Irish are driving at the 38.
4:08 p.m.: Clemson kicks off, and Notre Dame takes over at its 21. Here we go.
Notre Dame vs. Clemson start time
Date: Saturday, Dec. 19
Kickoff: 4 p.m. ET
TV channel (national): ABC
Live stream: fuboTV
Notre Dame vs. Clemson starts at 4 p.m. ET and will follow the Big 12 Championship between No. 10 Oklahoma and No. 6 Iowa State on ABC.
College football schedule: Conference championship games
Friday, Dec. 18
| | |
| --- | --- |
| Game | Matchup |
| Pac-12 championship | Oregon 31, No. 13 USC 23 |
| C-USA championship | UAB 22, Marshall 13 |
| MAC championship | Ball State 38, Buffalo 28 |
Saturday, Dec. 19
| | | | |
| --- | --- | --- | --- |
| Game | Matchup | Time (ET) | TV channel |
| Big 12 championship | No. 10 Oklahoma 27, No. 6 Iowa State 21 | — | — |
| Big Ten championship | No. 4 Ohio State 22, No. 14 Northwestern 10 | — | — |
| ACC championship | No. 2 Notre Dame vs. No. 3 Clemson | 4 p.m. | ABC, fuboTV |
| MWC championship | No. 24 San Jose State vs. Boise State | 4:15 p.m. | Fox, fuboTV |
| SEC championship | No. 1 Alabama vs. No. 7 Florida | 8 p.m. | CBS, fuboTV |
| AAC championship | No. 19 Tulsa at No. 9 Cincinnati | 8 p.m. | ABC, fuboTV |