Who plays in the Orange Bowl this year? Teams, date, schedule for New Year's 6 bowl game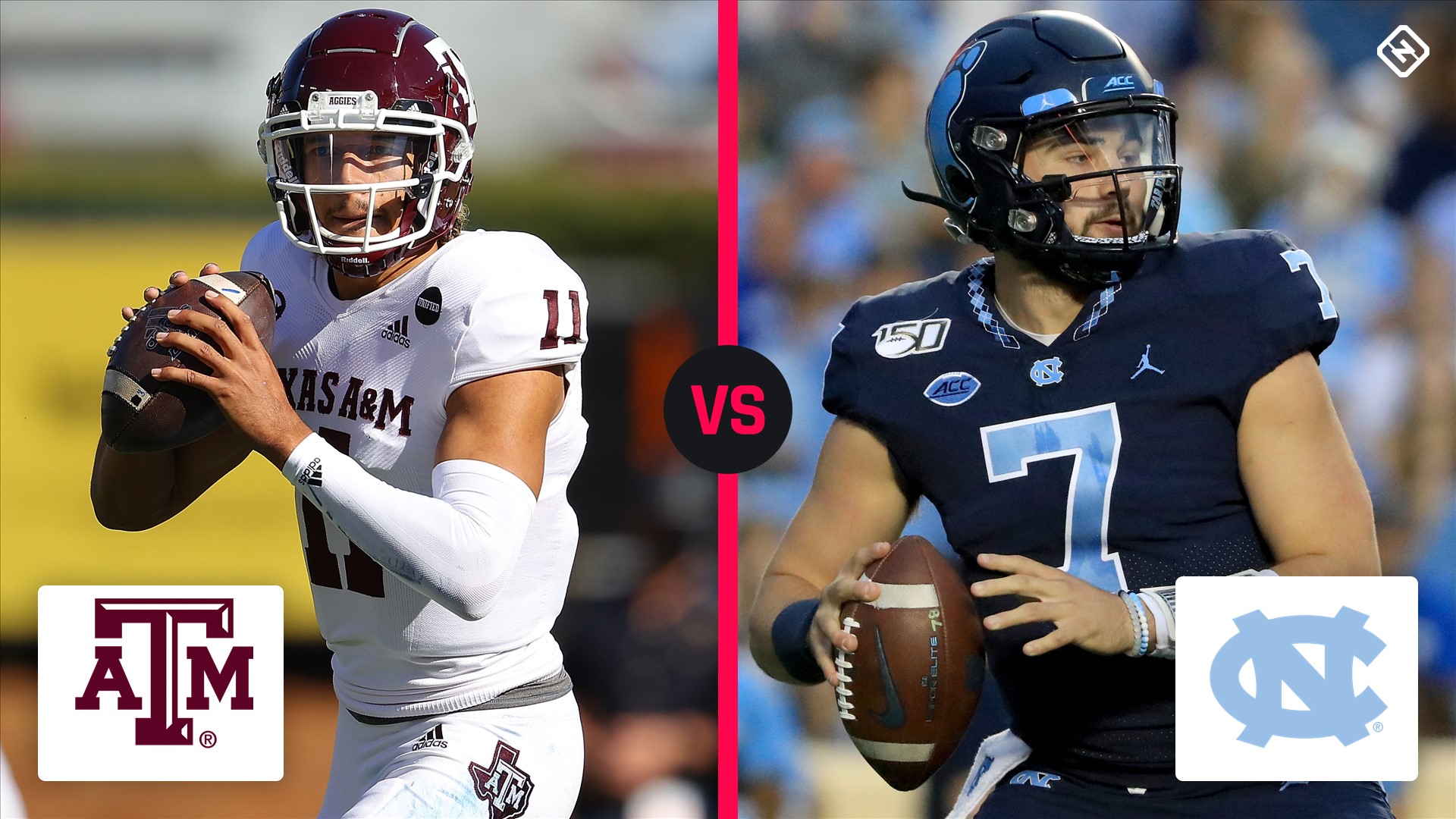 The Orange Bowl usually hosts an ACC team, and that will again be the case on Jan. 2, 2021 despite two of that conference's teams playing in the College Football Playoff.
In another year, maybe the Orange Bowl would get one of Notre Dame or Clemson onto its field. But the CFP committee sent both those teams to a national semifinal. That leaves the 87th annual Orange Bowl with No. 13 North Carolina (8-3), which is a sneak peak at Sam Howell before the quarterback makes his case for the 2022 No. 1 overall pick in the fall. The Orange Bowl will also bring an SEC team to proceedings this year in the form of No. 5 Texas A&M (8-1), the team that finished closest to the College Football Playoff without making it.
The Aggies will get a chance to back up their annoyance with missing the Playoff in a strong offensive matchup against UNC. Texas A&M counters Howell with a dominant two-way quarterback of its own, senior Kellen Mond. Mond posted on Twitter soon after the CFP announced its selection, writing "SUPER JOKE."
Below, you'll find the information you need to know about watching the Orange Bowl on Jan. 2, 2021, along with what to expect from the teams chosen to play in the game. 
MORE: College Football Playoff isn't fair, but don't blame the teams who made it
When is the Orange Bowl 2021?
Date:  Jan. 2
Time: 8 p.m. ET
TV broadcast:  ESPN
Location:  Hard Rock Stadium, Miami Gardens, Florida
The Orange Bowl has been held in Miami and Miami Gardens for the entirety of its existence. This year's game will mark the 87th iteration of the end-of-season contest, with it taking place in its current stadium since 1996. 
Who plays in the Orange Bowl 2021?
The Orange Bowl will pit the third best team out of the ACC, No. 13 North Carolina, against the second best SEC team, No. 5 Texas A&M.
What to know about North Carolina vs. Texas A&M
Unhappy Aggies
The CFP committee chose to include Notre Dame in the final four despite the Fighting Irish's blowout loss in the ACC Championship to Clemson. That meant that Texas A&M was left on the outside looking in.
Quarterback Kellen Mond wrote "SUPER JOKE" on Twitter soon after the announcement. The Aggies also had one loss, a 28-point defeat against No. 1 Alabama, which proved to be too big a black mark apparently.
Super Sam
With many of this season's Heisman contenders likely departing for the draft, the Orange Bowl provides an opportunity to get to know Sam Howell. The UNC quarterback could be a first-round pick in 2022, and before that, he could contend for the 2021 Heisman Trophy. 
As a sophomore in 2020, Howell has thrown 27 touchdowns compared to just six interceptions. He's also rushed for five touchdowns while completing 69.1 percent of his passes.
Mond mania
Kellen Mond has been a four-year quarterback for the Aggies, showing improvement each season to reach a peak of a near-playoff berth in his senior year. 
Mond is a true dual threat, throwing 19 touchdowns in 2020 (with three interceptions) while also rushing for 258 yards. His running has been down from each of the past two seasons, when he relied less on his arm and more on his legs.
Orange Bowl odds
Sporting News will have Orange Bowl odds when they become available.
Where is Orange Bowl being played in 2021?
The Orange Bowl is being played in the Miami area, as usual. It's technically been played for the last 25 years in Miami Gardens, where Hard Rock Stadium is located.
There will be fans at the Orange Bowl, with Florida's governor Ron DeSantis allowing Hard Rock Stadium to return to full capacity midway through the NFL season. The Dolphins have capped game attendance at 13,000, though, which unless there's a further update will likely resemble attendance at the Orange Bowl. 
New Year's Six Bowl schedule 2021
All of this year's New Year's Six Bowl games are televised on ESPN.
| | | | |
| --- | --- | --- | --- |
| Date | Bowl | Matchup | Time (ET) |
| Dec. 30 | Cotton Bowl | (6) Oklahoma vs. (7) Florida | 7:15 p.m. |
| Jan. 1 | Peach Bowl | (8) Cincinnati vs. (9) Georgia | 12:30 p.m. |
| Jan. 1 | Rose Bowl | (1) Alabama vs. (4) Notre Dame | 5:00 p.m. |
| Jan. 1 | Sugar Bowl | (2) Clemson vs. (3) Ohio State | 8:45 p.m. |
| Jan. 2 | Fiesta Bowl | (25) Oregon vs. (10) Iowa State | 4:00 p.m. |
| Jan. 2 | Orange Bowl | (5) Texas A&M vs. (13) North Carolina | 8:00 p.m. |