Non-conference schedule rankings: Tough run early huge for UCLA in Pac-12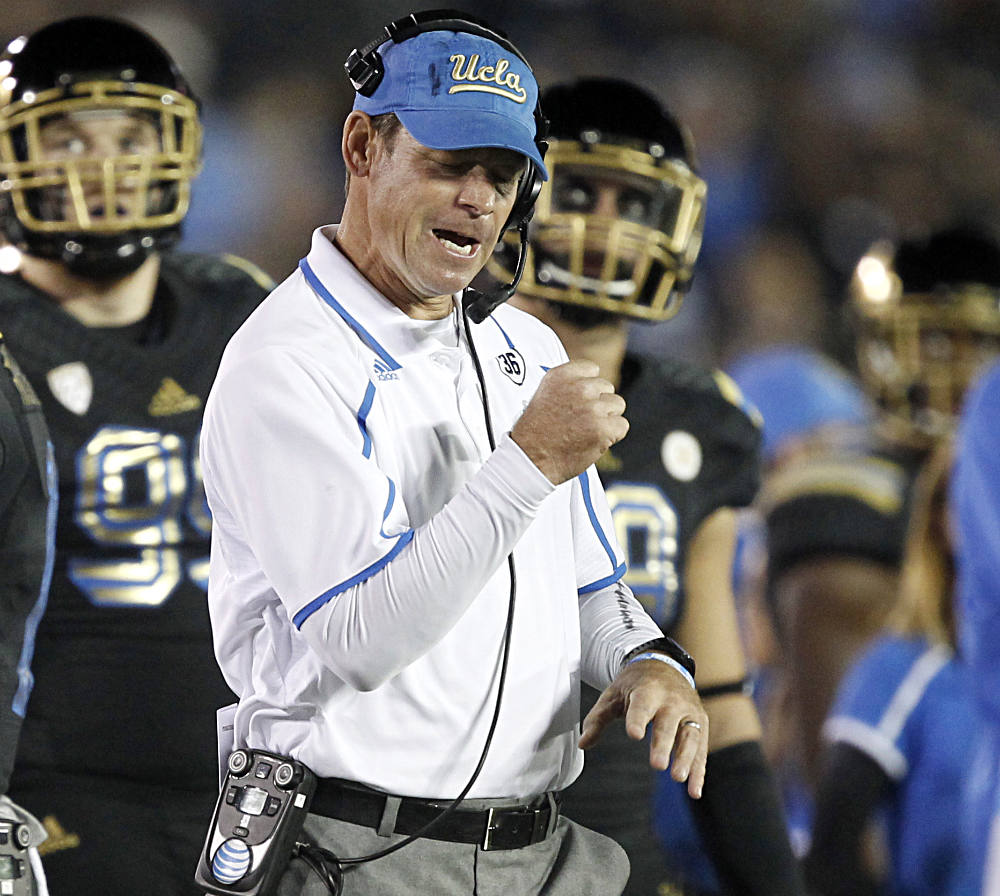 They're a trendy pick to do something that hasn't been done in decades at Westwood.
So excuse Jim Mora if he's a little underwhelmed by it all. He's still working on winning the first conference title in 16 years at UCLA. Much less the first national title in 60 years.
"We've really just gotten started," Mora said. "It's two years. That's nothing."
PREVIOUS RANKINGS: ACC | Big Ten | SEC
Just in case you need further proof, understand this: If the Bruins do reach the College Football Playoff, it won't be because of an easy road. Not only is the Pac-12 conference schedule brutal — UCLA gets three North Division heavyweights (Oregon, Stanford, Washington) in addition to the South schedule — the Bruins must play at Texas and Virginia in non-conference games.
If UCLA makes it out of September unbeaten — at Virginia, Memphis, at Texas, at Arizona State — we can start looking at a potential CFP run. Until then, in Mora's words, it's just two years. 
MORE: SN Top 25 | All-Americans | Best QBs | RBs | WRs
A breakdown of the Pac-12 non-conference schedule:
From first to worst
1. UCLA: at Virginia, Memphis, at Texas
2. USC: Fresno State, at Boston College, Notre Dame
3. Utah: Idaho State, Fresno State, at Michigan
4. Oregon: South Dakota, Michigan State, Wyoming
5. California: at Northwestern, Sacramento State, BYU
6. Stanford: UC-Davis, Army, at Notre Dame
7. Arizona State: Weber State, at New Mexico, Notre Dame
8. Washington State: Rutgers, at Nevada, Portland State
9. Washington: at Hawaii, Eastern Washington, Illinois, Georgia State
10. Colorado: Colorado State (Denver), at UMass, Hawaii
11. Arizona: UNLV, at UTSA, Nevada
12. Oregon State: Portland State, at Hawaii, San Diego State
MORE: SN coach rankings, 1 to 128 | Top 25 players | Take our bowl quiz
Scoreboard
Games against Power 5 teams: 11 of 37 (30 percent)
Games against Group of 5 teams: 18 of 37 (48 percent)
Games against FCS teams: 8 of 37 (22 percent)
Keeping score (four of five Power 5 conferences analyzed):
Games against Power 5 teams: Big Ten (30 percent); ACC (30 percent); Pac-12 (30 percent); SEC (20 percent)
Games against Group of 5 teams: SEC (55 percent); Big Ten (52 percent); Pac-12 (48 percent); ACC (45 percent).
Games against FCS teams: ACC (25 percent), SEC (25 percent); Pac-12 (22 percent); Big Ten (18 percent).
Road Map to Playoffs: Week 1 | 2 | 3
Five best games
1. Michigan State at Oregon
2. UCLA at Texas
3. Notre Dame at Arizona State
4. Notre Dame at USC
5. Stanford at Notre Dame
Five worst games
1. South Dakota at Oregon
2. UC-Davis at Stanford
3. Portland State at Oregon State
4. Sacramento State at California
5. Weber State at Arizona State
Quick hits
— The Pac-12 once was far and away the best conference at scheduling non-conference games — when it was the Pac-10. Expansion added another conference game, and suddenly, everyone needs two payday games to make budgets. Instead of Oregon State vs. Penn State, we get Oregon State vs. Portland State. Instead of Arizona vs. Oklahoma State, we get Arizona vs. UTSA. Without the Notre Dame connection to USC and Stanford, the combined non-con sked would be much worse than it already is.
— If both Stanford and UCLA play to their championship potential, we could have a repeat of the 2012 season, when the two teams played on back-to-back weeks — once as a regular season matchup, and once in the Pac-12 Championship Game. Now, consider this tantalizing — and terrorizing for the Pac-12 — possibility: Unbeaten UCLA and unbeaten Stanford play on Nov. 28. Whoever wins that game, loses the following week in the Pac-12 championship game — and knock each other out of the College Football Playoff.
— Colorado was once the king of non-conference scheduling as a Big 12 member, annually loading up on BCS schools — sometimes two or three in one season. This time around, it's Colorado State, at UMass and Hawaii. The Buffs are desperate to get back to the postseason, and those three gimmes are critical, but that doesn't make it any easier to swallow. It's no better in 2015: The same three opponents from 2014, and FCS Nicholls State. Woof.