Philip Lutzenkirchen was one of Auburn's best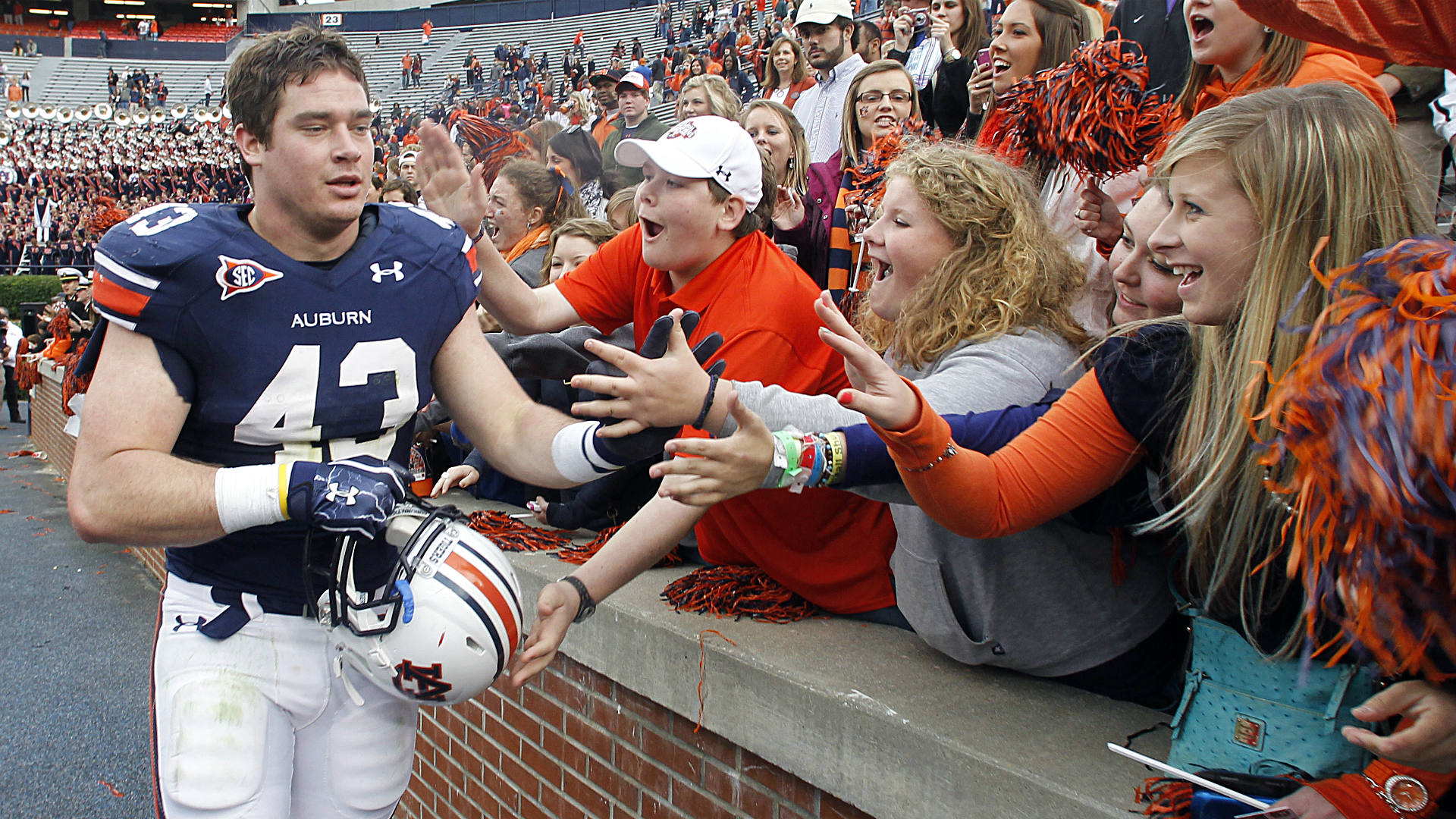 Philip Lutzenkirchen was a star before he set foot on the Auburn campus.
As a senior tight end at Lassiter High School in Marietta, Georgia, Lutzenkirchen made one of the best plays you'll ever see a football player make. Falling out of the back of the end zone, airborne, parallel to the ground, he got his hands on his quarterback's pass and in one motion flipped it in bounds to a teammate for a touchdown reception.
MORE: Notable sports deaths of 2014 | Memorial service
Not many high school plays make SportsCenter. That one did.
Two years later, he would be on the receiving end of one of the most memorable touchdown passes in Auburn history when Cam Newton found him slipping free in the fourth quarter against Alabama. That catch rallied Auburn from a seemingly unsurmountable 24-point deficit in Tuscaloosa for an improbable 28-27 victory. The dance that followed became a new Auburn tradition. The Tigers continued on to win the BCS title.
Now, Lutzenkirchen is gone — he died in a car accident early Sunday. He was just 23 years old.
Admired by his peers and respected by the media members who covered him, Lutzenkirchen looked like a player with NFL Sundays ahead of him. But injuries derailed that future. He recently became a volunteer coach at St. James High School in Montgomery where Auburn class of 2015 commitment Jalen Harris — also a tight end — is a standout.
The Auburn family came out strong Sunday as word of Lutzenkirchen's death surfaced.
Former Auburn teammate Kodi Burns:
Lutz was a brother to me and my other brothers. I loved him. And I will miss him. One of the greatest men I will ever know. RIP love you man

— Kodi Burns (@AUKB18) June 29, 2014
Auburn offensive coordinator Rhett Lashlee:
The Auburn Family is broken today with the loss of a great Auburn man and friend Phillip Lutzenkirchen. Crushed and without words.

— Rhett Lashlee (@rhettlashlee) June 29, 2014
Former teammate and current 49er Corey Lemonier:
The last thing Lutz told me was that he missed me. What an amazing person to be around. He will be missed but never forgotten! Love you bro

— Corey Lemonier (@CoreyL55) June 29, 2014
Auburn receiver Sammie Coates:
From Bo Jackson's daughter, Morgan, an Auburn student:
Lutz was one of the greatest men God put on this earth...& that's a FACT #WDE

— Morgan Jackson (@mO_KNOWS_34) June 29, 2014
Auburn commitment, TE Jalen Harris from St. James High School:
I swear nobody can feel my pain right now. I loved this man so much, he was one of the best things that ever happened to me. RIP Coach Lutz

— Jalen Harris (@jalenharris9) June 29, 2014
Former Auburn teammate, offensive lineman Byron Isom:
R.I.P. Lutz Life's a trip smh

— Byron Isom (@ICEom) June 29, 2014
Auburn QB Jonathan Wallace:
My heart aches for the lost of a true man of God and brother in Christ. Prayers out to his family! Love you Lutz.. #AuburnFam

— Jonathan Wallace (@JWall_4) June 29, 2014
Auburn LB Cameron Toney:
Lutzenkirchen will be missed by countless others. He's a player who made the No. 43 a recognizable number. Especially to many young boys who have (and will continue) practiced making one-handed grabs in the backyard.