The split decision: Is creating Group of 5 playoff realistic?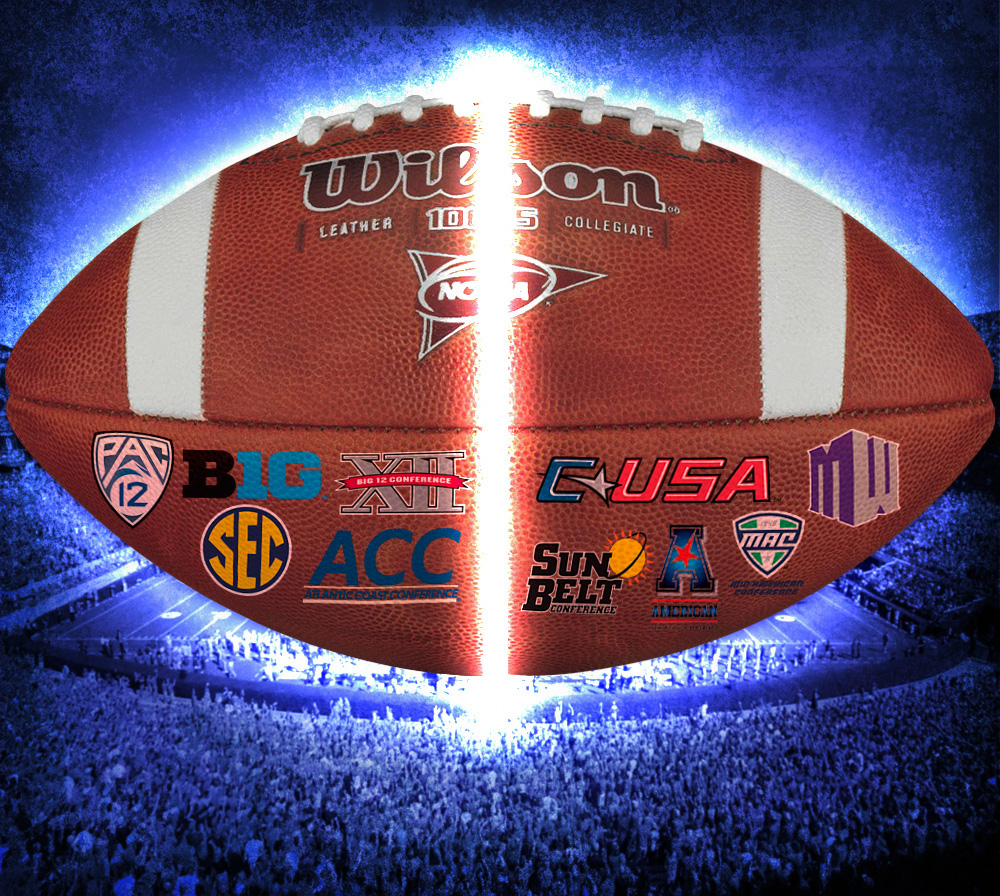 This week, Sporting News analyzed the outlook for the Group of 5 conferences in the new college football landscape. That includes the odds for reaching the four-team playoff, strength of schedule, financial benefits and exposure. We'll even take a crack at what the FBS might look like if the Power 5 and Group of 5 ever split.  

Let's take a hypothetical look at what a split in the FBS could look like. 
Conference affiliations are set until the 2015 season, when there will be 129 teams in the FBS. After 2015, however, if the idea of the Power 5 and Group of 5 splitting still exists, there's a reasonable way to do it.
Slive suggested a "Division IV," but that's confusing. We have a better name. Try Big 66 and Little 66.
PART I: Say hello to the Group of 5
PART II: Running the table
PART III: Blurred lines
PART IV: The green carrot
BIG 66: The 64 teams that make up the ACC, Big XII, Big Ten, SEC and Pac-12 along with independents Notre Dame and BYU. Those 66 teams would compete for the four spots in the College Football Playoff. It's simple, fair and let's be honest: It's what the big boys want, right?   


LITTLE 66: That's the 63 teams in the Group of 5 conferences. Charlotte joins Conference-USA and Navy becomes a member of the American Athletic Conference in 2015. Army and Massachusetts would be independents at that point, and that leaves room to add three FCS schools. James Madison, Liberty and North Dakota State are among the candidates. Those schools also could compete in their own four-team playoff at the end of the regular season. 
All the teams would still be classified as FBS schools — but there would be a distinction between the two classes. The bowl lineup wouldn't change. Big 66 schools could schedule one or two Little 66 schools per year. Would it work?


"There would be some dissatisfaction from the smaller schools," former Clemson and Tulane coach Tommy Bowden said. "They like to associate themselves with the big boys, but make no mistake we are headed in that direction. They are not going to be able to keep up."
That scenario — albeit highly unlikely because of the money — has its benefits and would give a long-term boost to the Group of 5 consider championship games. Look at the attendances of last year's MAC championship (21,106) and Conference-USA championship (20,247) against that of the FCS championship (19,802). There's not much difference.
A Group of 5 Final Four could bring together Conference-USA, MAC, Sun Belt, American Athletic Conference and Mountain West for something more than a trip to New Mexico or the Bahamas. They could even play the championship game the night before the College Football Playoff championship.
MORE: SN Top 25 | SN All-Americans | 10 breakable records
Imagine #MACtion vs. the Sun Belt in the ultimate undercard. Hey, somebody gets to hold up a real national championship trophy. No school in the Group of 5 has won a AP college football national. That's not fair.
"There's no doubt that would generate money," Bowden said of a four-team playoff for the smaller conferences. "We forget that some of those schools have nice fanbases; their own rabid fanbases. If they are looking to generate money, there could be money in that. It would definitely help." 
That's an ambitious plan, but it's a long way from realistic. Former SEC commissioner and BCS architect Roy Kramer, who also coached Central Michigan to a Division II championship in 1974 before the school moved up to the MAC, said staying unified is still the way to go.
"Not a complete break-off," Kramer said of a potential FBS split. "There's an enormous benefit if at all possible for all the competitive levels to be under one tent. Having said that, as much as there is and always has been, there needs to be a grouping of a so-called Power 5 to give them level of autonomy, especially in regards to things such as financial aid, for things to work in the modern-day world."
Too much autonomy, however, might bring this conversation to the burner sooner rather than later. 
"There needs to be a mentality of being inclusive as opposed to exclusive," Wyoming coach Craig Bohl said. "That's how it has to be if you really want to find out who the best football team in America is." 
One thing is for sure: As college football opens a new chapter this season, there's still an open-ended discussion about the future. Will the Group of 5 ever have its say? 


"The super conferences were discussed 15 years ago," Bowden said. "We've kind of made that decision with the way things are going now. Once that decision is made, it won't take long for things to transform. So let's get the smaller conferences their own format and playoff structure now."