Non-conference schedule rankings: Georgia stands out, but overall SEC is lacking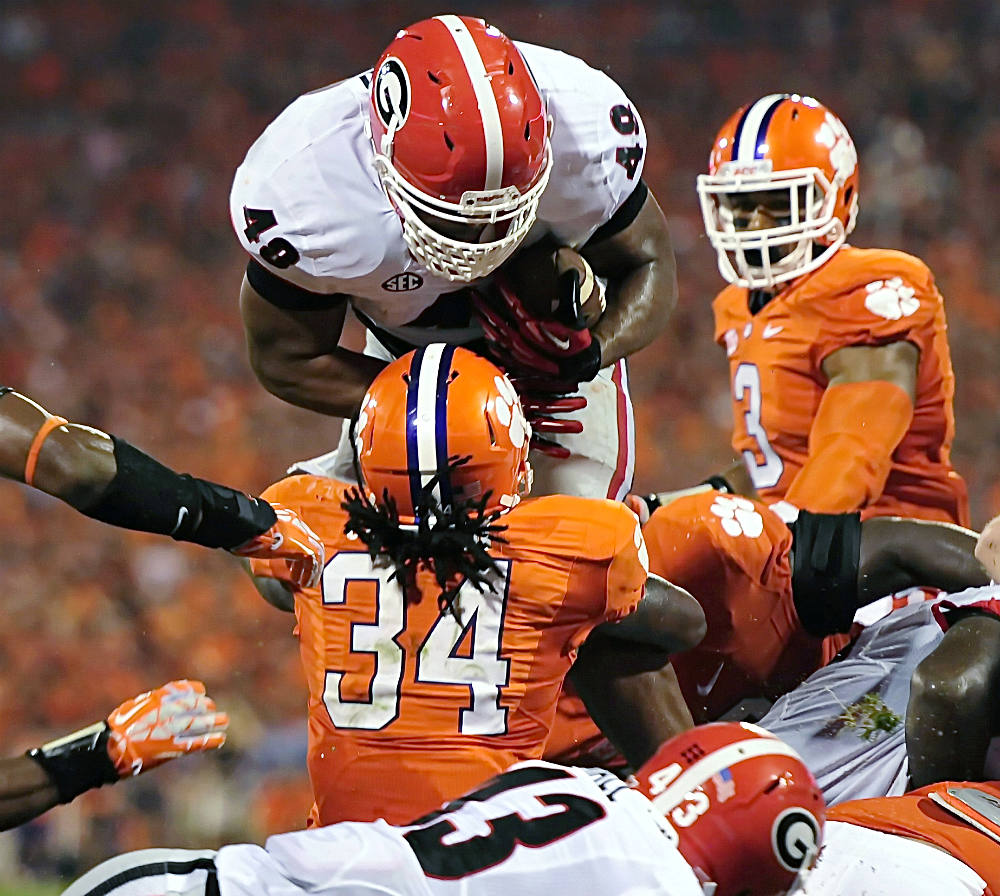 They've brought this on themselves, you know. Defiantly scheduling down in non-conference games because, well, you come stand in the shoes of these guys playing in the big, bad SEC week after week.
And it might just blow up in their collective faces come December.
"The strength of our league as a whole," says LSU coach Les Miles, "can't be overlooked in that argument."
PREVIOUS RANKINGS: ACC | Big Ten | SEC greats: Icons for each conference team
That argument is the College Football Playoff, and the 13 men and women holed up in a room deciding the four teams who play in college football's championship postseason. We've been told over and over that strength of schedule will be a key factor.
Now look at the three national title contenders from the SEC, and digest this reality: their non-conference schedules border on the comical.
— Alabama plays a neutral site game (in Atlanta) against struggling West Virginia, and has home games against FAU, Southern Miss and FCS Western Carolina.
— Auburn plays at rebuilding Kansas State, and plays home games against San Jose State, Louisiana Tech and FCS Samford.
— South Carolina plays a strong road game at Clemson (a state rival it plays annually), and home games against ECU, South Alabama and FCS Furman.
MORE: SN Top 25 | All-Americans | SN picks top 10 players by school | Coach rankings
Don't think those three gimme putts for each school won't be debated if an SEC team is on the 4-5-6 bubble. A breakdown of the SEC non-conference schedule:
First to worst
1. Georgia: Clemson, Troy, Charleston Southern, Georgia Tech
2. Tennessee: Utah State, Arkansas State, at Oklahoma, Chattanooga
3. Missouri: South Dakota State, at Toledo, UCF, Indiana
4. Arkansas: Nicholls State, at Texas Tech, Northern Illinois, UAB
5. South Carolina: ECU, Furman, South Alabama, at Clemson
6. Auburn: San Jose State, at Kansas State, Louisiana Tech, Samford
7. LSU: Wisconsin (Houston), Sam Houston State, Louisiana-Monroe, New Mexico State
8. Florida: Idaho, Eastern Michigan, Eastern Kentucky, at Florida State
9. Ole Miss: Boise State (Atlanta), Louisiana-Lafayette, Memphis, Presbyterian
10. Kentucky: Tennessee-Martin, Ohio, Louisiana-Monroe, Louisville
11. Alabama: West Virginia (Atlanta), FAU, Southern Miss, Western Carolina
12. Texas A&M: Lamar, Rice, at SMU, Louisiana-Monroe
13. Mississippi State: Southern Miss, UAB, at South Alabama, Tennessee-Martin
14. Vanderbilt: Temple, UMass, Charleston Southern, Old Dominion
MAGIC NUMBERS: Offense | Defense
Scoreboard
Games against Power 5 teams: 11 of 56 (20 percent)
Games against Group of 5 teams: 31 of 56 (55 percent)
Games against FCS teams: 14 of 56 (25 percent)
Keeping score (three of five Power 5 conferences analyzed):
Games against Power 5 teams: Big Ten (30 percent); ACC (30 percent); SEC (20 percent)
Games against Group of 5 teams: SEC (55 percent); Big Ten (52 percent), ACC (45 percent)
Games against FCS teams: ACC (25 percent), SEC (25 percent); Big Ten (18 percent)
Five best games
1. Tennessee at Oklahoma
2. LSU vs. Wisconsin (Houston)
3. Clemson at Georgia
4. Auburn at Kansas State
5. Florida at Florida State
Five worst games
1. Western Carolina at Alabama
2. Charleston Southern at Georgia
3. Lamar at Texas A&M
4. Furman at South Carolina
5. Eastern Kentucky at Florida
MORE: Early Heisman frontrunners | SN's Top 25 players | Best QBs | RBs | WRs
Quick hits
— Look at the bright side, everyone: at the very least, the SEC will play 14 games against Power 5 conference opponents beginning in 2015. SEC rules now require each team to play at least one game against a Power 5 conference team beginning in 2015. That means the days of four SEC teams — that's right, FOUR (Ole Miss, Mississippi State, Texas A&M, Vanderbilt) — not playing a non-conference game against a Power 5 conference are over. You can almost excuse the Mississippi schools and Vanderbilt (the four cupcakes are critical to reach bowl eligibility), but Texas A&M not playing a legitimate non-conference game (for the third consecutive season) is absolutely pathetic.
 
— A better way to look at the SEC avoiding non-conference tests: 80 percent of the 56 non-conference games in the league are against Group of 5 or FCS teams. Three of those games (Old Dominion, South Alabama twice) are against teams that recently made the move from FCS. Charleston Southern gets two payday games (Vanderbilt, Georgia), and Lamar (5 wins in 2013), Presbyterian (3) and Western Carolina (2) also get games against the best conference in college football.
 
— For those thinking Auburn is a national title contender, consider this: The Tigers haven't won a road non-con game against a BCS/Power 5 team since 1997, when Terry Bowden's Auburn team went into Charlottesville and beat Virginia 28-17. Auburn hasn't won a non-con game against a team west of the Mississippi since a victory over TCU in 1980.
 
— Georgia, which recently signed a home-and-home series with Notre Dame (2017 and 2019), is the only SEC team to play two games against Power 5 teams. That distinction brings a brutal September: Clemson, at South Carolina, Troy, Tennessee — the same Tennessee that should have beaten Georgia last season.