Week 1: LSU-Wisconsin highlights loaded opening week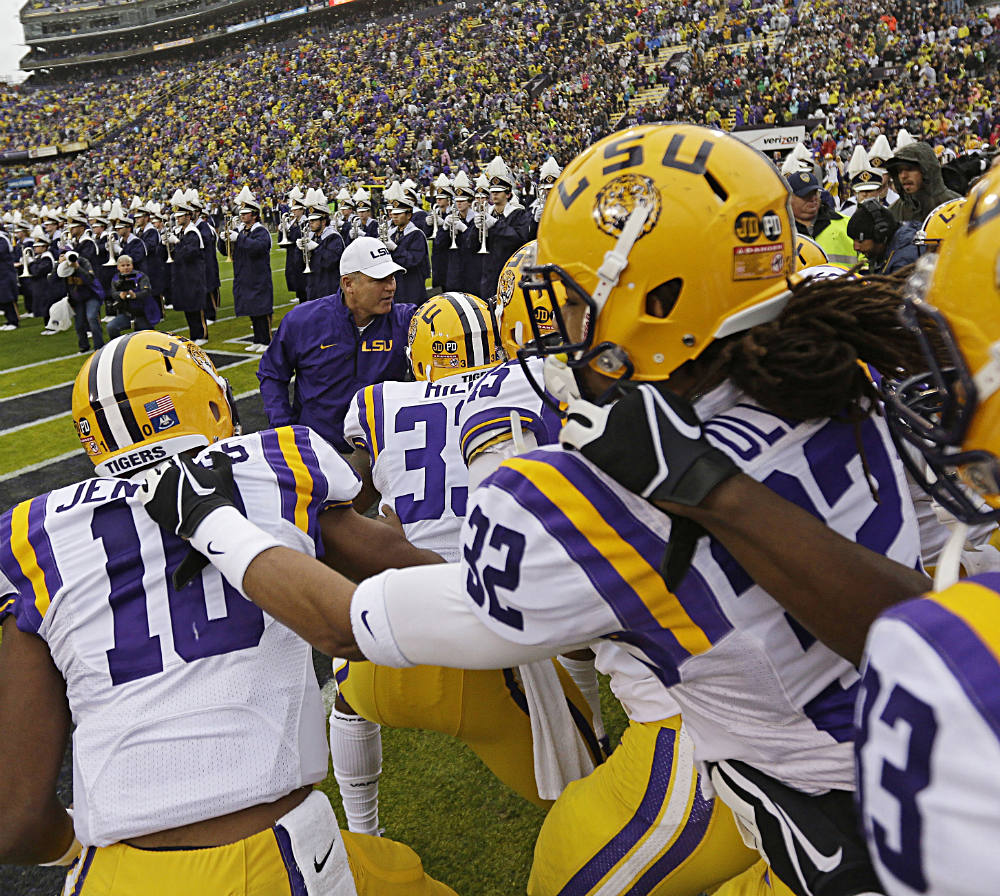 A weekly breakdown of the games that will shape the path to the College Football Playoff:
MAIN EVENT: Wisconsin vs. LSU (Houston)
Hello, smash-mouth football.
LSU and Wisconsin both averaged more than 200 yards rushing per game last season. 
For LSU, it's a chance to continue a ridiculous win streak that doesn't get enough national attention. LSU has won 45 straight regular season nonconference games, and Les Miles is 35-0 since taking over in 2005.
MORE: SN Top 25 | All-Americans | Bowl projections | Take the SN bowl quiz
That's not going to scare Wisconsin, which is 34-2 in nonconference regular-season games in the same stretch. It's a chance for second-year coach Gary Andersen to make a statement for the Big Ten.  Melvin Gordon — he averaged 7.8 yards per carry last season — can launch a Heisman campaign if he leads the Badgers to victory.
The loser digs an early hole for the race for the four-team College Football Playoff.
TAKE FROM THE PRESS BOX
"LSU in the last decade or so has had tremendous success at a national level. Les Miles has (had seven) 10-win seasons in the last decade. They are armed and ready to go. It's a real thrill for the players, and it's a real thrill for Tiger nation to play in these neutral site games. The trips to Dallas have been successful, and Houston is just a full hour drive from here. Reliant Stadium is a trip they are very much looking forward to, and they're already looking forward to the return game against Wisconsin at Lambeau Field in 2016. These are special things." — Jim Hawthorne, LSU Radio play-by-play announcer, also known as "The Voice of the Tigers."
MORE ROAD MAPS: Week 2 | Week 3 | Week 4 | Week 5 | Week 6
LINEMAKERS LEAN
"LSU opened as a 7-point favorite over Wisconsin on the Golden Nugget's Games of the Year board.  Wisconsin is traditionally tough as an underdog, going 8-4-1 against the spread when getting points since 2009. LSU, meanwhile, has covered just nine of 23 spreads as a favorite over the last two seasons."
Alabama has a history of dismantling teams on neutral fields in openers. (AP Photo)
UNDERCARD: West Virginia vs. Alabama (Atlanta)
The Crimson Tide will open the 2014 season on neutral ground for the fifth time under Nick Saban, and they'll be facing his native state West Virginia in Atlanta. That's a tough order for the Mountaineers considering Saban's track record in those neutral-site openers:
2008: Alabama 34, Clemson 10 (Atlanta)
2009: Alabama 34, Virginia Tech 24 (Atlanta)
2012: Alabama 41, Michigan 14 (Dallas)
2013: Alabama 35, Virginia Tech 10 (Atlanta)
Perhaps more foreboding for West Virginia is the record of those teams that lost. Clemson finished 7-6 in 2008, Michigan went 8-5 in 2012 and Virginia Tech went 10-3 in 2009 and 8-5 last season.
THREE MORE
Arkansas at Auburn: Gus Malzahn and Bret Bielema are playing nice after all the verbal spars last season, and Bielema could help himself a lot by picking up his first SEC win. It will be entertaining if things like this keep happening …
Clemson at Georgia: Both teams break in new quarterbacks. Clemson's Cole Stoudt and Georgia's Hutson Mason will be the story here. The Bulldogs are 15-2 against the ACC under Richt, and the lone loss in Athens came in 2008 against Georgia Tech.
Florida State vs. Oklahoma State (Arlington): While the focus will be on Heisman Trophy winner Jameis Winston, this game might mean more for Oklahoma State coach Mike Gundy. He's 3-8 against top-five teams, though the last matchup was a convincing 49-17 win against No. 3 Baylor in 2013. 
MORE: SN Top 25 players | Best: QBs | RBs | WRs | Heisman leaders
SOCIAL BUZZ
"Is App State gonna upset Michigan again?"

There will be multiple forms of that tweet leading up to and into the rematch between Appalachian State and Michigan. Every Michigan fan knows what happened last time:
If the Mountaineers take a lead — any lead — early against Michigan, expect #AppState to trend on Twitter. Our advice for Brady Hoke: Take the ball if you win the toss.
MORE: As rematch approaches, memories resurface
STAT THAT MATTERS
Since 1936, only two AP national champions lost in the first week of the season. They took almost identical paths to a national championship.
In 1965, Georgia beat No. 5 Alabama 18-17, but the Tide finished 9-1-1, beat No. 3 Nebraska in the Orange Bowl and claimed the national title. 
In 1983, Miami lost 28-3 to No. 16 Florida in the season opener. The Hurricanes rebounded to go 11-1, beat No. 1 Nebraska in the Orange Bowl and won the program's first national championship.
REMOTE CONTROLLED
Plan to stay up late for the Thursday doubleheader (Texas A&M at South Carolina, Boise State at Ole Miss) and get up early Saturday for the 8:30 a.m. ET kickoff between Penn State and UCF in Dublin, Ireland. Take time on Labor Day to watch Louisville make its ACC debut against Miami. The Cardinals trounced the Hurricanes 36-9 in last year's Russell Athletic Bowl.
WEEK 1 TOP GAMES 
Aug. 28
Texas A&M at South Carolina, 6 p.m.
Boise State at Ole Miss, 8 p.m. 
MORE: Worst Week 1 games
Aug. 30
Penn State vs. UCF (in Dublin, Ireland), 8:30 a.m. 
Ohio State at Navy, 12 p.m.
West Virginia vs. Alabama (in Atlanta), 3:30 p.m.
Arkansas at Auburn, 4 p.m. 
Clemson at Georgia, 5:30 p.m. 
Florida State vs. Oklahoma State (in Arlington, Texas), 8 p.m. 
Wisconsin vs. LSU (in Houston, Texas), 9 p.m. 
Sept. 1
Miami at Louisville, 8 p.m.