Week 2: Oregon, Michigan State equals 'flash vs. smash'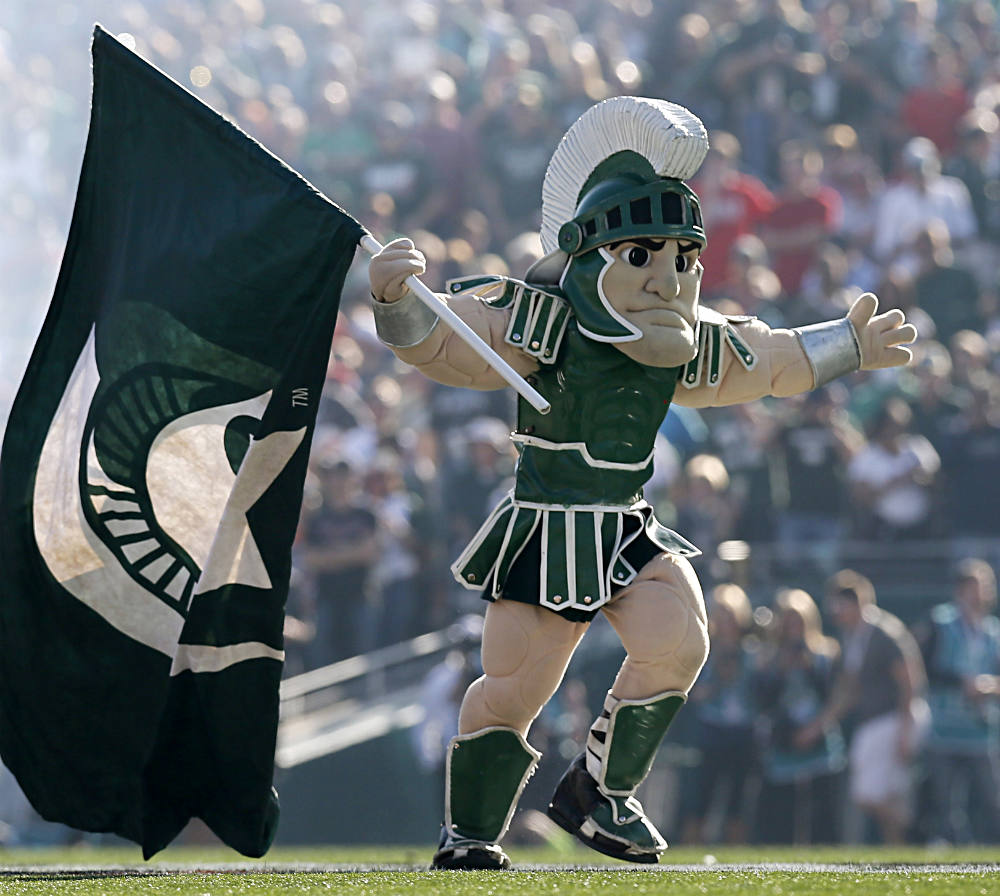 A weekly breakdown of the games that will shape the path to the College Football Playoff:
MAIN EVENT: Michigan State at Oregon
Extreme contrast equals entertainment.
That's the case when Michigan State travels to Oregon on Sept. 6.  It's the ultimate nonconference strength-on-strength matchup of 2014.
Oregon's Mark Helfrich went 11-2 in his first season and returns Heisman Trophy candidate Marcus Mariota. Michigan State is a legit national championship contender under Mark Dantonio and looking to build on last year's Rose Bowl win against Stanford with Connor Cook.
MORE: SN Top 25 | All-Americans | How offense wins championships
Almost everybody knows the Ducks bring offense (45.5 ppg., 565.0 yards per game) and the Spartans play defense (13.2 ppg. 252.2 ypg.).
It comes down to the chess match between Oregon offensive coordinator Scott Frost and Michigan State defensive coordinator Pat Narduzzi. Which coordinator wins the ground war? Which team takes the more aggressive approach? 
FROM THE PRESS BOX
"I think flash vs. smash is the best way to describe it, and the Spartans are happy to be smash. Oregon definitely has the flash, but there is some flash in that Michigan State offense with Connor Cook at the controls, Jeremy Langford at running back and a loaded group of wide receivers. Michigan State can score enough to play with anybody, they have all kinds of depth and they're well coached. It's an awesome opportunity for the Spartans. I think it's a great opportunity to show the capability of Michigan State, especially on the defensive side of the ball." — Longtime Michigan State play-by-play announcer George Blaha.
MORE ROAD MAPS: Week 1 | Week 3 | Week 4 | Week 5 | Week 6 | Bowl projections
LINEMAKERS LEAN
Oregon opened as a 13-point favorite over Michigan State at the Golden Nugget in Las Vegas. The shortest number the Ducks laid at home last year was 23.5 vs. UCLA. But after covering its first six games of the 2013 season, Oregon closed on a 2-5 run against the spread. Michigan State, meanwhile, is 19-11-1 ATS as an underdog in Mark Dantonio' seven seasons.
UNDERCARD: Michigan at Notre Dame
This September tradition between the two programs with the most wins in FBS history ends after this season. Michigan has won four of the last five meetings; games that were defined by Wolverines' quarterbacks. Consider:

2009: Tate Forcier: 310 total yards (240 pass, 70 rush), 3 TDs, INT
2010: Denard Robinson: 502 total yards (244 pass, 258 rush), 3 TDs
2011: Denard Robinson: 446 total yards (338 pass, 108 rush), 5 TDs, 3 INTs
2012: Denard Robinson: 228 total yards (138 pass, 90 rush), 0 TDs, 4 INTs, 2 fumbles lost
2013: Devin Gardner: 376 total yards (294 pass, 82 rush), 5 TDs, 1 INT
Bet you can spot the game Michigan lost. Gardner looks for the encore, but it's also his first go-round in South Bend, where the Wolverines are 2-5 since 1998.
MORE: Best scheduled non-conference games, 2015 to 2019
THREE MORE
Virginia Tech at Ohio State: The Hokies are 15-11 the past two seasons, and Ohio Stadium at night is unforgiving. The Buckeyes are 3-0 at home at night under Urban Meyer, and average 52.3 points per game in those wins against Nebraska, Wisconsin and Penn State. Virginia Tech better bring its "A-game." 
USC at Stanford: The Trojans' celebrated after breaking a four-game losing skid to the Cardinals with a 20-17 win last year. Maybe too much. Stanford is 4-2 against the Trojans since the Jim Harbaugh/David Shaw era began, and Steve Sarkisian accused Stanford players of "faking" injuries last season. This could escalate quickly.  
BYU at Texas: Quarterback Taysom Hill rushed for 259 of BYU's 550 rushing yards in last year's 40-21 win against Texas. Knowing that, first-year coach Charlie Strong can't afford to look ahead to UCLA the following week.  
SOCIAL BUZZ
"Why are these games being played? #Blowout #Ridiculous"
Take your pick from Citadel at Florida State, Northwestern State at Baylor, McNeese State at Nebraska and Sam Houston State at LSU. Twitter talk of eliminating FCS opponents from FBS schedules will intensity as these games spiral out of control. 
STATS THAT MATTERS
The Big Ten is 7-29-1 in true road games against the Pac-12 since 1993, and Michigan State's last visit to Oregon in 1998 ended in a 48-14 loss. The Spartans, however, are coming off a 20-14 win against Stanford in the Rose Bowl last season.

"The Spartans beat the Pac-12's most-physically dominating team last season and now they play the best in terms of offensive production with all that blazing speed and a fast-paced offense," Blaha said. "It's a different kind of challenge. I believe the Spartans are at least on the edge of returning to the glory days of the mid-60s. With this kind of defense, they should be able to play with anybody."
REMOTE CONTROLLED
Give Fox Sports 1 a chance on Thursday when Arizona travels to UTSA, a showcase game for Larry Coker and the Roadrunners in their first season of bowl eligibility. UTSA has five starters back on the offensive line and learned its lesson in a 56-35 loss to No. 13 Oklahoma State last season. Rich Rodriguez and Co. will try to throw a similar early knockout punch, but the Roadrunners will turn this one into an up-and-down shootout. Beep, beep indeed.
MORE: Best rematches | Worst Week 1 matchups | Coach rankings
WEEK 2 TOP GAMES
Thursday, Sept. 4
Pittsburgh at Boston College, 7 p.m.
Arizona at UTSA, 8 p.m.
Saturday, Sept. 6
Arkansas State at Tennessee, 12 p.m. 
USC at Stanford, 3:30 p.m.
BYU at Texas, 7:30 p.m.
Michigan State at Oregon, 6:30 p.m.
East Carolina at South Carolina, 7 p.m.
Michigan at Notre Dame, 7:30 p.m. 
Virginia Tech at Ohio State, 8 p.m.