Aaron Rodgers wants in, but team doctor doesn't clear him to play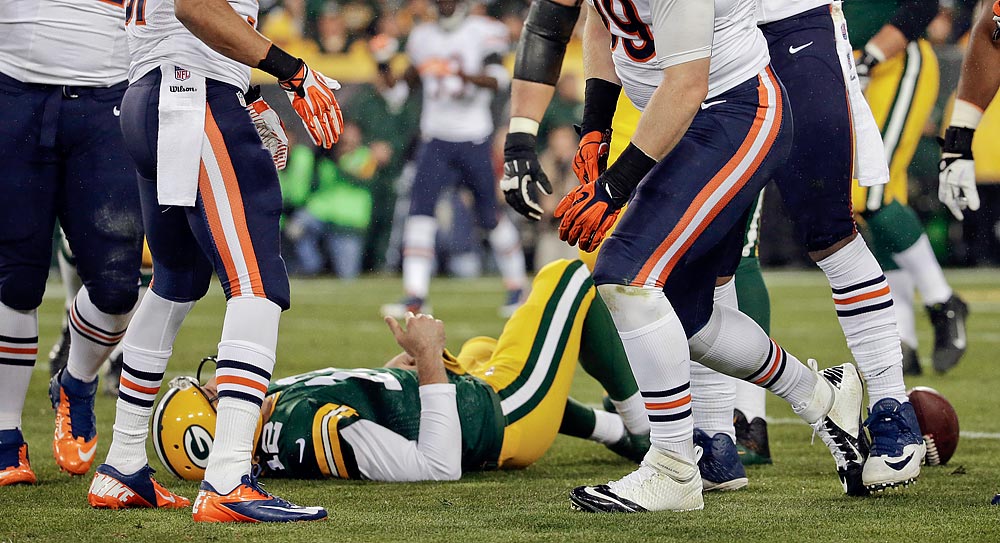 Packers quarterback Aaron Rodgers is getting antsy. He wants desperately to get back onto the field after more than a six-week hiatus due to a broken collarbone.
Dr. Pat McKenzie has not yet medically cleared Rodgers to play Sunday against the Steelers. But with time running out on the regular season, Rodgers appears more inclined to force the issue—whether he wins or not.
MORE: Power rankings | IYER: Fire Schwartz | Garvin hit illegal
"I think there has to be on some level a risk-reward conversation," Rodgers said on his weekly radio show on ESPNMilwaukee, according to the Milwaukee Journal Sentinel. "You have to base that on the evidence you see on the scan, but also how I'm feeling and if I'm able to do normal football movements without pain. That obviously goes into the equation."
Remember the last time we saw a prominent quarterback in a push-and-pull situation over an injury? It didn't turn out well. Robert Griffin III insisted on playing the Seahawks in the playoffs last season with a knee that was held together on an already flimsy ligament. It didn't take a whole game before he tore his ACL.
Griffin spent the whole offseason lobbying to play in the season opener, seemingly forcing his will more upon coach Mike Shanahan than team physician, Dr. James Andrews. What we saw was someone out there who was only half the player he showed that he really is. Now, RG3 is on the bench sulking, Shanahan is sticking out his chin and the media is stirring the pot.
Over in Green Bay, coach Mike McCarthy seems to be in lockstep with the process, but he's surely getting a little anxious, too. It doesn't look like McKenzie is going to relent until he's comfortable that the broken bone is healed and Rodgers isn't at great risk. In this case, Rodgers may just have to take his medicine.
"Sometimes those guys have to save you from yourself," Rodgers said. "Doc and I always have had a close relationship and an honest relationship. I think he trusts me on how I'm feeling. It doesn't mean I'm not going to battle with him."