Browns vs. Bengals: Battle of Ohio, Battle of Broken Hearts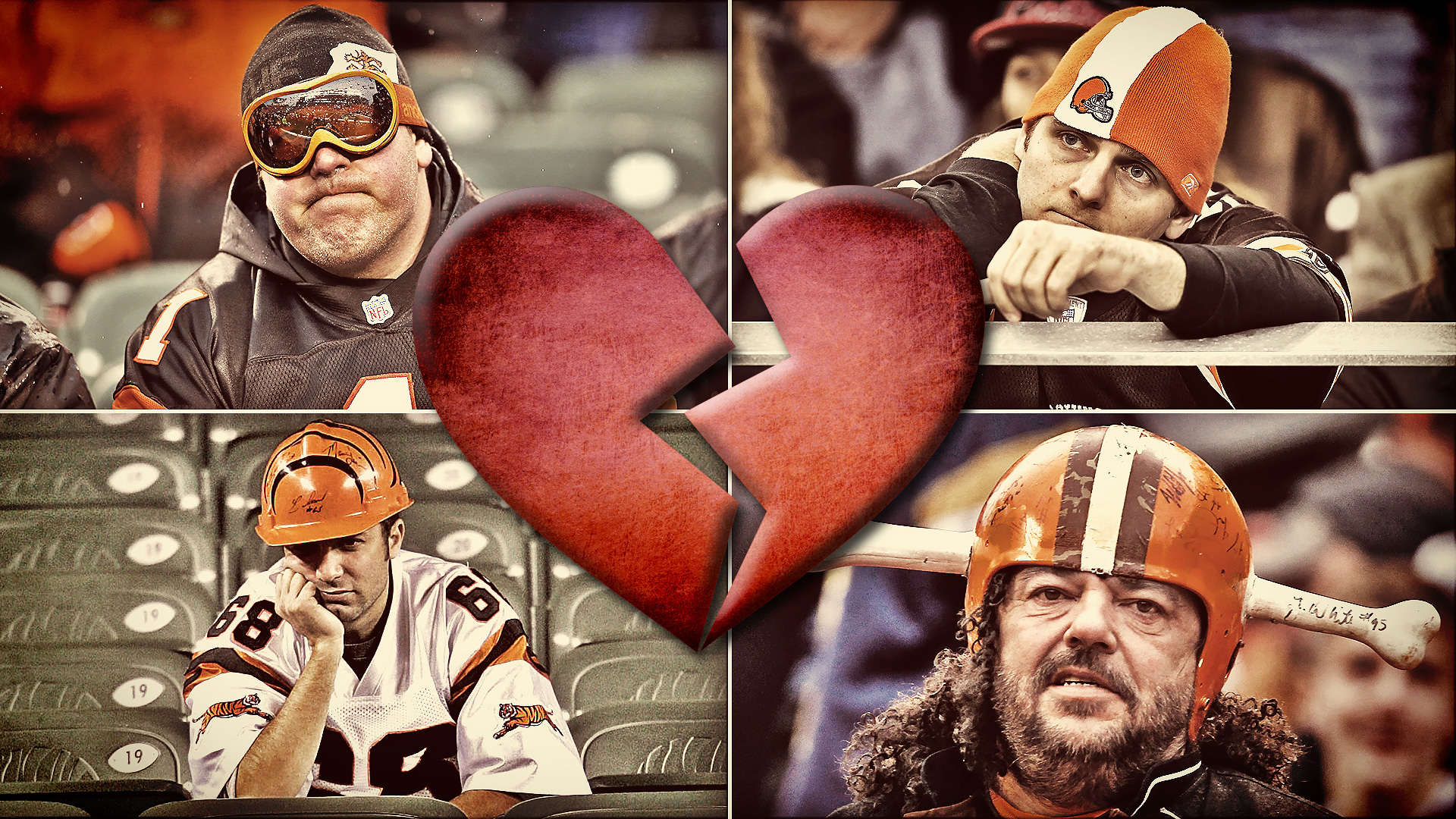 In this tale of two Ohio NFL cities, it always feels like the worst of times. Even when they're playing to be the best.
When Cincinnati (5-2-1) hosts Cleveland (5-3) on Thursday night (8:25 p.m. ET, NFL Network), it isn't just first place in the AFC North at stake — it's also the collective emotional psyche of Bengals and Browns fans everywhere.
PHOTOS: NFL's 10 greatest rivalries | Week 9 NFL picks | Who your NFL fan base hates (Week 9)
For such a passionate football state, it's been a long time since a pro game has meant so much to both sides.
The Browns have been to the playoffs only once since their franchise reboot in 1999, but Cleveland's last playoff victory came 20 years ago. The Bengals have been to three straight playoffs, but they still have the longest playoff win drought of any team in the NFL, going on 25 years. With the years of disappointment, it's been difficult for "The Battle of Ohio" to find its old luster.
"It may never get back to where it was when Art Modell and Paul Brown were still alive, and the rivalry has dissolved," said Chick Ludwig, a long-time Bengals correspondent for Dayton Daily News and Sporting News who's now a radio host for IHeartMedia Cincinnati. "It's just another game."
While that's happened, the Steelers have become the preferred rival for both teams. Could a worthy prime-time matchup rekindle some of the intrastate fire? 
Given how many times the Browns and Bengals have let down their fans, it's down to more guarded optimism than great enthusiasm.
The Browns' tale
When this incarnation of the Browns made their only postseason appearance in 2002, it happened because they beat the Bengals in Cincinnati that November. They fell just short of the playoffs in 2007 because they couldn't beat the Bengals in Cincinnati in December.
In the seven years since, five wins, their exact current total, has been the high-water mark. A sixth would give them an opportunity to do something they haven't come close to doing since 1999: win a division title.
"This is the most important game for the Browns since coming back," said Daryl Ruiter, who covers the Browns for 92.3 The Fan, CBS Cleveland. "This is a show-me- you're-for-real moment, and if they win the game, you should see Cleveland go nuts."
It's only natural for Browns fans, however, to think about not winning it. Just last season, Brian Hoyer helped them beat the Bengals to get to .500 early, and they were 3-2 after knocking off the Bills on a Thursday night. But then Hoyer got hurt in that Buffalo game, and they won only once more the rest of the season. Just like that, another dream was dashed.
MORE: Worst-ever No. 1 quarterback draft picks | Browns vs. Bengals betting preview 
While there should be some more excitement about the Browns being 5-3, there's a lot more nervousness that it's still not good enough to be better than the Bengals. It's rooting more against the cruel football gods, less against the daunting football opponent.
"I wouldn't say there's a bitter hatred between Cleveland and Cincinnati, when they're both good, they really get into it," Ruiter said. "This is the game that could really ignite that juice."
Even as the Browns have been bad, because of their huge following, the NFL has still tried to get that prime-time feeling back in Cleveland. It hasn't quite worked with Pittsburgh in the division, or Buffalo around Lake Erie. Winning in Cincinnati as a legitimate AFC North threat has the power to change that.
The Bengals' tale
Try telling the Bengals' fans that their team is headed toward contending for the AFC title again. Even when they have had some recent success, only past futility comes to mind.
"They're living game to game," said Ken Broo, a respected long-time sports broadcaster who now works for WCPO-TV and WLW-AM in Cincinnati. "They're still used to the Bengals breaking their hearts. 
"Because they haven't won a playoff game, and because Andy Dalton does something every week to blow the situation up, there's an uneasiness here. They can never get comfortable with what they got here. They're just hoping for the best and preparing for the worst."
The Bengals have won 35 games since the 2011 season. The Browns have won only 18 during the same span. Yet there's a weird feeling that both teams are still on the same sinking boat.
While the Browns have had limited opportunities under the lights, the Bengals have whiffed on their recent ones. See the game at New England at Week 5, a 43-17 loss. With Dalton since 2011, they're 2-5 in prime time. They went 8-0 at home last season, only to lose to the Chargers in Cincinnati in the playoffs.
In a tough, tight, physical division where now anyone can win it in the second half of the season, the default setting of failing is not an option for the Bengals in Week 10.
"There will be gloom and doom if they lose this game," Broo said. "The magnitude of this game, more so than being the Browns, if you let Cleveland win at your house, you've painted yourself into a corner in the AFC North."
Both teams will still be above .500 and not out of contention by any means, no matter who wins. But whoever loses, the fans are still programmed to feel that familiar low self-esteem.