Cowboys vs. Ravens score, results: Baltimore runs wild in virus-marred victory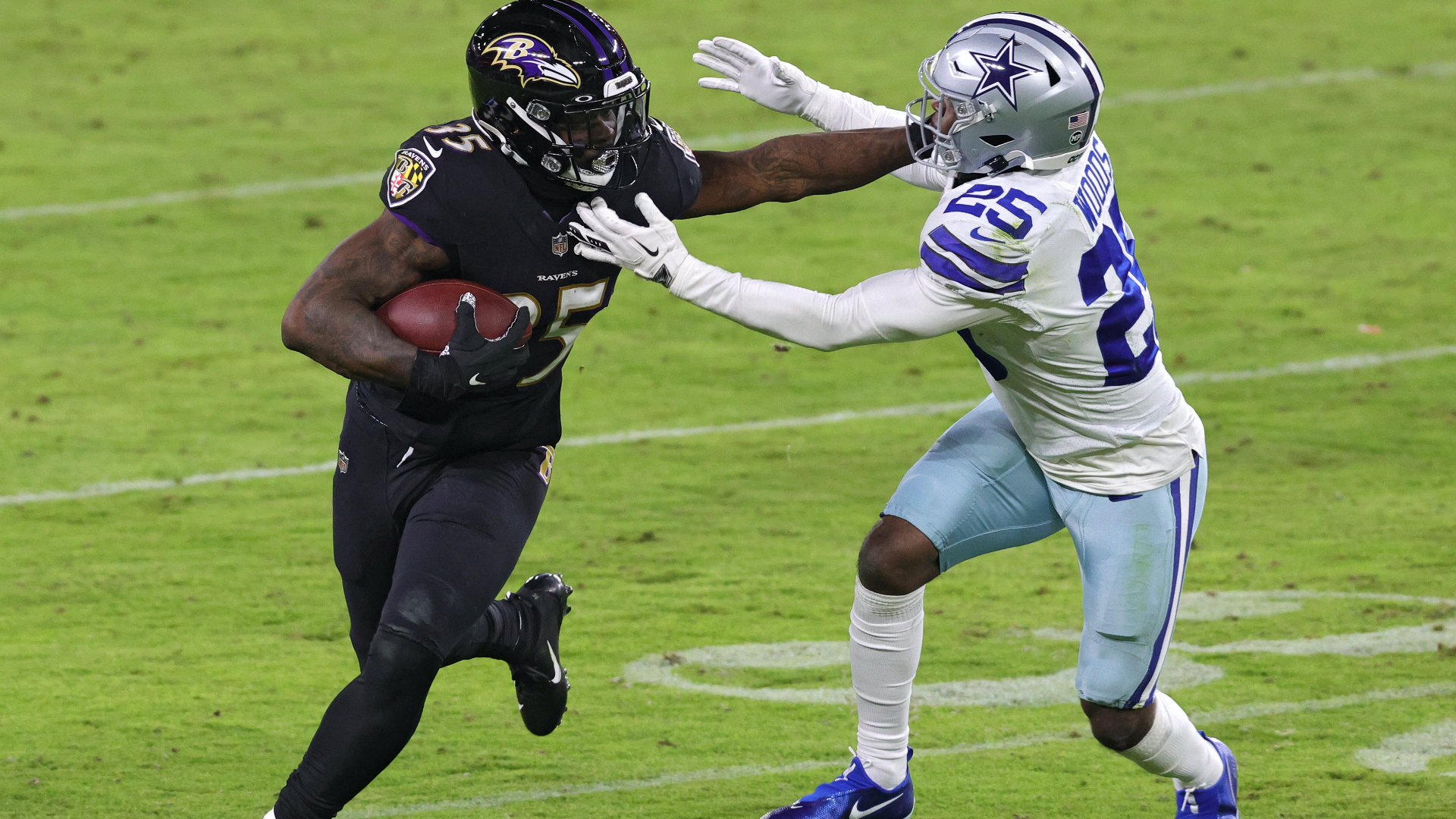 There are few better opponents for a struggling team to face this year than the last-place Cowboys (3-9), who have tumbled after losing quarterback Dak Prescott for the season.
But while the Ravens (7-5) enjoyed their 34-17 win over Dallas on Tuesday night after three straight losses, a pregame positive COVID-19 result for receiver Dez Bryant suggested their prolonged battle with the illness is not yet done. Disruptive quarantines could follow if Bryant's interactions with teammates are deemed "high risk" — so far, the NFL has indicated no one else is likely to have contracted the coronavirus from him.
On the field, things went according to plan for Baltimore. Lamar Jackson, back from his own bout with COVID-19, accounted for 94 of the team's staggering 294 rushing yards. He tallied three total touchdowns — one on the ground and two through the air.
MORE: Why Ravens still played after Bryant's test result
Dallas, meanwhile, continued a year so bad it would be disingenuous to pin entirely on quarterback Dak Prescott's season-ending ankle injury. The defense is failing in all facets — applying pressure, stopping the run and covering receivers — and likely needs a complete reworking this offseason. But it will be difficult to make meaningful progress there with a cap space crunch that could tighten further if Prescott is extended.
Sporting News tracked live scoring updates and highlights from Cowboys vs. Ravens on Tuesday night. Follow for complete results from the NFL Week 13 game.
Cowboys vs. Ravens final score
| | | | | | |
| --- | --- | --- | --- | --- | --- |
|   | Q1 | Q2 | Q3 | Q4 | Final |
| Cowboys | 3 | 7 | 0 | 7 | 17 |
| Ravens | 7 | 10 | 7 | 10 | 34 |
Cowboys vs. Ravens live updates, highlights
11:04 p.m.: FINAL: Ravens 34, Cowboys 17.
11:02 p.m.: The Cowboys convert a fourth-and-19 with 30 seconds left. Lots of garbage time yards for them.
10:53 p.m.: TOUCHDOWN, Ravens. J.K. Dobbins delivers his team's second rushing touchdown of the night. 34-17, Baltimore.
10:46 p.m.: Baltimore recovers the onside kick.
10:41 p.m.: TOUCHDOWN, Cowboys. Amari Cooper makes a nifty catch in the back of the end zone. 27-17, Baltimore.
10:38 p.m.: Elliott takes a screen pass inside the 10.
10:28 p.m.: FIELD GOAL, Ravens. Tucker hits a chip shot to pad the lead. 27-10, Baltimore.
10:27 p.m.: The Ravens have first-and-goal with less than 10 minutes remaining.
10:23 p.m.: Jackson and Gus Edwards pick up first downs on the ground. The Ravens are up to 237 rushing yards.
10:21 p.m.: No good. Zuerlein misses again. The Cowboys kicker is 1-for-4 on field goal attempts.
End of third quarter: Ravens 24, Cowboys 10
10:02 p.m.: TOUCHDOWN, Ravens. Jackson breaks off a nice run, putting him at 78 yards on the ground, before unleashing a strike to Marquise Brown. 24-10, Baltimore.
9:50 p.m.: No good. Greg Zuerlein misses a field goal attempt from 53 yards out.
9:45 p.m.: Baltimore punts.
9:39 p.m.: Second half is underway. The Ravens get the ball first.
Halftime: Ravens 17, Cowboys 10
9:18 p.m.: FIELD GOAL, Ravens. There's Tucker's first field goal; he's true from 35 yards to make it 17-10 Baltimore with just 42 seconds remaining.
9:06 p.m.: And now Zuerlein misses his attempt wide right from 40. It remains 14-10 Baltimore.
8:54 p.m.: TOUCHDOWN, Ravens. It takes just one play for Baltimore to score via wide receiver Miles Boykin. 14-10, Baltimore.
8:53 p.m.: Interception, Dallas. Patrick Queen picks off Dalton.
8:49 p.m.: No good. Justin Tucker misses a 36-yard field goal attempt. That's a rare sight.
8:38 p.m.: TOUCHDOWN, Cowboys. A Michael Gallup score puts Dallas back on top. 10-7, Dallas.
End first quarter: Ravens 7, Cowboys 3
8:35 p.m.: The Cowboys finish the quarter with a 66-yard kickoff return into Ravens territory.
8:30 p.m.: TOUCHDOWN, Ravens. Jackson runs for 37 yards and a score. 7-3, Baltimore.
8:27 p.m.: More Jekyll-and-Hyde football from the Ravens offense. Rookie J.K. Dobbins runs for 18 yards to the Baltimore 45, followed by an 8-yard fumble recovery loss after Jackson mishandled the snap.
8:25 p.m.: Back to work for Baltimore from its 25.
8:21 p.m.: FIELD GOAL, Cowboys. Greg Zuerlein drills a 31-yard field goal to give the Cowboys a 3-0 lead with 4:24 left in the first quarter. That said, the field goal was forced after Dalton missed Michael Gallup open in the end zone. 3-0, Dallas.
8:19 p.m.: A nice second-down run by Elliott nets 13 yards and gives Dallas the ball at the 19.
8:17 p.m.: Interception, Dallas. Jackson's ball bounces off Marquise Brown's hand straight into Darian Thompson's waiting hands. That's his first interception — and Dallas' fifth this year. That gives the Cowboys the ball at Baltimore's 34.
8:15 p.m.: Lamar Jackson makes his first play of the night, a 10-yard scramble to net a first down at the Baltimore 29-yard line.
8:12 p.m.: Cowboys can't overcome their offensive mistakes, but a 47-yard punt by Hunter Niswander flips the field and forces Baltimore to start from its 11.
8:10 p.m.: A holding penalty and 4-yard loss on the toss to Elliott negates the good field position. Dallas facing second-and-24 from its 28 now.
8:08 p.m.: Three runs by Ezekiel Elliott and two catches by CeeDee Lamb net Dallas two first downs. The Cowboys are driving at their 42.
8:05 p.m.: Andy Dalton and Co. will start their first drive at the 19.
8:04 p.m.: The Ravens will kick off to start the game. Here we go.
8 p.m.: So Dez Bryant has apparently tested positive for COVID-19 and been pulled from warmups. The game is still on for now.
Cowboys vs. Ravens start time
Date: Tuesday, Dec. 8
Kickoff: 8:05 p.m. ET
The NFL has had more start times than usual in the 2020 season, but 8:05 p.m. ET is a new one. Prime-time games usually kickoff at either 8:15 or 8:20, so this is a slight head start.
In Dallas, that'll mean turning on TVs at 7:05 to watch Andy Dalton and the Cowboys play in Baltimore.
Dallas Cowboys schedule 2020
| | | | | |
| --- | --- | --- | --- | --- |
| Week | Date | Opponent | Kickoff time | TV |
| 1 | Sept. 13 | at Rams | 8:20 p.m. ET | NBC |
| 2 | Sept. 20 | vs. Falcons | 1 p.m. ET | Fox |
| 3 | Sept. 27 | at Seahawks | 4:25 p.m. ET | Fox |
| 4 | Oct. 4 | vs. Browns | 1 p.m. ET | Fox |
| 5 | Oct. 11 | vs. Giants | 4:25 p.m. ET | CBS |
| 6 | Oct. 19 (Monday) | vs. Cardinals | 8:15 p.m. ET | ESPN |
| 7 | Oct. 25 | at Washington | 1 p.m. ET | Fox |
| 8 | Nov. 1 | at Eagles | 8:20 p.m. ET | NBC |
| 9 | Nov. 8 | vs. Steelers | 4:25 p.m. ET | CBS |
| 10 | Bye | — | — | — |
| 11 | Nov. 22 | at Vikings | 4:25 p.m. ET | Fox |
| 12 | Nov. 26 (Thanksgiving) | vs. Washington | 4:30 p.m. ET | Fox |
| 13 | Dec. 8 (Thursday) | at Ravens | 8:05 p.m. ET | Fox/NFLN/Amazon |
| 14 | Dec. 13 | at Bengals | 1 p.m. ET | Fox |
| 15 | Dec. 20 | vs. 49ers | 8:20 p.m. ET | NBC |
| 16 | Dec. 27 | vs. Eagles | 4:25 p.m. ET | Fox |
| 17 | Jan 3 | at Giants | 1 p.m. ET | Fox |
Baltimore Ravens schedule 2020
| | | | | |
| --- | --- | --- | --- | --- |
| Week | Date | Opponent | Kickoff time | TV |
| 1 | Sept. 13 | vs. Browns | 1 p.m. ET | CBS |
| 2 | Sept. 20 | at Texans | 4:25 p.m. ET | CBS |
| 3 | Sept. 28 | vs. Chiefs (MNF) | 8:15 p.m. ET | ESPN |
| 4 | Oct. 4 | at Washington | 1 p.m. ET | CBS |
| 5 | Oct. 11 | vs. Bengals | 1 p.m. ET | CBS |
| 6 | Oct. 18 | at Eagles | 1 p.m. ET | CBS |
| 7 | Oct. 25 | vs. Steelers | 1 p.m. ET | CBS |
| 8 | Bye | — | — | — |
| 9 | Nov. 8 | at Colts | 1 p.m. ET | CBS |
| 10 | Nov. 15 | at Patriots (SNF) | 8:20 p.m. ET | NBC |
| 11 | Nov. 22 | vs. Titans | 1 p.m. ET | CBS |
| 12 | Dec. 2 | at Steelers | 3:50 p.m. ET | NBC |
| 13 | Dec. 8 | vs. Cowboys | 8:05 p.m. ET | Fox/NFLN/Amazon |
| 14 | Dec. 14 | at Browns (MNF) | 8:15 p.m. ET | ESPN |
| 15 | Dec. 20 | vs. Jaguars | 1 p.m. ET | CBS |
| 16 | Dec. 27 | vs. Giants | 1 p.m. ET | CBS |
| 17 | Jan. 3 | at Bengals | 1 p.m. ET | CBS |