Kickers will make or break teams' Super Bowl runs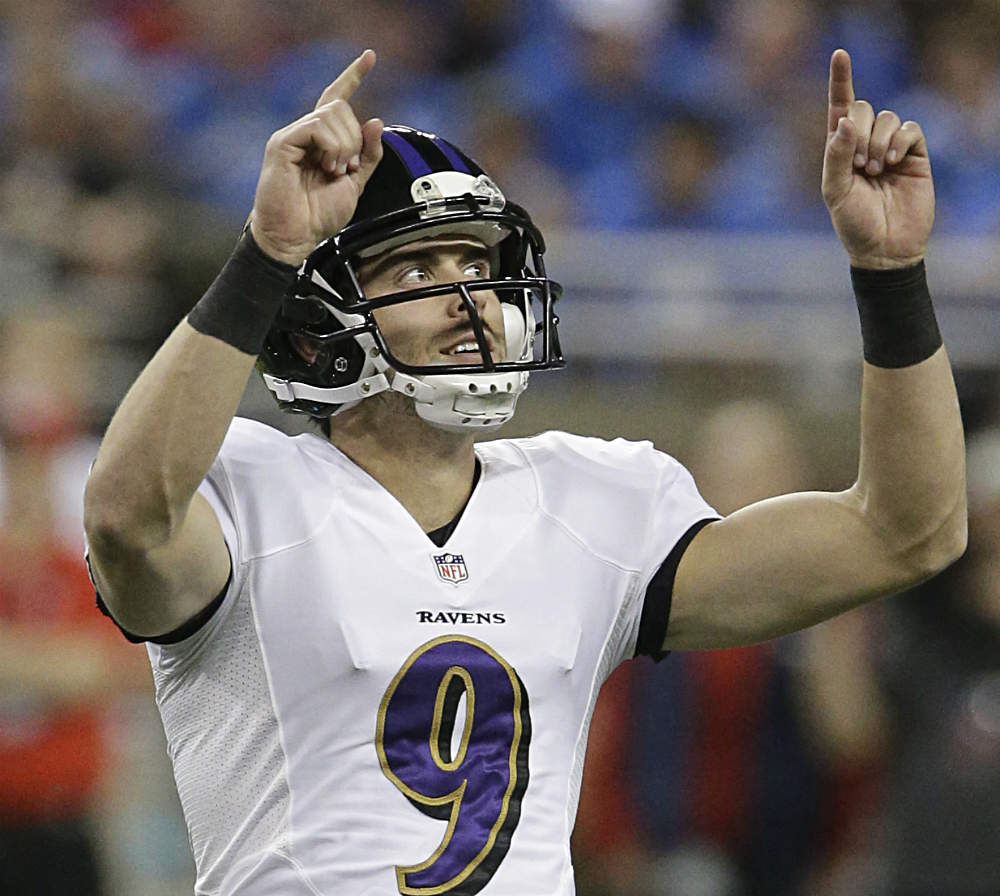 The NFL and its kickers are caught in a vicious cycle right now, maybe more so than any other time, which is saying a lot for the most unstable, nomadic position in the sport.
By every measure, placekickers are getting better and field-goal accuracy at every distance is going up. Games are routinely decided by field goals, and coaches are responding by playing for big kicks instead of touchdowns.
MORE: Week 16 picks | Playoff scenarios | SN's mock draft
Kickers, then, are becoming more integral to teams' success — as illustrated Monday night in Detroit, when the Ravens went conservative on the play before Justin Tucker's 61-yard field goal, his sixth of the game, earning the team a win without scoring a touchdown.
Playoff berths and Super Bowl trips can, and will, be won by a big-time kicker making a clutch kick.
FANTASY: Top Week 16 QBs | $1 million winning roster
And they'll be lost by not having that kicker … or by missing that kick. That was illustrated one day after Tucker's huge boot: the Saints cut Garrett Hartley, who got them into Super Bowl XLIV four years ago with an overtime field goal in the NFC championship game.
On Sunday he missed twice — the last time from 26 yards with less than two minutes to go in a nine-point loss to the Rams. For the record, exactly three other kicks from inside 30 yards have been missed in the entire NFL this season, and two were blocked.
LINEMAKERS: Week 16 point spread update — early bettors all over Chiefs
Saints coach Sean Payton decided he simply couldn't afford to have a kicker he couldn't count on.
"I just felt like it was the one thing that is a little more challenging, that decision,'' Peyton told reporters. "Because if we're not receiving the right effort, then we can look closely at reps, we can look closely at what we're doing in these drills. If we're not receiving the right scheme, we can change that. If we're not receiving the right results in regards to takeaways, we can make sure that that is emphasized.
"It's a little bit more nebulous when it comes to the confidence of a kicker.''
It's also the opposite of what Tucker instills in his coaches and teammates, proven by the fact that he was on the sidelines next to John Harbaugh in the final minute telling his coach he was ready to kick even though it would have been from more than 60 yards.
"I don't think about it in terms of where I 'can't' make a kick from,'' Tucker said after the game. "If I did that, I would be doing everyone on my team a disservice. The word 'can't' is not one we are about, especially in the month of December."
That word is becoming increasingly irrelevant among kickers. That was the second 60-plus-yard field goal of the season, following Matt Prater's record 64-yard kick in Denver. Through Week 15, the overall NFL accuracy on field goals is 86.1 percent. And on kicks of 50 or more yards, it's 65.1 percent.
Six kickers have not missed at all at over 50 yards — and Tucker isn't one of them. He's "only" 6-for-7. Prater is 5-for-6. So is Stephen Gostkowski, whose Patriots meet the Ravens in Baltimore Sunday.
Two NFC contenders built on defense, Seattle and Carolina, will have a lot riding on their kickers — Steve Hauschka and Graham Gano respectively — as games get tighter. Hauschka is 30 for 31, including 14 for 15 beyond 40 yards. Gano is 23-for 26 — incredibly only barely above the league average — but 6 for 6 over 50 yards.
No team is immune, or able to avoid it. Dallas is still alive in spite of all their flaws, because Dan Bailey saved them from a collapse against the Giants with a field goal at the gun. The Cardinals are alive because Jay Feely hit a game-winner after Tennessee forced overtime with a touchdown generated by an onside kick.
Old head Adam Vinatieri has become the Colts' go-to scorer while their offense has gone into a tailspin. Phil Dawson is expected to be the solution to the 49ers' kicking problems in recent years.
And there's Tucker, who still is a reminder of how volatile the position is, seeing as he was the replacement in Baltimore for the notorious Billy Cundiff, goat of the 2011 AFC title game in New England. It's already largely been forgotten that Cundiff had not missed a fourth-quarter field goal that season until that night in Foxboro — essentially, considered as reliable then as Tucker is now.
So after a season defined and lauded for touchdowns, field goals — often long ones — are sure to decide who moves on and who stays home.
Tucker will be one of those trying those big kicks. Hartley will not.