Bad acting has no place in soccer; culprits deserve punishment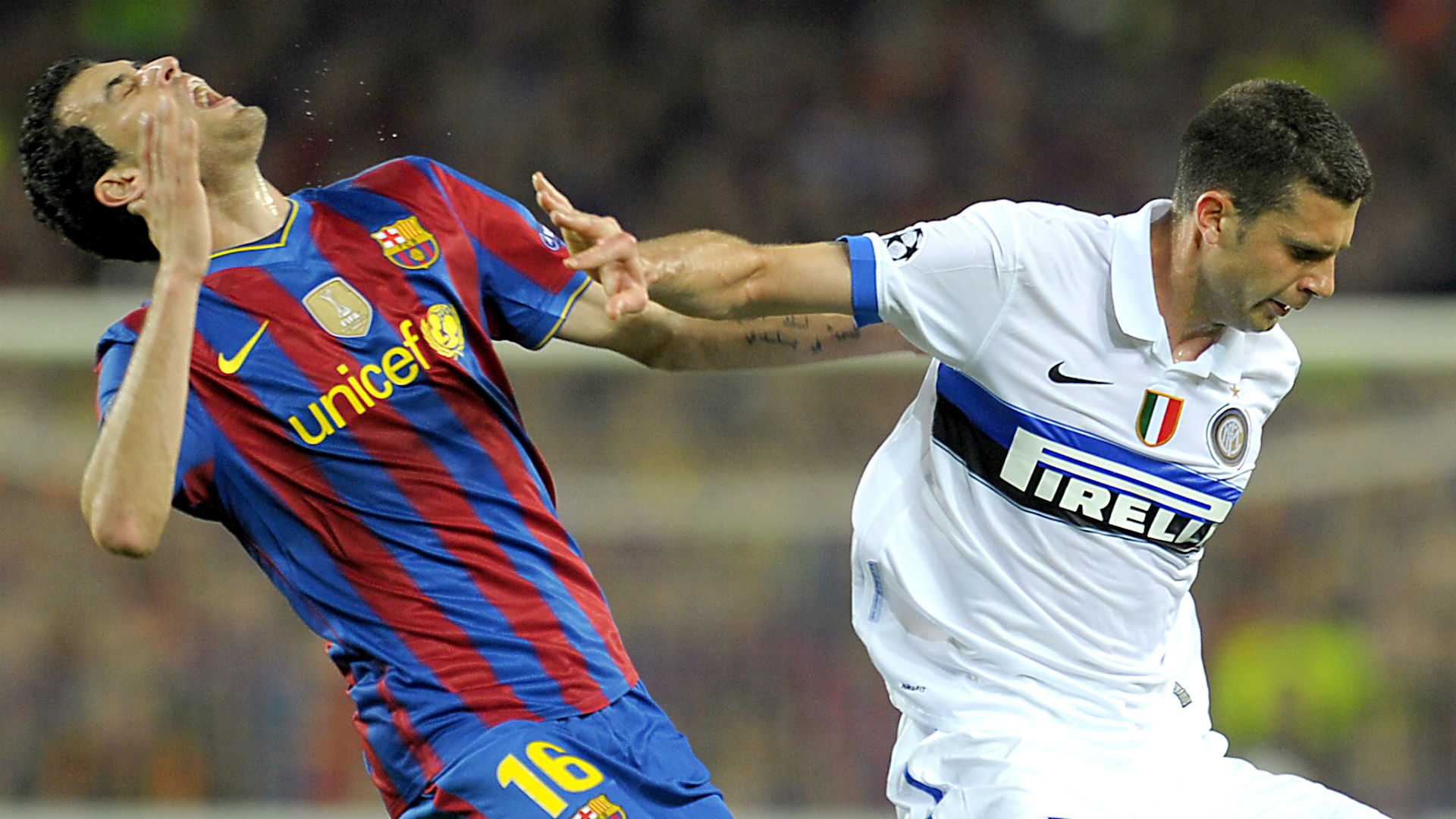 Sergio Busquets has celebrated five La Liga championships and three UEFA Champions League titles as a member of FC Barcelona, and with Spain's national team he started every game on the way to lifting the 2010 FIFA World Cup trophy. He is considered one of the most capable, accomplished defensive midfielders in world soccer.
I've never forgiven him.
For this:
Brushed in the face by a purposeful right arm delivered by AC Milan's Thiago Motta, Busquets fell to the turf as if his nose has been ripped from its moorings. He writhed in apparent pain on the ground, in such agony one might have feared Motta held a vial of sulfuric acid in his hand.
But Busquets was not as committed to his performance as, say, Daniel Day-Lewis. He failed to stay in character. When he suspected no one would notice, he parted his hands peek-a-boo style to see how his acting impacted his target audience: the match referee. Television cameras showed all of us there had been no danger that Busquets would be permanently scarred.
Understand, this was not some mid-summer friendly Busquets disgraced with his hamming. This was a semifinal in the 2010 UEFA Champions League, the sport's grandest stage short of the World Cup. We all knew he was faking, but the referee missed it and Motta was sent off with a red card roughly a half-hour into the game.
Were a similar episode to occur this season in the Barclays Premier League, Motta would be eligible to have his red-card rescinded — meaning he would have been eligible to play in the final rather than watch from the stands — and, more important, Busquets potentially would have faced a three-game ban.
Any player who feigns injury for the purpose of earning a red-card ejection for an opponent could be punished, though only if the opposing player is sent off and has his penalty overturned.
"The game in England is rightly considered to have the most competitive and exciting leagues and cup competitions," said Darren Bailey, director of governance and regulation for the Football Association, England's governing body for soccer. "With that exposure comes a greater level of scrutiny for players and managers on a match day. Of course we recognize passion and emotion will always run high during a game, but it is important there is clarity around what standards are expected."
It's a start.
But we need more, at all levels of the game.
The FA previously introduced video review in which violent conduct that goes unseen by the match referee can be punished if a three-person panel unanimously determines such an episode warrants a red-card dismissal. That applied in the Premier League but now is being extended to all competitions under the FA's purview.
Major League Soccer has been near the forefront in using video review to catch faking, as when defender Giancarlo Gonzalez was fined last season for a dreadful piece of acting in an attempt to get Chris Wondolowski tossed from a game between Gonzalez's Columbus Crew and Wondolowski's San Jose Earthquakes. But Wondo wasn't red-carded from that game, so the FA's new directive would not have applied.
These remedies needn't be so tepid. Gonzalez shouldn't have been fined; he should have been suspended. Germany's Thomas Muller should have missed at least one World Cup game last year for his shenanigans, faking an injury following a slight brush from Portugal defender Pepe — a dreadful performance that led to Pepe committing a true red-card offense.
Whether or not a referee is tricked into presenting a red card should not be the issue. What needs to be eliminated is the con itself.
There is a nearly four-minute montage of phony soccer injuries posted on YouTube. It contains six blatant dives, but more offensive to the game are the 10 incidents in which players act as though they've been injured, including one each from all-time greats Luis Figo and Cristiano Ronaldo, and another in which a player grabs an opponent's hand, hits himself in the face and then falls over as if he's been bludgeoned.
This is far worse than a scoreless tie. The Premier League is moving in the right direction, but not far enough or fast enough.